About the writer
Hazel Evans is a writer and artist from the UK. She moved to Copenhagen in 2014 and, ever since, has been whetting appetites with drool-worthy coverage of the city's food scene on @madaboutcopenhagen
What is natural wine, and why are Copenhageners so mad about it?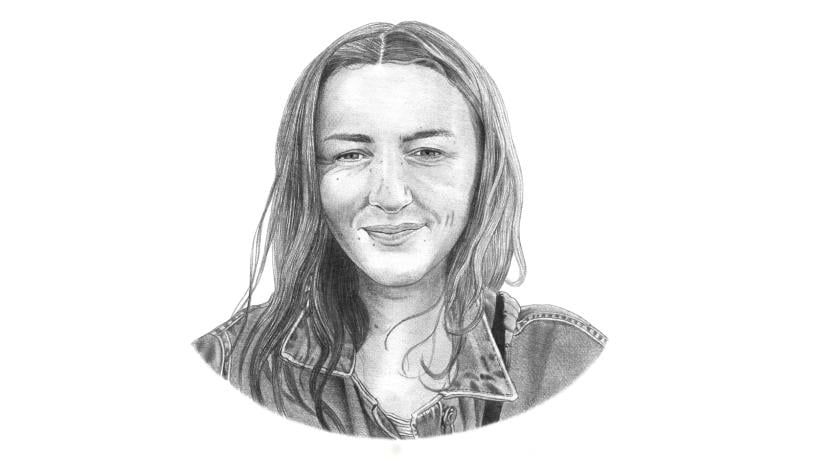 Photo:Hazel Evans
Those who know a little about wine will know that Copenhagen ranks top of the list of places to drink natural wine, surpassing other cities whose proximity to actual vineyards would make them the more obvious choices. But for those less in the know, you might be wondering, what is natural wine exactly? And how did Copenhagen, of all places, become such a hotspot for it? 
There is nothing odd about natural wine. In fact, it's more of a return to making wine the way it was made back in the good old days, before wine producers started adding or removing things during winemaking in order to create a consistent, commercial product each time.
Christopher Melin of Vin de Table in Copenhagen's Nordvest district is one of the men at the centre of the natural wine scene, and he imports wine for many of the bars and restaurants mentioned here. Photo:Mellanie Gandø
Wine is not supposed to be consistent—it changes with every harvest and that's the beauty of it.
With natural wine, there's no messing around with pesticides, sulphites, chemical yeasts or anything like that. At its heart, the natural wine movement is about letting nature decide how wine tastes. So natural wines are wines that very closely reflect the climate and ecology of individual vineyards. Sometimes that tastes funky; sometimes it tastes just like the Chardonnay you know. But the definition is loose and often mixed up.
Wine can, for example, very well be biodynamic or organic without being natural, if other, non-natural, interferences occur at some point in the production.
Down-to-earth café, bar and eatery La Banchina is one of many places in Copenhagen where you can enjoy natural wine.Photo:Daniel Rasmussen
Alongside the basic definition, a culture of drinking natural wine has emerged recently that includes several other principles. One of them is to have fun drinking wine—that enjoying wine shouldn't be about reeling off facts about grapes and the various vintages, but more about asking yourself, "Do I enjoy this wine?," or "How does it make me feel?" Or, perhaps, "What does this remind me of?" There's a loose approach to understanding and describing wine and that also makes it accessible and inclusive.
"But why Copenhagen?!" you rightly ask. It seems odd that a country with such a flat terrain and lack of vineyards should become the unofficial heart of the natural wine movement.
As with most new developments in Copenhagen's food scene, the natural wine prevalence can be traced back to restaurant Noma.
Restaurant Noma was one of the first restaurants in Copenhagen to serve natural wine.Photo:Martin Heiberg
When Noma opened, the head sommelier at the time, Pontus Elofsson, realised that natural wine was the perfect match for the dishes that René Redzepi was creating—dishes that used sustainable ingredients based on the same principles as natural wine: with intentions to highlight the brilliance of nature, rather than masking it. Pontus enlisted Sune Rosforth, who was, back then, one of the only natural wine importers in Copenhagen, as Noma's main supplier.
At the time, there were only a few restaurants in Copenhagen serving natural wine, but other chefs soon followed suit and, pretty soon, wine importers, wine bars and bottle shops began to spring up all over the place.
A pick-and-choose menu with little Italian-style plates, Cicchetti is a place you can snack away the evening. Accompanied, of course, by a glass or a bottle of natural wine.Photo:Mellanie Gandø
Today, wherever you are in Copenhagen, you won't be far away from natural wine.
So, without further ado, here is a fairly extensive list of the natural wine bars, restaurants and shops in Copenhagen:
Natural wine bars, shops and restaurants by neighbourhood
Nørrebro
The city's finest pizza restaurant is part of the Puglisi family, which means its wine selection is imported by Vinikultur, which means it offers some of the best natural wines around to pair with your pizza. 
Guldbergsgade 29
Cicchetti
A pick-and-choose menu with little Italian-style plates, Cicchetti is a place you can snack away the evening. Accompanied, of course, by a glass of natural wine, a bottle, or one of their delicious spritzers!
Nørrebrogade 56
Friheden
Down-to-earth café-cum-bar in a skatepark serves hearty, healthy breakfasts and coffee in the morning and then switches to wine at around lunchtime. Here you'll find a wine fridge stocked full of goodies.
Ved Nørrebro Skatepark
Gaarden & Gaden
When you're cycling along Nørrebrogade at night and you spot that glowing red droplet, it's calling you! Gaarden & Gaden is a bistro, café, bar, sometimes party location, with an excellent selection of natural wines selected by the owner, Thomas.
Nørrebrogade 88
Glou Glou
Named after a sound of the natural wine movement, "glou glou" is supposedly the sound you make when you chug straight from the bottle (because when the wine is so good, why bother with a glass?). Chugging from the bottle is another act associated with the contemporary natural wine movement, defying all the wine etiquette of old.
Rantzausgade 22
Ham'der
Italian-inspired little dishes, excellent homemade pasta, seafood and a just-as-excellent wine menu, Ham'der is one of the newest natural wine bars on the block, and it's all about wine to the people, a.k.a. accessible prices!
Stefansgade 47
Manfreds
Also part of the Puglisi family, Manfreds is the original wine bar that opened across the road from restaurant Relæ, so that they could import double the quantity wine and save on delivery costs. It's still a winebar today, but also an incredible eatery in its own right, serving simple veggie dishes and the city's best raw meat tartare.
Jægersborggade 40
Pompette
Opened by Martin and Jesper, Pompette is another trailblazer in bringing natural wine to the people, by lowering the price. A glass costs only 50 kr., and your choices are red, white, orange, rosé or bubbles. Bottles are available to go or to drink in with a 100 kr. corkage charge. Bar snacks are also decently priced, and excellent.
Møllegade 3
Relæ
Relæ is the first restaurant in the Puglisi family and one of the pioneers of excellent natural wines in Copenhagen. They don't only pair wine with your food, they pair it with your mood.
Jægersborggade 41
Rødder & Vin
Solfinn has taken Nørrebro by storm with his natural wine antics. His shop is legendary for its pop-ups and he's always finding new and exciting bottles to smash open (not literally, don't worry) on the tasting table. It's a bit like entering into the living room of a friend who's really into natural wine, and generous with it! He's also opened a sister "hole-in-the-wall" bar next door.
Ravnsborggade 10
Sabotøren
Tucked into residential Nørrebro, Sabotøren feels like a hidden gem, but it has established itself pretty firmly in Copenhagen by now. Their by-glass menu is small and you'll find it scribbled onto ceramic tiles on the wall. Bottles are also available "to go" at takeout prices.
Fensmarkgade 27
Terroiristen
Jægersborggade's wine shop and bar is full to the brim with excellent bottles, and knowledge, to quench all your natural wine thirsts. The focus, as the name suggests, is on terroir, and the selection includes everything from Serbian to Chilean wines.
Jægersborggade 52
Vinhanen
They don't like to brag about it, but a lot of the wine flowing from Vinhanen's taps is natural. Vinhanen's wine is served straight from the tank, into the glass. Removing the bottling part of the process keeps the wine nice and affordable. Bottles can also be filled up, taken home, drunk, and returned, in keeping with Denmark's Pant system for bottle recycling.
Baggesensgade 13
Vintro
Thanks to mass wine production, eight grape types have come to dominate the wine industry. Vintro's mission is to explore the diversity in the hundreds of different grape types that exist. They do plenty of tastings and there is always a "grape of the week".
Ravnsborggade 5
Østerbro
Geranium
Denmark's one and only three-Michelin-starred restaurant has got natural wine on the menu too (although not exclusively). In fact they have 4 different wine pairing menus to go with the food menu. If you want natural wine, go for the "Heart & Soil" one. And yes, you'll need to book a table!
Per Henrik Lings Allé 4
Pasteur
Østerbro desperately needed a good wine bar and thank god it got Pasteur. The prices aren't low, but the wines are incredible, so definitely worth it. And it's also a restaurant with some very tasty things on the menu. 
Trianglen 7
ØsterGRO
Nothing could feel more natural than dining amongst the plants and vegetables that grow on the ØsterGRO rooftop as you work your way through the entirely natural wine pairing menu. Alternatively, order by the glass as you go. 
Æbeløgade 4
Frederiksberg
Vinbodegaen
The Frederiksberg outlet of one of Copenhagen's biggest wine importers, Husted Vin. Vinbodegaen sell bottles to go or bottles to open and drink (corkage: 150 kr.).
Smallegade 39
Christianshavn
Kadeau
Copenhagen branch of the Bornholm-based restaurant is all about sourcing from nature, and their wine menu is no exception. Also check out sister restaurants Pony and Roxie.
Wildersgade 10B
No. 2
Restaurant with an incredible view of the harbour and a crazy-long wine list. But don't let that intimidate you; the staff are helpful and will always let you try before they pour you a glass.
Nicolai Eigtveds Gade 32
Rosforth & Rosforth
Sune Rosforth's "showroom" under the bridge is open to buy bottles at the price they sell them to restaurants, and, during the summer, get glasses to sit by the water and enjoy your wine in. Keep an eye out for their pop-ups with chef friends.
Knippelsbrogade 10
Sankt Annæ 8
A cosy little, village-like wine bar that does one dish a day (to take home or to eat in) for an excellent price. If you're eating in, there's plenty of wine to choose from and the staff will guide you through the menu. If you're waiting for your dinner to go, you can grab a glass of "waiting wine" for a mere 25 kr.
Wildersgade 52
108
Noma's little sister restaurant serves delicious wine alongside a 8-course tasting menu, or à la carte. But if you're just after the wine, pop into "The Corner" bar next door to the restaurant. 
Strandgade 108
City centre
Bar'Vin
A gem nestled in the city centre, Bar'Vin's rustic food is as tasty as its mostly natural wine menu. Go for the four-course tasting menu or order small dishes à la carte.
Skindergade 3
Bibendum
A wine bar and casual eatery with "wine nerdery" at the centre of everything it does. Eat dinner, join a wine tasting event or sit at the bar and down a glass or two.
Nansensgade 45
Den Vandrette
Rosforth & Rosforth's sister bar, serving wines imported by the legendary sommelier. French, Georgian, Chilean, all sorts. Since opening, it has evolved into an eatery and restaurant with excellent small dishes. In the summer, it expands onto the harbour front with a breezy outside wining and dining area.
Havnegade 53A
Husted Vin
Husted's central wine shop has shelves stacked with natural and less-natural wines. Staff offer excellent advice and tastings, and you'll be unlikely to leave empty handed.
Naboløs 6
Mes
Mes is a restaurant with a very large selection of wine from Jura—a winemaking region in France that was, once upon a time, laughed at. Now, it's the hippest of the hip. Jura is like the Burgundy of the natural wine movement.
Jarmers Plads 1
Mother Wine
Italian wine importer mainly functioning as a bottle shop with accessible (as in, not too high) prices. It also hosts aperitivo with wine and food at 5pm Thursday - Saturday every weekend.
Gammel Mønt 33
Musling
Fishy eatery with excellent seafood lunch (weekends only) and evening dishes, paired with natural wine and cider. Also plenty of Jura wines on the menu.
Linnésgade 14
Nr. 30
Dark horse of the natural wine scene, Nr. 30 blows away on all accounts: food, wine, good prices. Location is central, but feeling is hidden and local.
Nansensgade 30
Ved Stranden 10
Wine bar famous for its' beautiful thin glasses and Austrian wines. Cosy on the inside, plenty of canalside seating on the outside. No menus, just describe what you feel like drinking and taste until you find the one. (Psst. On Mondays they serve "staff food" for the public, costing 100 kr. a plate, from 6pm until sold out.)
Ved Stranden 10
Amager
Toto
A much-needed cosy wine bar and eatery for the Amager area, from the guys behind Salon 39. There's natural and not-so-natural wine on the menu.
Amagerbrogade 145
Il Buco
Il Buco started out as a small import business that hosted occasional Italian pop-up dinners for friends. Now it's a fully-fledged café restaurant with an ever-growing import business, including wine. All natural, all Italian, all very drinkable. Go for dinner or just share a bottle of bubbles with friends in the courtyard.
Njalsgade 19C
Refshaleøen
Amass
Matt Orlando's wild and wonderful restaurant serves natural wine to blow your mind, along with the full tasting menu, the smaller tasting menu or the sneak peek tasting menu.
Refshalevej 153
La Banchina
Bar and eatery with a view, ocean access and a sauna. The wine menu is long and it's all natural, or "clean" as they prefer to call it. Lunch and dinner menu changes daily and is fish and vegetable based.
Refshalevej 141
Noma
Needs no words. Oh alright then, just a few. Pioneer restaurant of the New Nordic movement, serving natural wines paired expertly with food since before natural wine was cool. Three seasons: Vegetable, Game & Forest and Seafood. Book ahead, well in advance.
Refshalevej 96
Sydhavnen
Café Slusen
Waterside café/wine bar worth the trip out to Sydhavnen (if you're not already there). Slusen has undoubtedly the largest selection of posh canned fish in the city, and a glass of wine will set you back as little as 45 kr. 
Ved Slusen 34
Nordvest
Vinbonden
Jon imports wine from his family's vineyard, Le Raït, in France and a whole bunch of other delicious natural wines from fellow producers—mostly French. When he's not in France, he's manning his cosy little shop in Nordvest.
Smedetoften 23
Vin de Table
Christopher Melin is one of the men at the centre of the natural wine scene, and he imports wine for many of the bars and restaurants mentioned here. He also co-founded Æblerov: a company producing natural cider from Danish apples. It all comes together at Vin De Table, where you can spend hours browsing the shelves checking out the wines and cider. Every weekend, the shop curates a "weekend package" with three bottles that are open for tasting and can be purchased together with a discount. 
Frederikssundsvej 33
Vesterbro
Ancestrale
Bar with living room vibes serving all kinds of natural wines—from the funky to the conventional-tasting, there's something for everyone. Small dishes, snacks and niche board games are also available. 
Oehlenschlægersgade 12
Bevi Bevi
Tiny, Italian, laid-back bar and casual eatery proffering natural wines, excellent negronis, creamy burrata, crispy focaccia and cosy vibes.
Oehlenschlægersgade 53
Volatil
Bottle shop and often pop-up bar. Volatil, as the name suggests, doesn't hold back on the attitude. They will guide you in the most amusing fashion to finding the bottle that's right for you, and boy do they have some good ones!
Sønder Boulevard 52
Vinsupernaturel
Shop favoured by locals, selling Rosforth & Rosforth wine and other deli food items, and exclusive sneakers (why not?). Watch out for their legendary grill pop-ups and various events. They're fun!
Gammel Kongevej 37
Related stories from our local experts
Let some of Copenhagen's experts on gastronomy, culture and urban development explain just what it is that makes their beloved city unique in its own great-tasting, creative and beautiful way.