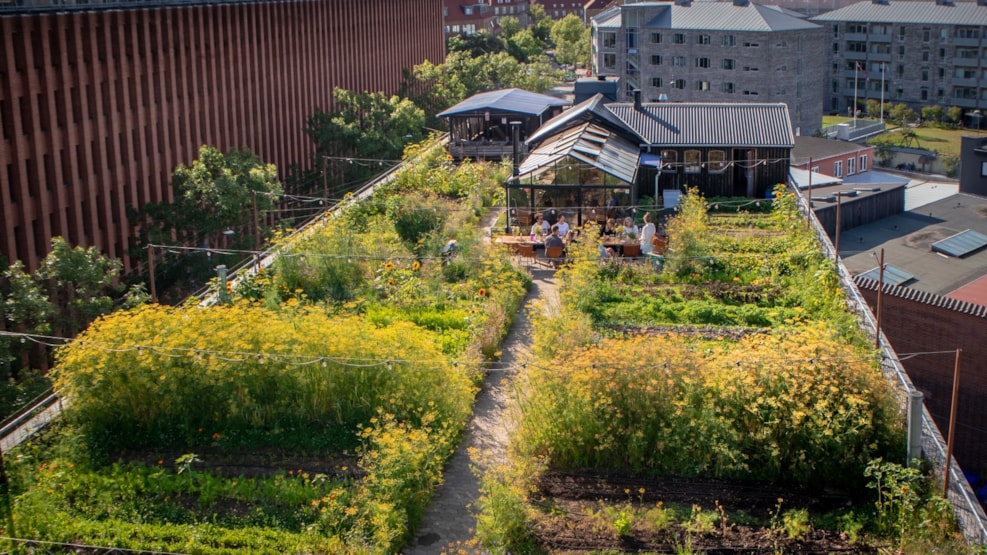 Gro Spiseri
Have dinner among heads of cabbage and lettuce at Gro Spiseri at Denmark's first rooftop farm.
Have dinner among heads of cabbage and lettuce at Gro Spiseri at Denmark's first rooftop farm
You can't possibly know what to expect when climbing the spiral staircase outside what looks like a normal building in Østerbro. On top of this former car auction house, you'll find Denmark's first rooftop farm, ØsterGRO.
ØsterGRO was started by three fiery souls back in 2014. Today, two of the founders, Livia and Kristian, have teamed up with a handful of people to run the farm and its eatery, Gro Spiseri. Though it's hidden well above ground, the place is well-visited by people that want to experience the farm's special atmosphere and enjoy a good, organic dinner.
GRO spiseri is not like many other restaurants, and you can immediately feel the passion from the people working there, who have backgrounds in everything from landscape architecture to the Michelin-starred restaurants noma and 108. In the kitchen, four guys work closely together to shape the menu and select natural wines to accompany the food. Here, there's no head chef and no hierarchy.
In the small establishment, they need to be creative with the few square meters they have. The dinners take place in the cozy greenhouse, which is heated up by a multifunctional oven in the kitchen. One long table makes up for 24 seats, and all the guests often end up chatting with each other.
An evening at Gro includes beautifully flower-decorated dishes, lots of stories about the farm and, if you pick a good day, an amazing sunset over the city.
Winter on the rooftop at Gro Spiseri
Thanks to overwintering cabbage, strawberry plants and stubborn herbs, the Østerbro rooftop farm is alive all year round. During the winter season, Gro Spiseri invites everyone for cosy Christmas dinners on top of the roof, where you can enjoy a gastronomic experience inspired by Christmas traditions, but very different from the classic dishes. You can also join Gro's "Monday hygge" and try five different versions of the Danish "æbleskiver" (traditional Christmas cakes). Both take place around the communal tables in the warm greenhouse, from where you can enjoy the view of the rooftop's winter landscape.
Become a farmer for a day
If you'd like to experience more of the farm and get your hands dirty, there are plenty of chances to do so. ØsterGRO and Gro Spiseri host different events and workshops, where you can help out at the farm, learn about plants and join cooking classes.