Multicultural and ever-vibrant Nørrebro
It's quite literally sizzling around the clock out at notoriously young at heart, Nørrebro. With a world of cuisine lining the narrow streets, to flourishing creative spaces and an ever-present relaxed vibe. Nørrebro is localhood at it's finest.  
Crossing Dronning Louise's Bridge from the Inner City over to Nørrebro is like stepping into a world where amazing food, relaxed living and cool street vibes are key. On a good day, the entire bridge is plastered in people enjoying the sun and often playing a few tunes to the sound of happy chatter. 
Prime hang-out spot for what seems like most of Copenhagen during the summer. Photo:Martin Heiberg
Nørrebro is the most populated neighbourhood in Copenhagen and by far the most diverse and multicultural. The streets are lined with everything from Arabic cuisine to Mexican to classic French fare. Nørrebrogade is the main strip in the area and is home to a handful of what are arguably the best shawarma shops in town. If not the country! Well, they even have an official Nørrebro Shawarma Championship on Nørrebrogade every year. So it's safe to say, that what might be Copenhagen's most popular street food (along with a hot dog of course) is taken pretty seriously around these parts. 
Well, they even have an official Nørrebro Shawarma Championship on Nørrebrogade every year.
Blågårdsgade is a side street to the main strip, Nørrebrogade, and is always buzzing with people in the many bars and cafés.Photo:Blågårdsgade | Martin Heiberg
Nørrebro is truly a melting-pot of world cuisines. It's also here that legendary restaurateur, Henrik Yde, opened his now-famous Restaurant Kiin Kiin on Guldbergsgade, which is the only Thai restaurant outside of Thailand with a Michelin star. Another top chef, Noma alumni Christian Puglisi, also decided to place his Italian/Nordic food empire in the Nørrebro neighborhood. With his world-renowned pizza place Bæst on Guldbergsgade, he has made his mark on not only the Nørrebro foodscape but certainly the entire Danish gastronomic universe. Also worth a visit is the Pan-African eatery, Sasaa, where you can treat yourself to delicious treats from the amazing African cuisine. All you need to do is step onto the streets of Nørrebro, and you'll find yourself surrounded by whatever fancies your taste.
Really, all you need to do is step onto the streets of Nørrebro, and you'll find yourself surrounded by whatever fancies your taste.
Stefansgade is lined with people dining on the sidewalk as soon as the sun is out.Photo:Büro Jantzen
During the weekend, it would be hard to find a better neighbourhood than Nørrebro to get a few drinks and find some sort of a party or musical event to attend. Granted, Nørrebro is not necessarily the place to go for clubbing, but this is made up by boasting a bunch of amazing cocktail bars and some great beer- and wine bars. For a beer experience quite out of the ordinary, a visit to BRUS or Kølsters Tolv Haner is highly reccomended. Or maybe heading a few steps under street level for some world-class cocktails at, The Barking Dog, for a truly local bar experience. 
Classic music venues like Stengade and Rust have been around for ages and tend to attract quite a few big and more underground international artists every year.  
One of the city best beer bars, and quite certainly one of the coziest.Photo:Büro Jantzen
But Nørrebro is not only bustling and vibrant parties and events around the clock. There are more than a handful havens of piece scattered around the neighbourhood. The Lakes are like the breathing lungs of Nørrebro and is filled with couples strolling, people running and packs of white swans swimming about on all days of the year. A soothing walk around one or two of the lakes is true serenity in all the bustle of the big city. Assistens Cemetery is another prime spot for relaxation. A huge green area, smack dab in the middle of Nørrebro. It's quite common in Copenhagen to lounge around the cemeteries, and Assistens Cemetery is by far the most popular spot in the city.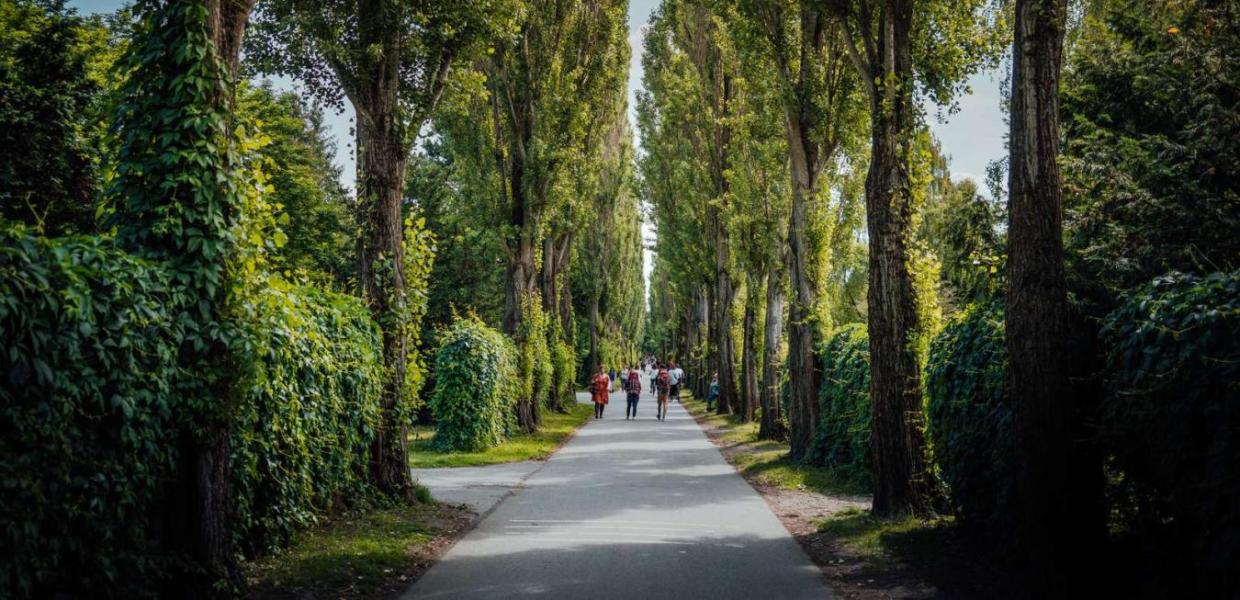 Green haven in the heart of Nørrebro.Photo:Simon Bang
Another local spot is along The Green Path cycling path, all the way from Nørrebroparken to Superkilen. A stretch of almost 2 km's that feature large grassy areas for chilling to the architecturally cool Red- and Black Markets, where skaters and kids hang and play.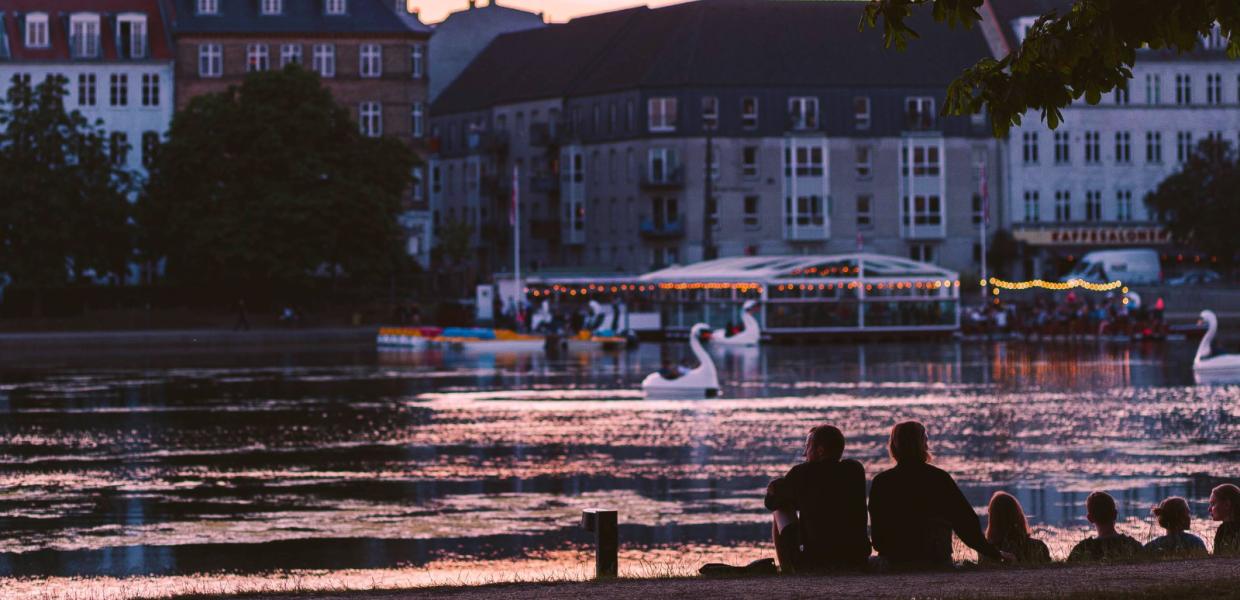 Sunset chill by the lakes of Copenhagen.Photo:Jarvis Lawson
Unlock Nørrebro with these guides