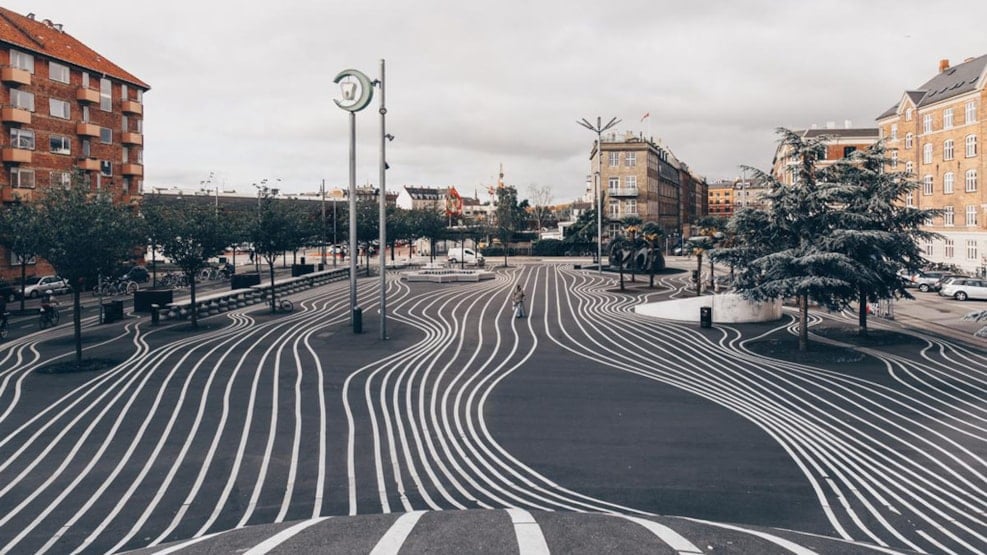 Superkilen park
Public recreational space in Nørrebro with diversity at its heart.
Superkilen is a public space in Nørrebro designed by Bjarke Ingels Group, Superflex and Topotek1. It's popular with families, skateboarders and visitors alike, and aims to bring communities together.
The park is divided into three main areas: The Red Square, The Black Market and The Green Park. While The Red Square offers modern, urban life with café, music and sports, The Black Market is the classic square with fountain and benches. The Green Park is a park for picnics, sports and walking the dog.
Diversity in Nørrebro
The park opened in 2012 with a view to create a diverse experience right in the most diverse area of Copenhagen. The vision was to create a park that was like a world exhibition, filled with interesting things from around the world, that would bring people together.

Among other things, you can find fountains from Morocco, swings from Iraq, benches from Brazil and a black octopus slide from Japan. The smooth open spaces are popular with skateboarders while the sculptural shapes and artistic lines make it a great backdrop for an Instagram post. It is regularly listed as one of the best sights in the city, and has won and been shortlisted for multiple global design and architecture awards.