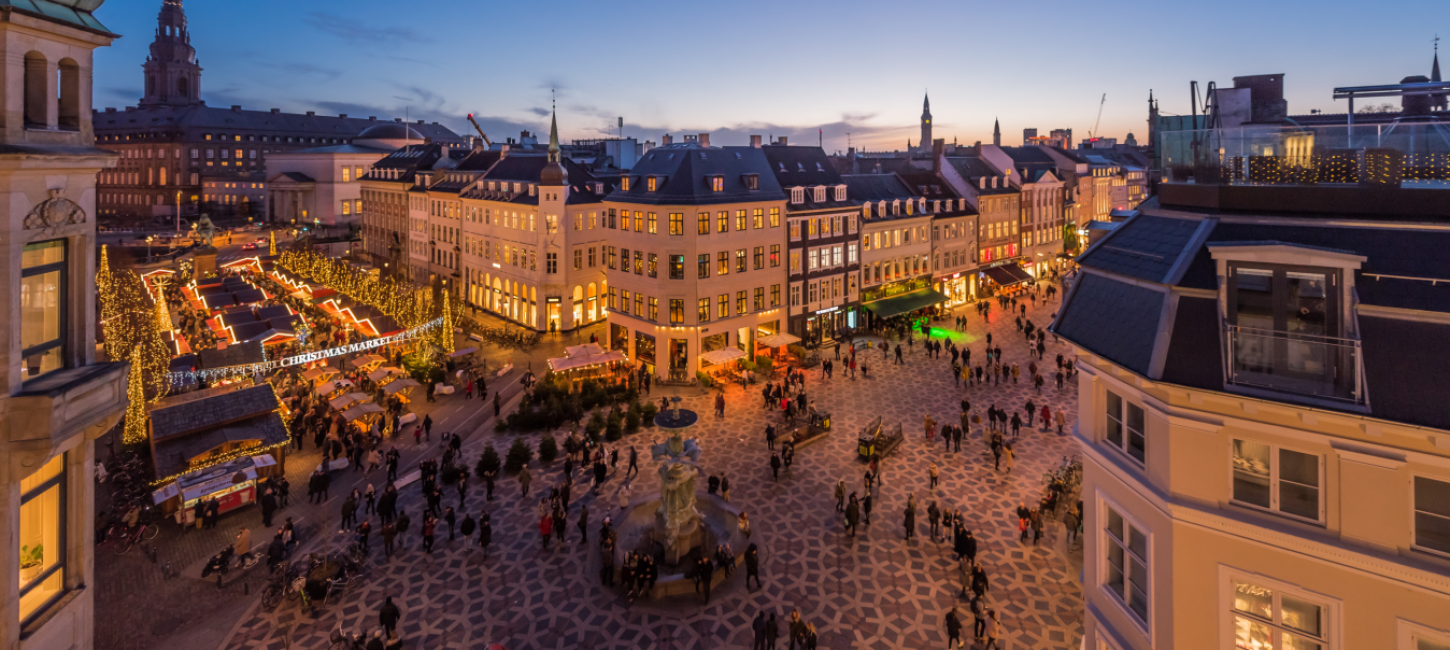 8 reasons why Christmas in Copenhagen is extra magical
Christmas in Copenhagen is all about the lights, the gløgg, æbleskiver, hygge, frosty walks around town, and having a really cozy time. 
Copenhagen is very classical in some ways, when it comes to Christmas and traditions. Is it really Christmas in Copenhagen without a skate on the ice rinks by Frederiksberg Gardens? Or a wintery stroll around Tivoli with some homemade æbleskiver and a gløgg? During December in in the city you'll see copenhageners towing Christmas trees on their bikes, light-clad kayaks paddling about the canals and packs of people waiting in line at specialty shops to bring home the tastiest of Christmas treats. Here's a list of why Christmas in Copenhagen is that bit extra magical.  
Every winter, Frederiksberg Runddel, by the entrance to Frederiksberg Garden, is transformed into a wonderful ice rink which allows you to have fun on the ice throughout the winter season.Photo:Daniel Rasmussen
Ice rinks
Ice skating is so very true to a real Copenhagen Christmas. Cocooning yourself in your warmest outfit and channeling your inner Bambi on one of the city's outdoor rinks, while sipping hot chocolate, is very close to perfection. Frederiksberg Ice-rink is definitely one of the all-time classics and makes for a great warm-up stroll in Frederiksberg Gardens. A newcomer to the pack, Broens Skøjtebane, is already a favourite, and with its harbour views and delicious street food stalls all around, it elevates the ice-skating experience to a whole new level.
Tivoli might be the epicenter of all things Christmas in Copenhagen. With what seems like a million twinkling lights, steaming pots of mulled wine and hot chocolate, and the coziest of Christmas markets, a trip to Tivoli in December is a must if in Copenhagen. All the rides are, of course, spinning the entire holiday season, but a stroll through what might be the closest thing to a real winter wonderland is simply not to miss.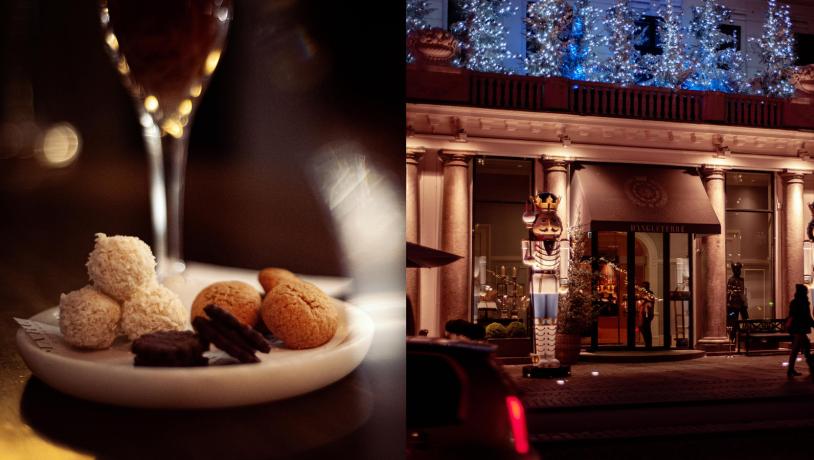 Try the Danish version of high tea at Marchal, right in the center of the most Christmassy square of Copenhagen.Photo:Rasmus Poulsgaard
Cuddle up in a cozy café for that next level "julehygge"
Oh, that hygge. If you struggle to grasp what it's all about, then head for Copenhagen during Christmas, and you'll see for yourself. Aside from the overall cheery vibes, the city's cafés usually crank the menu up for Christmas, adding classics such as gløgg, æbleskiver and ris a la mande. At Hotel Sanders, set right behind Kongens Nytorv, they serve a darn good homemade gløgg in beyond cozy settings. Hunting for ris a la mande? Look no further than Palægade! Æbleskiver is more your jam? Tivoli has got the best in the game. If cuddling up with a good coffee sounds more like it, why not head for The Coffee Collective Jægersborggade, to sample their Christmas coffee.
Saint Lucy Kayak Parade in Copenhagen's harbour. Photo:Kayak Bar | PR
Every year on the 13th of December on Saint Lucy's Day, hundreds of kayaks all covered in Christmas lights and ornaments take to the canals for their annual Saint Lucy's parade. This is truly a sight to behold, and a Christmas tradition that's here to stay. So, don some layers and follow the spectacle around the canals.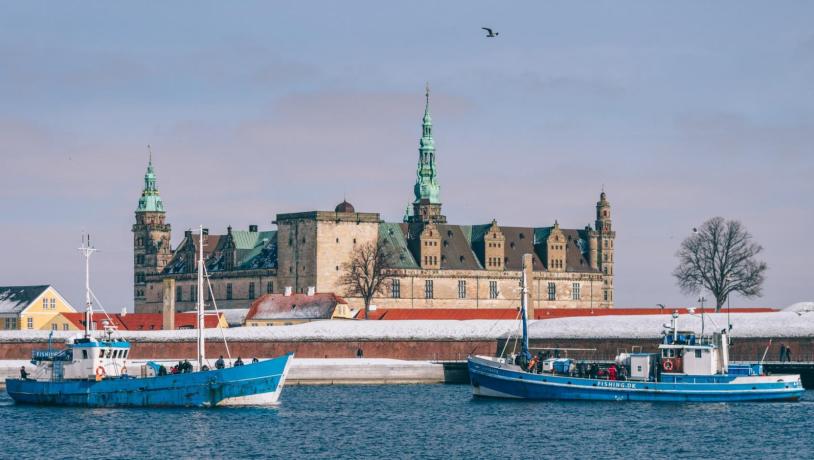 Kronborg Castle aka Hamlet's Castle on a frosty winter's day. Photo:Daniel Rasmussen
Okay, the castles are there all year round. But during Christmas, those big old castles just have this extra magic to them. With places like Kronborg Castle having a massive Christmas market in the old halls, Christiansborg showing childrens' Christmas plays and Rosenborg Castle serving gløgg and æbleskiver to the the weary strollers of King's Garden. 
Olufsvej is by far Østerbro's most colourful street.Photo:Martin Heiberg
Quirky townscapes and snowy streets
If one thing's for sure, then it's that those quirky coloured houses and old cobbled streets sure don't get uglier when dressed in snow or drenched in that warm glow from the Christmas lights. Even if you aren't heading for anything, a walk around the many old streets just for the sake of it will surely spark that Christmas feeling. Jægerborggade and Magstræde are favourites.
Every year the Christmas in front of the City Hall lights up the City Hall Square. Photo:-
All the lights
Wintertime in Copenhagen might be a dark affair, with late sunrises and early sunsets. But during Christmas, the millions upon millions of Christmas-lights really comes into their own lighting up the city. With Tivoli taking the light installations to the next level every year to the classic garland lights creating ceilings of light above the narrow streets. Check out Kronprinsensgade to see what we mean.
Quiet times in one of Malmö's many charming cobblestoned streets. The Swedish city is closely connected to Copenhagen by public transport and is a perfect day trip destination.Photo:Thomas Høyrup Christensen
Christmassy day trips
Christmas is all the rage and awesome in Copenhagen, but heading a bit out the city makes for true old-school Christmas experiences not to miss. How about drinking gløgg and sampling Danish Christmas ornaments in the old halls of Kronborg Castle? Or maybe a Christmas shopping spree on the other side of the sound in Malmö to get the best of our two neighbouring countries' traditions. A trip to Frilandsmusset (The Open Air Museum) will send you back in time with their Christmas In The Old Denmark exhibitions. Or maybe just head out to cozy and quirky Dragør for their classic Christmas market.