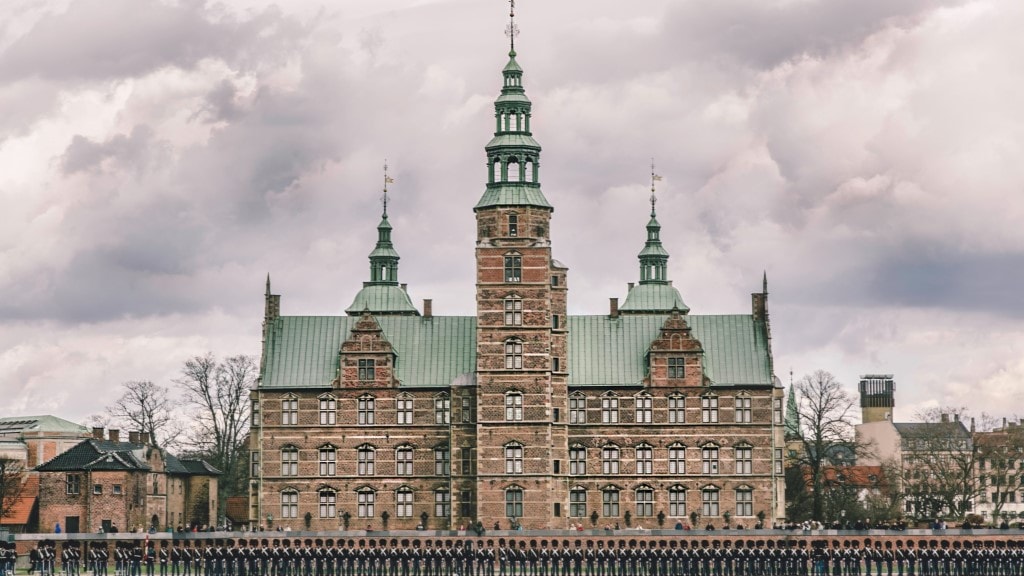 Rosenborg Castle
A royal hermitage set in the King's Garden in the heart of Copenhagen, Rosenborg Castle features 400 years of splendor, royal art treasures and the Crown Jewels and Royal Regalia.
Rosenborg Castle was built by one of the most famous Scandinavian kings, Christian IV, in the early 17th century.
Among the main attractions is the Knights' Hall with the coronation thrones and three life-size silver lions standing guard. Tapestries on the walls commemorate battles between Denmark and Sweden.
The interiors are well-preserved and invite you to take a journey in time. You can experience the king's private writing cabinet, his bathroom, and see wax figures of former royal inhabitants.
Rosenborg also houses an exquisite collection of Flora Danica and one of the world's finest Venetian glass collections, both set in tower chambers.
TRAVEL TIP: With a Copenhagen Card in hand you get free admission to Tivoli and over 80 attractions as well as free public transportation in the whole capital region. 
See Denmark's crown jewels
The crowns of the Danish kings and queens are kept in special vaults and are embellished with table-cut stones, enamel and gold ornamentation.
The crown jewels primarily consist of four garnitures: a diamond set, a ruby set, a pearl set, and an emerald set – the emeralds being among the world's finest.
Rosenborg Castle has a sister museum at Amalienborg Palace displaying royal history from the mid 19th century unto today.
Portraits of Caroline Mathilde and Struensee

At Rosenborg Castle you can see portraits of Johan Friedrich Struensee and Queen Caroline Mathilde. Caroline Mathilde was married to the insane King Christian 7, but had a fatal love affair with the king's physician Johan Friedrich Struensee.

While King Christian 7 was too ill to govern, Struensee led the country for almost two years. He was arrested and executed in 1772, after which Caroline Mathilde was exiled to northern Germany.

The portrait of Struensee is from 1824 by Hans Hansen and is a copy of a painting from the hand of painter Jens Juel. The portrait of Queen Caroline Mathilde is from 1771 and painted by Jens Juel.

Rosenborg Castle is part of the museum district Parkmuseerne in and around King's Garden. A ticket to Parkmuseerne costs 195 DKK and gives you access to all six great museums in one ticket. Tickets are sold at all of the six museums.