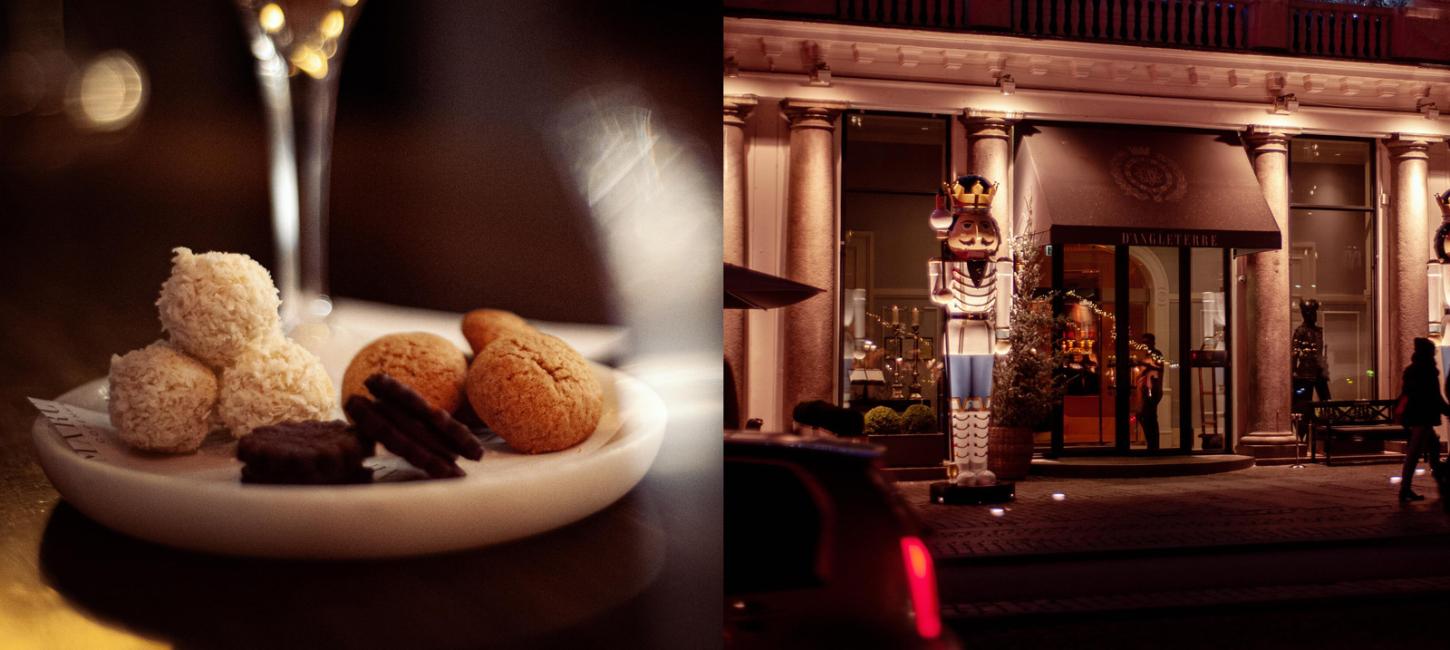 About the writer
Rasmus has bartended at some of the best cocktail bars in Copenhagen, started a spirits brand and written books on booze and cocktails while exploring the city's bar scene for more than 10 years.
Gløgg: A sweet and spicy seasonal love affair
By Rasmus Poulsgaard
Local expert on cocktails, spirits and Copenhagen's bar scene. One of our local contributors covering Copenhagen's culture, gastronomy and urban development.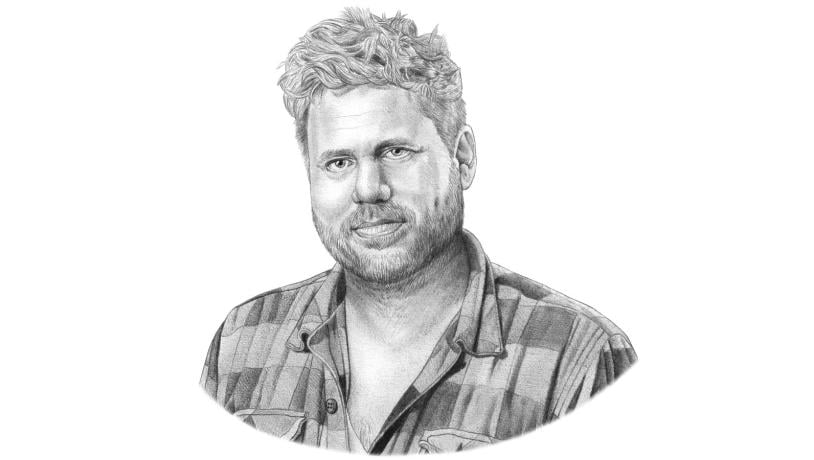 Photo:Sine Jensen
Drinking wine is a sophisticated process in which you carefully temper the wine before pouring the delicately crafted drops into an appropriately formed vessel. You then swirl it around to observe the physical properties of the wine, you nose it and only thereafter do you carefully take the first sip. In your mouth you aerate the wine releasing aromas that travel to your retronasal cavity where you enjoy its aromatic profile……Or you could just chuck it in a pot, throw in spices, sugar, and alcohol and bring it to a boil. At least that is what we do in Denmark around Christmas.
Whether it was the 4th century Romans or the German courts of the 1400s who invented Gløgg, I will let it be up to the historians to fight out the details, but the colder regions of the North have certainly taken the spiced winter tradition to heart. Today, you cannot approach a market, cafe, or bar in Copenhagen during the festive period without being met with the sometimes overwhelming yet delightful and familiar scent of clove, oranges, cinnamon, anis, burnt wine, and strong booze. It is in our bones, and nobody up here could imagine Christmas without it.
In many ways, Gløgg is like a summer fling you have fun with during your vacation. The sun is shining, life is easy - so are you, and you flow together in a never-ending stream of sangria, sunscreen, and Eurodance music. 
But when you come home, questions start to mount, and before you know it, you have deleted his emails, cropped him out of the vacation pictures, and the very idea of him makes you gag. Come January this is how we feel about gløgg, yet next November we start all over again.
But what is it? Where do you drink it? And what makes a Gløgg great? These are some of the questions I seek to answer in this article by submerging myself into scorching hot, sweet and spiced wine for your pleasure only of course.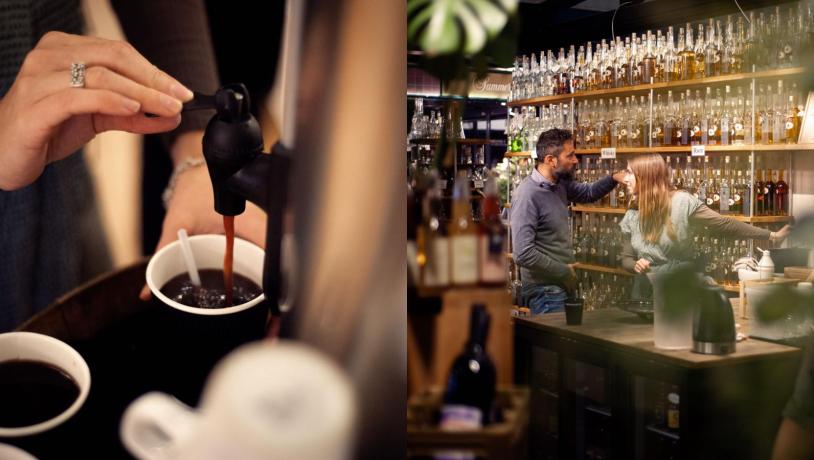 Explore Noorbohandelen's selection of oils, vinegar, spirits, and wines while sipping on one of the best gløggs in Copenhagen.Photo:Rasmus Poulsgaard
Every year in November, Torvehallerne hosts the prestigious and highly esteemed annual Danish Gløgg Championships. Normally Torvehallerne is a food market, and a must-see for tourists visiting Copenhagen, but for one day only it is taken over by people in antlers, elves hats, and Christmas jumpers who love the classic hot cup that heralds Christmas like no other thing. It is a very serious event of course.
Noorbohandelen has been coronated the winner two years running, and I figured it would make sense to start my Tour de Gløgg here.
A Gløgg-marathon that will take me through the whole city and back again tasting 6 different Gløggs in the quest for the best seasonally spiced wine.
As I make my way through the Christmas buzz of Torvehallerne, it is 30 minutes before closing time, and I quickly order the much-anticipated drops of warm wine. It is my first of the year, and I am excited. I look at my watch and impatiently scan my phone. I am meeting someone here, preferably before closing time, who has obliged to make this journey with me, all for the sake of public service of course.
His name is Solfinn and he loves wine, but he doesn't quite understand why you would heat it like that. He knows a lot of wine producers, and maybe that is why he considers it a bit disrespectful boiling it, and I guess he is the closest you would get to a Gløgg Grinch.
1. Noorbohandelen

(Torvehallerne / 50 DKK per cup)
Noorbohandelen has existed for more than a decade and is among other things an independent bottling company that specializes in wine, spirits, oils, and vinegar.
The owner is of German descent, so his way into Gløgg is through the German/Austrian version called Glühwein, which basically just means hot wine in German, and is a lighter more red wine dominant version of its Nordic cousin.
Upon taking the first sip it makes sense. It is a very lively and vinous expression with a relatively discrete influence from the spices. It is however also rich and rounded, and the flavors sort of melt together into a harmonious velvety unit of Christmas delight. I inquire about the production process, and the girl tending the shop tells me that the Gløgg extract, which is made from alcohol, different sugars, spices, citrus, and port wine, is matured in rum, whisky, and wine barrels for one year before reaching my cup, which of course explains its wonderfully mellow taste.
You can sense they make a big deal out of serving and storing the Gløgg at relatively low temperatures because they want to preserve a sense of freshness, and the integrity of the wine. However drinking Gløgg is also about the hot and comforting feeling you get from embracing the cup, and I can't help to think that they should have preheated the cups to maintain the temperature in the serve. This is details and the overall impression is a great Gløgg serve that anybody would be happy to drink.     
Suddenly my phone buzzes. It is Solfinn, and as it turns out, he has been waiting for me at another location, but his phone had run out of juice. They also serve gløgg he writes, and I rush there to reach the final call.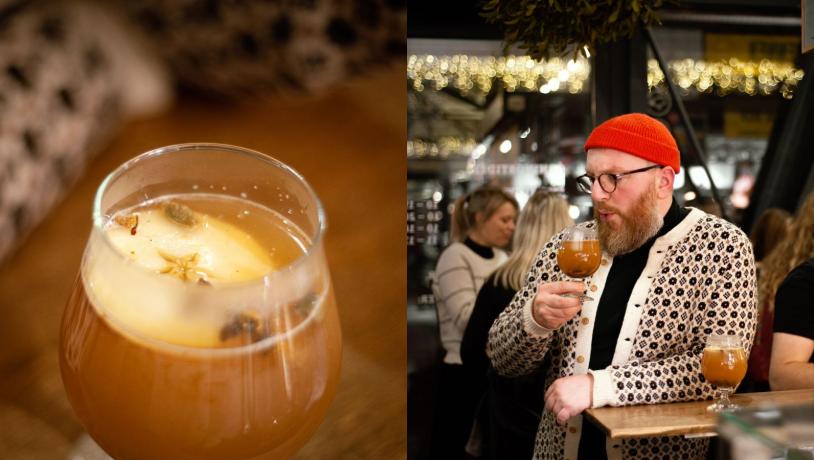 "An apple a day" as they say. This is certainly a very enjoyable way of staying healthy.Photo:Rasmus Poulsgaard
2. Omegn og Venner (Torvehallerne / 95 DKK per cup)
Omegn is a locally anchored food outlet that promotes small local producers and products and sometimes combines them into meals for you to enjoy. And their "Gløgg" is exactly that - a meal that is.
It is a huge and scorching hot serve based on cloudy apple juice, honey, apple cider, winter spices and rum.
A true purist would argue that Gløgg has to be red wine-based, but you could also argue that gløgg is actually more a feeling than anything else. A feeling of warm comfort in the grey and dark winter evenings of the north, and a companion that safely guides you into the Christmas spirit and maybe into slight inebriation as a consequence. And believe me, this will do that. It is a lush, rustic, and powerful mix with the intense winter spices at the foreground. It feels good, but I would probably tone down the apple juice, the honey, and the spice, so one could taste the complex notes of the cider and the rum a bit more. Cutting down the volume of the serves also wouldn't hurt, and it would probably make up a more elegant serve at that. 
At this point, they have done the last round at Torvehallerne, and people have almost vacated the place before we finish this massive golden retriever of a drink. We settle our bill, and I look at the setlist of the night scribbled down in my small notebook.
"Hviid´s Vinstue" is up next, and as we gently glide through the city towards the old part of Copenhagen, I suddenly notice the Christmas decorations above lighting up the old buildings in a warm and incandescent tone. Yes, Christmas is certainly coming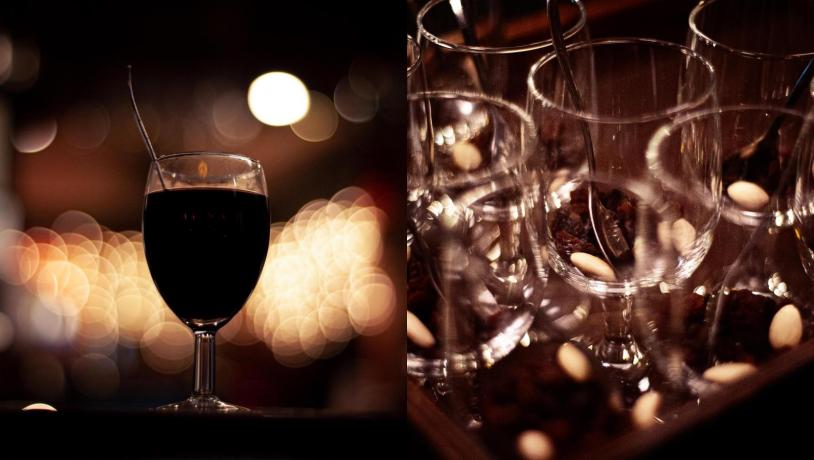 Somehow, Gløgg is just made for a bar like Hviids Vinstue - dark, warm, and cozy.Photo:Rasmus Poulsgaard
3. Hviid´s Vinstue (Kongens Nytorv 19 / 92 DKK per cup)

We squeeze our way through the narrow old wooden door at Hviid´s Vinstue and stumble straight into the bar. The place is lit by warm dimmed lights, and fitted with dark wood and leather from floor to ceiling. The clientele is noticeably older, and you immediately get a sense of the old Copenhagen upon entering. It reminds me of a time before you could order a cafe latte everywhere, and before any type of fanciness took over the city.
We are immediately greeted by a young man in a white shirt, black tie, and waistcoat. He looks us straight in the eye with a warm heartfelt smile. He points to where we can hang our coats while presenting a cloth for wiping Solfinns misted glasses with the other hand. We appreciate the attentive service and settle in the bar after ordering a couple of glasses of - yes you guessed it - Gløgg.
It would be an understatement to say that Gløgg is a thing at Hviids Vinstue. They serve 8,000 liters of Gløgg a year, and their recipe dates back to the 1950s. The bartender even hands us a small flyer explaining the history of Gløgg at the premises, when we ask about it.
We notice a tray of wine glasses prefilled with raisins and almonds lined up on the counter for quicker service. A closer examination of the prefilled glasses however sends shivers down my spine. The raisins appear to be unsoaked! I realize this needs some explanation for the non-initiated, but among Gløgg aficionados in Denmark, it is a national sport to talk about who steeps their raisins longer, and in what alcohol mix they do it in. These alcohol-soaked bombs of joy make up the kick of the drink and are also one of the reasons why you shouldn't drink Gløgg and drive.
We try to shake off this atrocity and taste the Gløgg with an open mind, but unfortunately the Gløgg lets them down. "You can taste the inferior quality of the red wine," Solfinn says, and it seems one-dimensional, a bit heavy, and totally void of complexity or depth. The atmosphere is nice though, and we have a great time chatting with the bartender, while we finish the drink.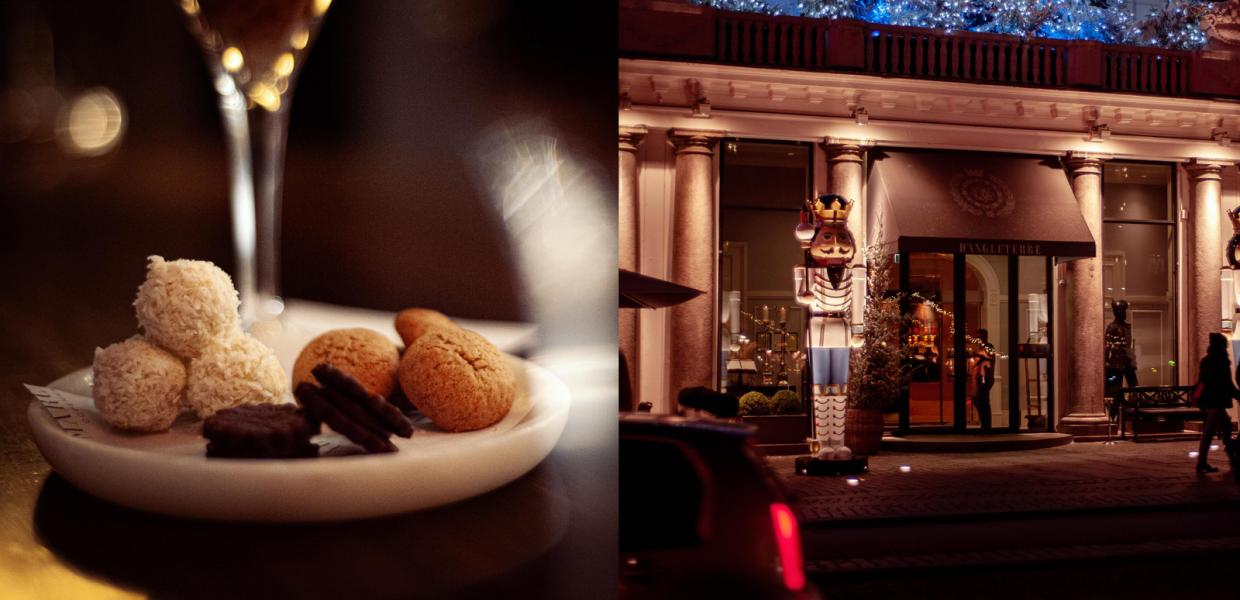 Try the Danish version of high tea at Marchal, right in the center of the most Christmassy square of Copenhagen.Photo:Rasmus Poulsgaard
4. Marchal (Kongens Nytorv 34 / 140 DKK per cup)
The next stop is Marchal, which is the bar at the mythical five-star Hotel D´Angleterre bang in the center of Kgs Nytorv. This is the fortress of old-school luxury and where old money goes. They have served the elite since the 18th century on this address, and needless to say, our expectations are high.
D´Angleterre is also known for its exuberant borderline tacky Christmas decorations, and they do not disappoint this year either. Three doormen invite us in, and we walk through the huge glass doors under the blue LED lit icicles and into the bar area where we order their version of Gløgg.
The service comes with three different petit fours, and we take the first sip while sitting comfortably in their large leather barstools feeling very luxurious indeed. Unfortunately, the gløgg is overly sweet, and the sideserve only makes the experience even sweeter. It is the most expensive drink we order on our Gløgg Crawl, but unfortunately also the one that is least to our tastes.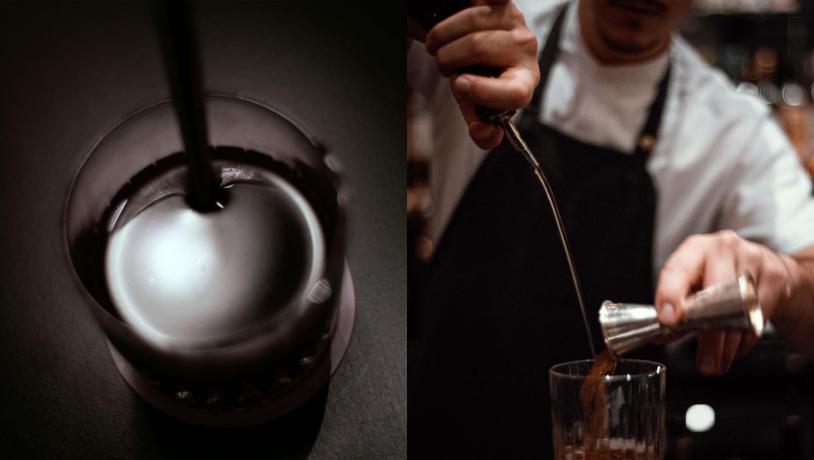 Vermouth is with good reason growing in popularity these days, so why not use it in gløgg?Photo:Rasmus Poulsgaard
5. Rudo (Guldbergsgade 29 / 60 DKK per cup)
Rudo is the upstairs bar/Chambre separee of Bæst - a hugely popular Italian restaurant run by Noma Alumni, Christian Puglisi. We go there to taste their vermouth-based Gløgg, which of course, makes sense considering their Italian roots. 
They use a relatively light Nebbiolo-based vermouth, which is mixed with red wine to make up the Gløgg base, and the result is a dryer version of Gløgg, but unfortunately, also a murky mixture that is quite frankly flavor-wise a bit confusing. I wished they had gone all out on the vermouth by choosing a more powerful vermouth base and then spiced it accordingly. Instead, we find ourselves drinking an unharmonious Gløgg that sits between two chairs. Solfinn appropriately describes the taste as "a drink that doesn't aim to please, and ultimately doesn't". I guess Italians making Gløgg is like Danish people making pizza. It just doesn't work, does it?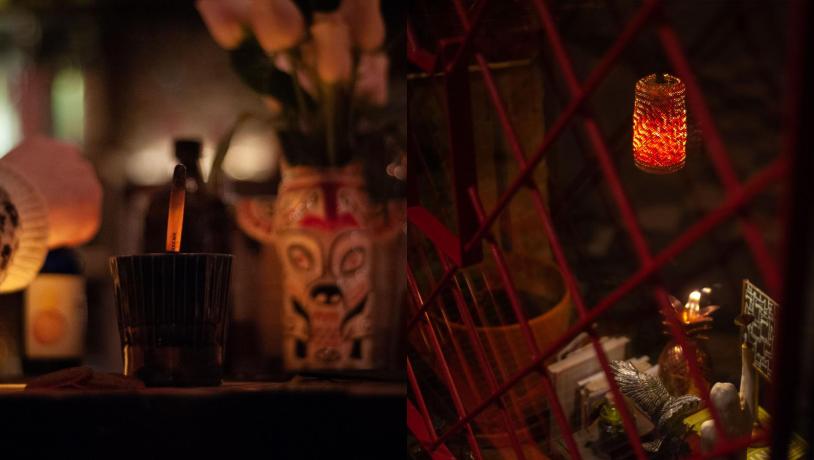 Most cocktail bars in Copenhagen serve Gløgg. Don't be scared to ask when you visit Copenhagen during Christmas.Photo:Rasmus Poulsgaard
6. Barking Dog (Sankt Hans Gade 19)
The last stop of our Gløgg-marathon is Barking Dog - a place that won Gløgg of The Year in 2015 but hasn't competed since. It is also a great cocktail bar that specializes in tequila, mezcal, and just has a good all-round atmosphere. There is no tequila in the gløgg here though, which is instead spiked with Spanish brandy. It reminds me of the first Gløgg I had of the day at Noorbohandelen, but it is slightly sweeter and lacks a little bit of the fruity freshness that the current title holder possesses. However, it is a very balanced, warm, and cozy serve that certainly ticks all the boxes. 
To say that we are nearing the point of Gløgg saturation at this point would be an understatement. The sweet and spiced wine is a wonderful winter companion that you have to try if you visit Copenhagen during the festive period, but you can certainly have too much of a good thing when it comes to Gløgg. We order a Negroni from the bartender and reflect on a day that has brought us through highs and lows, traditional serves and attempts of rejuvenating the old classic.
It is hard to say who does the best Gløgg in Copenhagen, but on our journey, Noorbohandelen and Barking Dog certainly stands out.
Ultimately though, Gløgg is not about the best recipe, it is first and foremost a social lubricant, a glue that in the cold winter months binds us together in tradition and puts us all in Christmas mode. And when you sit outside with a steaming hot cup smelling the spices and the evaporating alcohol that slowly warms up your body and mind; objective review criteria and the relevance of this article will quickly melt away like the frostbite on your chin.
Related content
Let some of Copenhagen's experts on gastronomy, culture and urban development explain just what it is that makes their beloved city unique in its own great-tasting, creative and beautiful way. And check out our guide to a real Copenhagen Christmas, now that you're here.