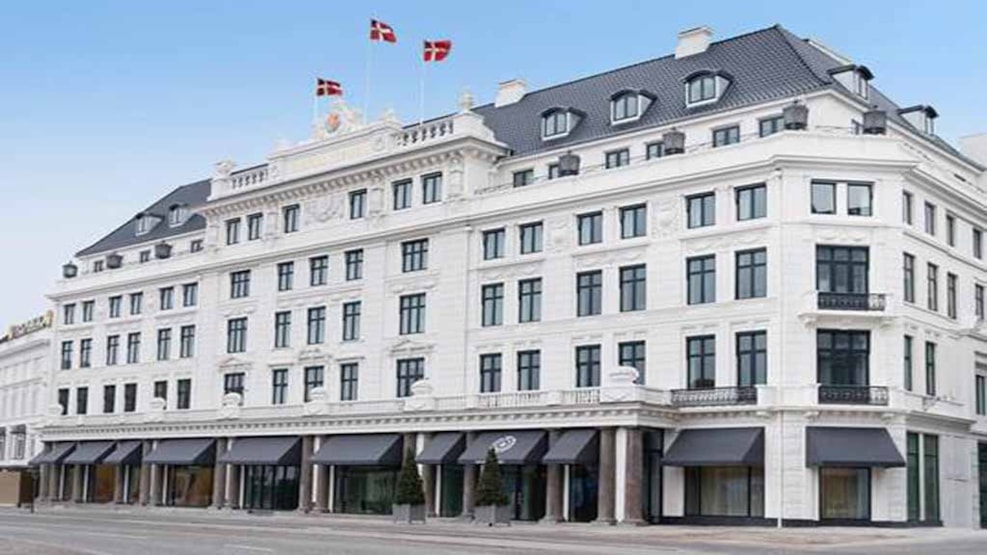 Hotel d'Angleterre
Historical newly renovated luxury hotel in the heart of Copenhagen.

Hotel d'Angleterre is an icon and a historic landmark in Copenhagen, celebrated for its elegance, luxury and style. Inspired by its rich heritage the hotel has recently undergone a complete refurbishmentand has reopened as a revitalized grand palace. Balancing legacy and style with intuitive and tailored services, the d'Angleterre will complement the desires of today's refined travelers.

Hotel d'Angleterre offers intimate rooms for private dining and functions, as well as the grand historic Palm Court, which seats more than 300 guests. The venue is also the ultimate exclusive setting for meetings, product launches, celebrations and gracious weddings.

The spacious and elegantly decorated suites and rooms will be individually appointed to provide intimate ambiances for living, relaxation and entertainment. 

The regal Royal Suite, comprising a living space of more than 250 square metres, faces one of the city's most classic squares, Kongens Nytorv and offers a breathtaking view of the Royal Danish Theatre.

The Spa & Fitness features private treatment rooms and a swimming pool for relaxation and revitalisation as a fully-equipped fitness studio.

The hotel restaurant Marchal was awarded  a Michelin-star in March 2014. Its cuisine is inspired by the Nordic and French classics with a twist which complements the hotel's aspiration to be the best hotel in Scandinavia.
The Balthazar Champagne Bar invites you for an experience and decor extraordinaire, with more than 160 different bottles of Champagne and a Champagne cocktail menu created by cocktail wizards.
In 2014 the d'Angleterre was included on the Travel and Leisure "IT List" and on the Condé Nast Traveler "Hot List", as one of their 5 "Best New Design Hotels".
Quick facts:
- Category: *****
- Prime location in Copenhagen
- 10 km from the airport
- 90 Room & Suites
- Conference & Event Facilities from 10 to 400 people
- Michelin Awarded Restaurant – "Marchal"
- Champagne Bar – "Balthazar"
- Spa, Fitness & Swimming pool – "Amazing Space"

Meeting Capacity
- Plenary rooms: 1
- Meeting & banquet halls: 2
- Salons: 5
- Private dining