Experience world-class modern architecture
The architectural legacy in Copenhagen is strong and all-pervading. But also more relevant than ever, as the city will be UNESCO-UIA - World Capital of Architecture in 2023.
Copenhagen has been awarded  UNESCO-UIA - World Capital of Architecture in recognition of its strong legacy within architecture and innovative urban development, along with its high ambitions on climate, sustainable solutions, and liveability.
It's no coincidence since Copenhagen is home to some heavy hitters on the global architectural scene. Bjarke Ingels Group (BIG) is probably the most celebrated in recent years, but let's not forget Henning Larsen Architects, Cobe, Gehl Architects, C.F. Møller, 3XN, Lendager Group, Dissing & Weitling, Lundgaard & Tranberg, Dorthe Mandrup, and many more. 
Get the low down on Copenhagen's world-class architecture and how to experience it firsthand
World Capital of Architecture - Events and Experiences
Read more about what's going to happen both at Danish Arcitecture Center and what to expect from the Copenhagen in Common programme. 
The Architect's Guide to Copenhagen
Since Copenhagen has been awarded UNESCO-UIA - World Capital of Architecture in 2023, we have asked a couple of Danish architects to give their opinions on what makes Copenhagen special.
Copenhagen - a city built for bicycling
Bikes and Copenhagen are an integral part of each other. Copenhagen simply wouldn't be the same without its many, many kilometres of bike lanes, dedicated bike bridges, and so on. 
Getting around in Copenhagen is easiest on a bike, but it might also be the best way to really get a sense of how important city planning is if you aim for an urban space full of emission-free two-wheeled vehicles.
What is the recipe for becoming a World Capital of Architecture?
Creativity, craftsmanship and democracy are all elements that for decades have helped position Denmark as a frontrunner in architecture that improves lives.
Let's walk you through it
From a museum all about architecture to guided and self-guided tours, and festivals. The architectural activities in Copenhagen are many, interesting and fun.
UIA World Congress of Architects
World Capital of Architecture is an offshoot of another great event next year; the UIA World Congress of Architects which takes place on 2-6 July 2023. This congress is expected to attract over 10,000 delegates including architects, city developers and other professionals from the international building sector. Titled 'Sustainable Futures - Leave No One Behind', the congress has a clear goal to promote, discuss, create and showcase architecture as a vital tool to achieve the UN 17 Sustainable Development Goals by 2030.
 
(The UIA has just launched their preliminary programme and with an impressive lineup of speakers, it bodes very well for the congress. Here you can see the preliminary programme.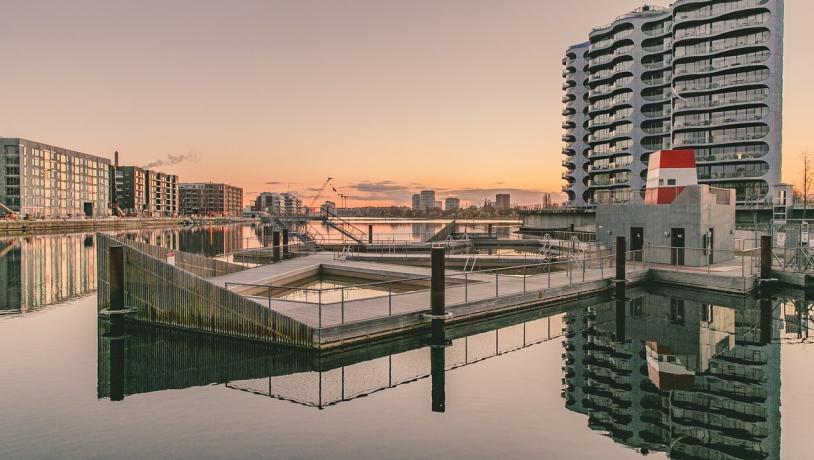 Photo:Thomas Høyrup Christensen
Sustainability, the good life and architecture
Water, light, green spaces and innovative thinking are key elements in Copenhagen's architectural development and a crucial part of obtaining a combination of sustainable actions with a high quality of life.