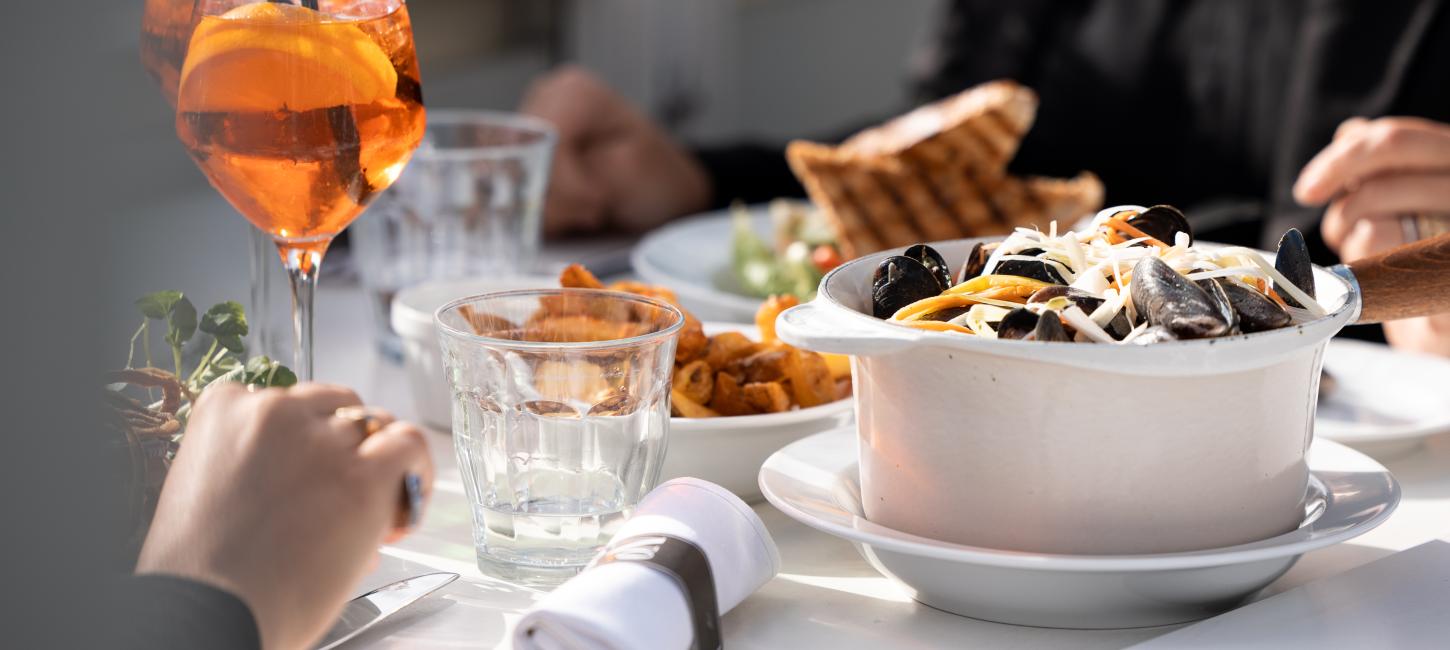 Eat your way from the city centre to the north of Copenhagen: A slice of the good life.
The Danish capital offers endless foodie experiences for everyone's taste – and the calm countryside of northern Copenhagen is no exception.
If there's something the Danes take pride in, it's their selection of world-class restaurants. Across the capital of cool lies a plethora of restaurants that can (and do) easily satisfy even the harshest of food critics. But where do you go when you need a little breather from the fast pace of the inner city but still crave the incredible eating experiences the city is known for? The answer is simple: the quiet scenery just north of Copenhagen.
Food Classics and Countryside Ambience
One excellent destination for countryside dining is the twin restaurants Brede Høker and Brede Spisehus. Perched only a stone's throw from each other in the incredibly charming Brede, located just 25 minutes by train from the city, these two eateries are the ultimate destination for anyone seeking a lazy lunch or slow evening gastronomy served in the spirit of the north. With its old buildings and village-like charm, Brede is a destination in its own right, and you would be missing out if you didn't treat yourself to an unforgettable meal or two here. At Brede Høker, lunch is served with Danish classics such as smørrebrød (open-faced sandwiches) as well as worldwide favourites like sandwiches, salads and charcuterie boards.
After working up an appetite anew, Brede Spisehus is an absolute must for dinner in the north of Copenhagen. Located in an old canteen, in a heritage-listed building from 1893, this historical eatery is bound to impress. If you swing by during the warmer months, starting the evening off with a cocktail in the lush garden is a no-brainer, and if the mood strikes, a game of pétanque always goes down a treat. The kitchen offers a set dinner menu featuring flavoursome international ingredients with a local twist: like hamachi with pickled tomato, pepper mayonnaise and dill or white asparagus with smoked cheese, hollandaise and dukkah. You can't go wrong.
A charming seaside escape
Further up north lies the lovely and lively Rungsted Harbour. Here, amongst the yachts and views of the sparkling Øresund, lies the classic No. 22 Bistro. This is the perfect place for lovers of French gastronomy, although everything is made with the finest seasonal and locally-sourced Danish ingredients. Most fittingly, the menu reflects the bistro's maritime location so moules frites is of course on the menu, as well as other favourites like whole-roasted plaice and delicious toasted sandwiches. Whether you're stopping by for lunch or dinner, the backdrop of the peaceful harbour and relaxed seaside atmosphere are the perfect accompaniments to your meal. Rungsted Harbour is about an hour north of Copenhagen by train, but with so many connections and so much to see and do once you arrive, it's well worth the excursion. There's an S-train from the Copenhagen city centre to Rungsted Kyst Station every 30 minutes.
Deer and berries as far as the eyes can see
Peter Liep's Hus is yet another must-try experience north of Copenhagen. Located in the marvellous Dyrehaven – which literally translates as The Deer Park – this restaurant should also be at the top of your list. This quaint restaurant lies in these enchanting woods, abundant with lush greenery, small lakes, and open landscapes. Inspired by the menus of the traditional Danish inns but updated with a modern flair, many dishes here reflect what you find in the neighbouring forest and sea, including herbs, mushrooms, beef and fresh fish. For lunch, you can expect classic Danish open-faced sandwiches with toppings like spicy crab salad, crispy fish fillet and remoulade or creamy potatoes and bacon. In the evenings, make room for delights like fresh tatar, the fish of the day or a warm bowl of risotto. And if the rustic setting of a century-old house isn't enough to convince you to stay for a meal, picking up a freshly packed picnic basket to enjoy in the back of a majestic horse carriage while gazing over the herds of grazing deer is sure to.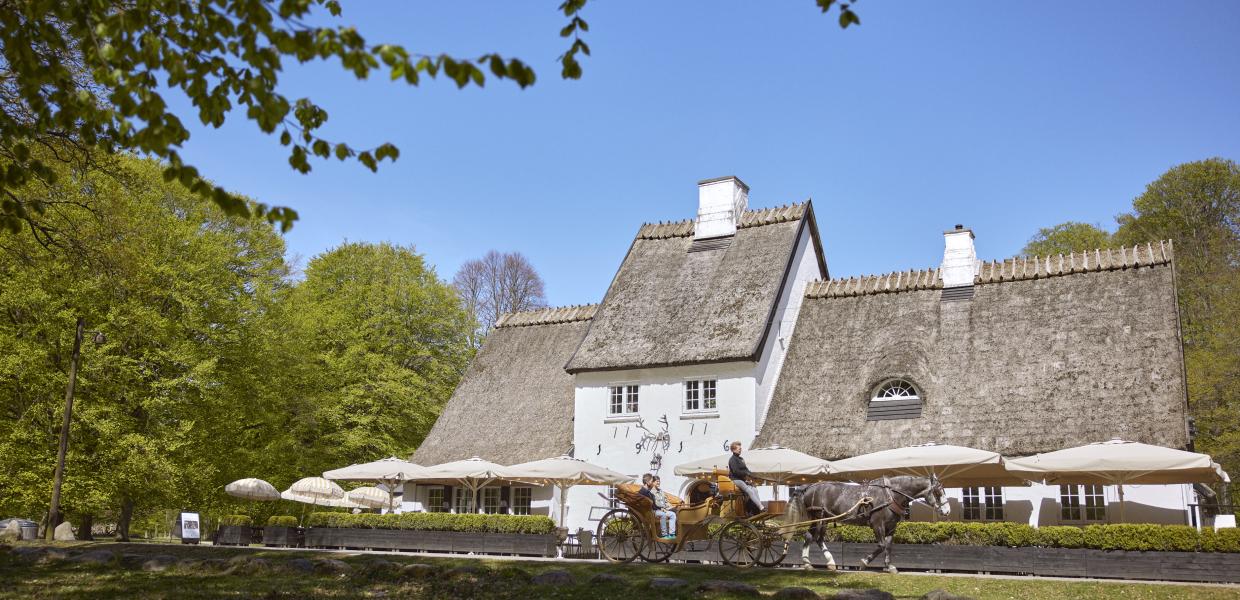 Photo:Anders Bøggild
Collect Delicious Berries
The last of the incredible countryside dining experiences is the unique Rokkedysse Berry Farm. Take the S-train (the green B-line) and get off at Værløse Station, and from here, bus 151 will take you within 200 metres of the picturesque farm. Here, you will experience a veritable berry bonanza unlike anything else you've ever seen. Rokkedysse Berry Farm proudly supplies the world-famous noma, as well as other fine dining restaurants, with its berries — and when you sink your teeth into their fresh hand-picked strawberries, you'll understand why. Once you've tried their ice cream or berry brunch — which includes freshly roasted granola, homemade bread and marmalade, raspberry muffins and more — you can actually have a go at picking the berries yourself. And not to worry, it doesn't take a green thumb to do so — so grab a basket and start picking. A definite winner amongst young and old alike!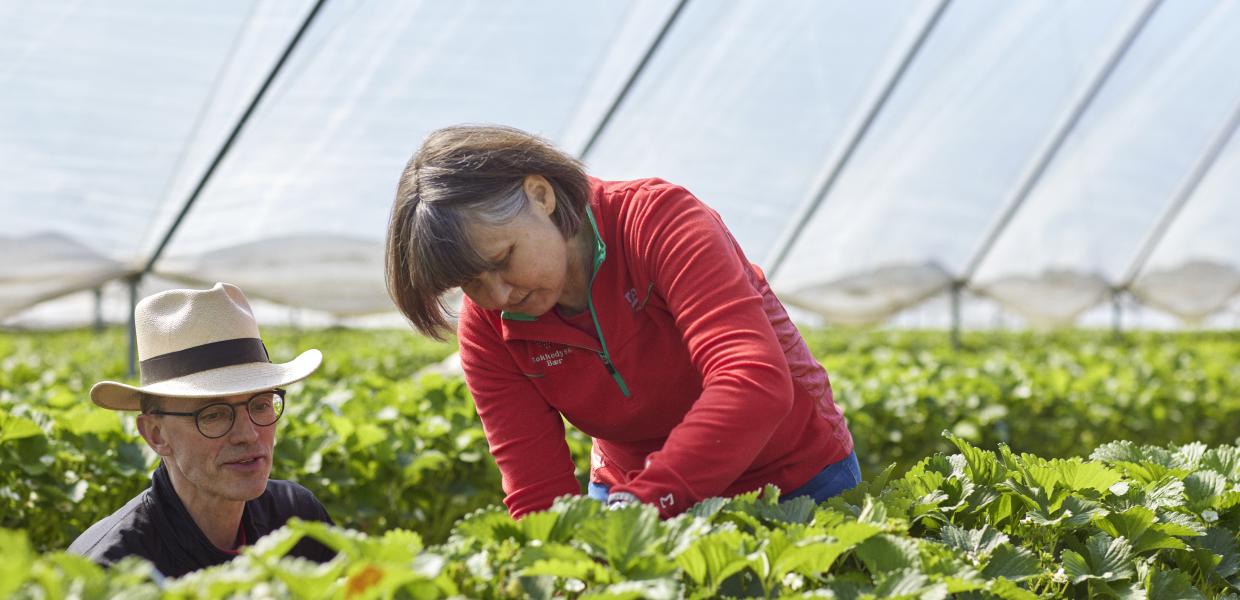 Photo:Anders Bøggild
No matter the mood, budget or preference, the north of Copenhagen has something for every kind of foodie. And regardless of the dining experience you choose, one thing is guaranteed: an unforgettable meal in an equally memorable setting.
Discover the wonders north of Copenhagen
VisitCopenhagen © 2023
English