About the writer
Hazel Evans is a writer and artist from the UK. She moved to Copenhagen in 2014 and, ever since, has been whetting appetites with drool-worthy coverage of the city's food scene on @madaboutcopenhagen
Forget Rome, Copenhagen is fast becoming Scandinavia's Italian culinary metropolis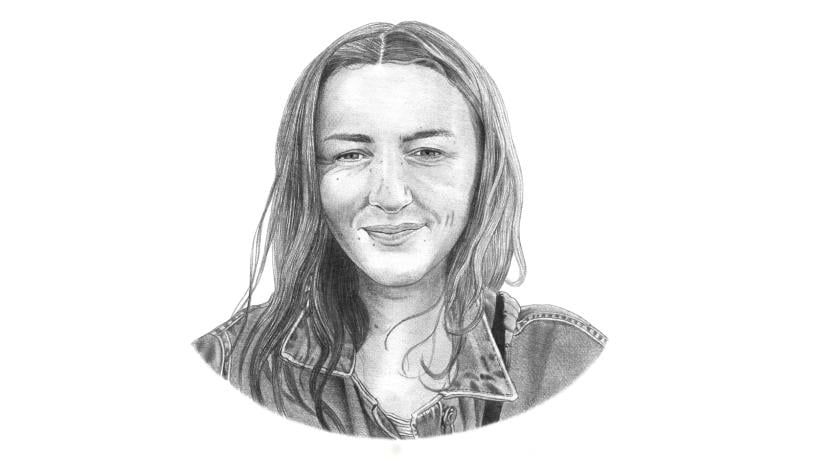 Photo:Hazel Evans
Denmark's capital isn't all rye bread, smoked fish and New Nordic hotshots. In fact, as the city's food scene has evolved over the past decade or so, it is one of the world's most adored cuisines that is making a very welcome comeback—namely, Italian.
Italians are, of course, fairly well known for taking their cuisine all over the world and many of Copenhagen's more traditional trattorie, osterie and ristoranti are run by Italian expats, but Danish chefs are beginning to try their hand at Italian cuisine too. So far, it seems they're doing a pretty good job of it.
Meet, for example, Nina Krysiza Sørensen and Rikke Kolding Pedersen—two Danish chefs who opened Cicchetti in 2015. They told me about an Italian couple who dined there recently and only dared to order a couple of items from the menu, not fully trusting that Danish women could make Italian food taste good. "But afterwards, they expressed their regret at not having ordered more!" Nina said. As it turns out, a Dane can make an excellent fried zucchini flower, too.
Owners, Nina and Rikke, have taken Venetian small dishes to the next level at Cicchetti in Nørrebro.Photo:Mellanie Gandø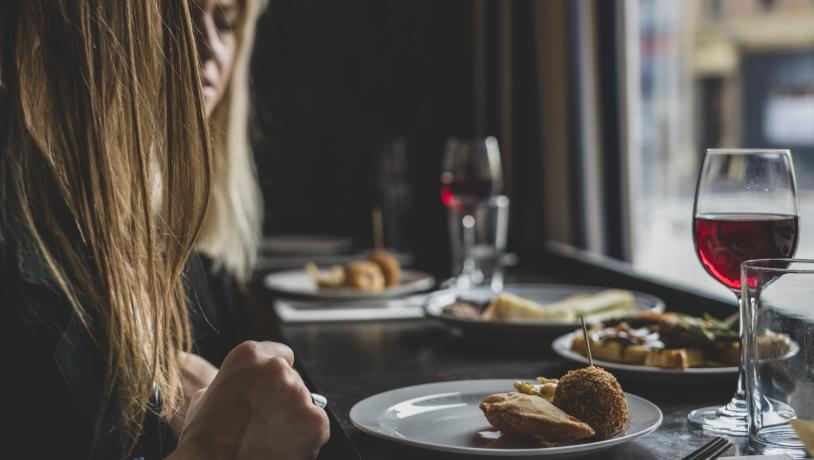 Fritto misto and people watching, at Cicchetti.Photo:Mellanie Gandø
Then, I remember a couple of years ago, when it seemed like Italian restaurants were springing up all over Copenhagen and the revolution was well and truly underway. I was talking to Peter Trillingsgaard, a Dane and co-owner of Fætter Fætter, a toast bar just around the corner from Cicchetti. He told me that he and his co-founder Mik Frikke-Grundahl were planning on opening a second place where they would serve antipasti and pasta. I teased him about jumping on the bandwagon and he replied, "Well, we couldn't not open one, and be the only guys in the city without an Italian restaurant." The place ended up being called Bar Pasta and it's brilliant. And although Peter was half joking about why they opened it, his sentiment neatly sums up the trend of Italian restaurants opening in Copenhagen in recent years.
"Well, we couldn't not open one, and be the only guys in the city without an Italian restaurant."
Luca is among the hard-hitters in Copenhagen when it comes to seriously delicious pizza.Photo:Luca | PR
However, quantity doesn't necessarily imply lack of quality. In fact, the amount of Italian restaurants opening recently only seems to have raised the bar, and each must develop its own niche in order to stand out. While some remain resolutely Italian Italian, others are opting to merge Italian cuisine with Nordic style and culture, in the most symbiotic of fusions.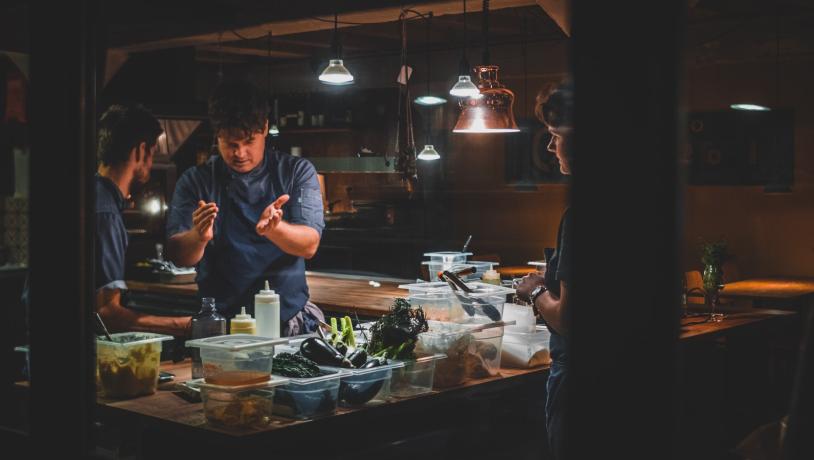 The open kitchen at Il Buco sizzles with goodness in this former storage building.Photo:Daniel Rasmussen
If you want to combine your visit to Copenhagen with one to Italy (culinarily, at least) here are my top recommendations for where to eat and drink in the city, a l'italiano!
Hazel's selection of the best Italians in the city
Pizzerias
Madenitaly
If you're as into Roman pizza—the light, rectangular pizza slices served "to go" in the Italian capital—as I am, then you'll want to pay a visit to Madenitaly. Eva De Masi, the head chef and owner is half Danish, half Italian and she and her cooking embody the best of both cultures.
She learnt to make pizza from the best in Rome, and she works with farmers in Denmark to source the best local ingredients. Her toppings are unconventional and experimental—never boring—and everything she serves is vegan, although this isn't something she advertises, and you probably wouldn't notice unless you read about it somewhere (oops, too late)! Eva is also one of the only people in Denmark importing and making vegan cheese.
Holbergsgade 22
Bæst
Bæst is undoubtedly the city's Nordic-Italian restaurant. First and foremost, it's a pizzeria, but it's also a dairy where they make their own mozzarella, burrata and stracciatella (using milk from their own Danish cows) and a charcuterie where they prepare their own meat. Many of the pizza toppings and other dishes on the menu also bear relation to their farm (where the cows live), so the restaurant has a strong connection to Danish nature and ingredients.
Christian Puglisi, Bæst's founder is half Italian and grew up in Sicily. As a teenager, he spent plenty of time with his father, who worked as a pizzaiolo. So it's fair to say that the pizza know-how at Bæst stems very much from Italy.
All dishes are served sharing style, and you're not supposed to use cutlery to eat your pizza, Italian style!
Guldbergsgade 29
Da Gallo
For some of the best Neapolitan pizza outside of Naples itself, you need only head a couple of kilometres out of central Copenhagen. Salvatore Gallo set up shop in Brønshøj—a suburb just west of Copenhagen. His namesake pizzeria is an unpretentious little thing, with a tiny kitchen space and a makeshift extended restaurant outside, constructed from wooden walls and sheets of plastic for windows, with some heaters to keep warm in the winter.
It's absolutely worth the trip though, because his pizza is phenomenal. The dough is a soft, airy sourdough that has risen for several days, the ingredients quality and the centre sloppy and piping hot from the 400°C oven (where your pizza cooks for about a minute). Although there are many delicious pizze on Salvatore's menu, I particularly recommend the Margherita—his signature. What's more, you can always tell how good a pizzeria is by its Margherita and Da Gallo's does not disappoint. 
Glumsøvej 44
Pizzeria Luca
Last, but absolutely not least, of the pizzerie in Copenhagen, is Luca. If you're not quite committed enough to make the trip to Da Gallo, but still need your pizza fix, Luca is your answer. Nestled right in the city centre, this unpretentious little restaurant makes some of the best pizza around. Luca Platanias, whose pizza dough has won numerous awards, upped Rome to come to Copenhagen and head up the restaurant, and we're very lucky to have him!
Gammel Strand 42
Trattorie, osterie and ristoranti
Bar Pasta
Bar Pasta is a pasta bar, but it's also an excellent play on the Danish language. When you say "bar pasta" out loud, it sounds to Danes as if you're saying "bare pasta", which means "it's just pasta." And that is basically the philosophy of the place—it's just pasta, made by some seriously skilled Italians, no big deal. 
The place itself is just below ground-level, on a street corner that always gets the sun. The colours are popping, the decor quirky, the vibes informal and friendly and the pasta melt-in-the-mouth delicious. They make an excellent negroni, too!
Vedbækgade 13
Cicchetti
Cicchetti means "small dishes", traditionally served at bars in Venice to accompany a glass of wine. It's the Venetian answer to tapas, and here in Copenhagen we're treated to Nina and Rikke's version of it, paired with Italian wine and, more often than not, a spritz or three.
The menu does not follow the usual starter, main course, dessert format. Instead it's divided into Frittura (fried dishes), Formaggio (cheese), Salumi (cured meats), Crostino (savoury bites), Verdure (vegetables), Pesce (seafood), Carne (meat) and Dolce (sweets)—all of them small! Order however many you desire. If you begin with one or two, and develop a larger appetite later on, no problem. That's what's supposed to happen. As the Italians say, "l'appetito vien mangiando"—the appetite comes with eating. And drinking. And being waited on by the wonderful women at Cicchetti. It's not a place you'll be leaving in a hurry.
Nørrebrogade 56
Italo Disco
Yet another great name (I have a penchant for well-named restaurants), 'Italo Disco' is a music genre from the late 70s and 80s that is, well, Italian. It's poppy and fun, and so is this restaurant. You'll find it hidden away on the street in Vesterbro that no one dares to pronounce (Oehlenschlægersgade).
The menu changes daily and includes 6 antipasti dishes, usually a pasta or two and dessert, costing 450 kr. per head. Or there's the weekend lunch menu for 275 kr. On Sunday, they clear out the fridges and serve pasta and a glass of wine for a mere 175 kr.
Oehlenschlægersgade 5
FAMO
It seems that half the chefs in Copenhagen, especially those who move in Italian circles or have opened restaurants mentioned here, have at some point worked at FAMO. It's a true institution of the Copenhagen food scene. But FAMO is also an excellent restaurant in its own right—three restaurants in fact. 
Their first restaurant on Saxogade is undoubtedly the hyggeligste, giving you the feeling that you've just stumbled into an old Italian bar as you step through the door, but the other two restaurants offer similar feels. The menus change frequently, but you can always be sure of antipasti, primi (homemade pasta or risotto) a meat course and a couple of desserts. Their third restaurant, "Carne", isn't meat-focussed as you might expect, but "carne" is used to refer to the meat of an aubergine. Vegetarians welcome!
Øster Søgade 114
Rufino
Rufino is an Italian osteria tucked in to a cosy corner of Christianshavn. The menu is small—written on a blackboard—and you can order starters, pasta, main dishes, dessert, or everything! Many dishes are inspired by Roman classics, using seasonal ingredients. Wines come from all over Italy, and in fact a big part of Rufino is the wine knowledge and the cellar full of bottles, as the restaurant was opened by sommelier Alberto Sala and chefs, Alessandro Ciofani and Paolo Bonelli.
Strandgade 14
Mangia
If there's an "it spot" on this list, it's Mangia. A restaurant and bar full of celebrities and the kind of people who sometimes wear sunglasses indoors, where hip music plays and Apérol is everywhere, but also where the food is excellent. They do a wonderful array of antipasti, shellfish dishes and pasta. In fact, some of the best pasta I've ever eaten was here: the most delicious plin pasta filled with roast meat (rabbit, pork and beef) doused in gravy.
Ps. Don't let the hipness put you off. All are welcome, sunglasses on or off!
Bagerstræde 9
Enomania
Enomania is an Italian restaurant and wine boutique that you can barely ever get a table at because the regulars usually get there first. The owner, Damiano Alberti, is just as much a draw as the food and the extensive wine menu. He's at the restaurant every day, working the floor, greeting regulars who have become old friends, and pouring his beloved wines into guests' glasses with a flourish. You can't help but feel entirely relaxed and wonderfully spoilt in his presence.
The menu is never the same, but I particularly recommend sampling some of the olive oil (like you've never before tasted) and whichever risotto is on the menu—Enomania is particularly famed for its risotto. 
Vesterbrogade 187
Il Buco
Il Buco was something of a happy accident. It started out as a storage space—"an old cave nobody else wanted"—for Christer Bredgaard's Italian wine and charcuterie import business. One thing led to another, he invited friends and friends of friends over for casual dinners, which became a weekly neighbourhood supper club, then added a café, a bakery and eventually a full-time restaurant. 
Here, you'll find some of the city's best homemade bread, pastries and pasta, various Italian-inspired breakfast and lunch dishes, a range of delicious Italian wine and an incredible Tiramisù, amongst other things. Oh, and if you visit in the summer, make sure to take advantage of the large courtyard!
Njalsgade 19C
Osteria 16
Vesterbro's original antipasti restaurant, Osteria 16, was the first to really nail the one-menu-fits-all, many-small-dishes, barely-any-space-between-the-tables model that we now see all over the city, and they're still going strong—now with a second osteria in Nørrebro, a pizzeria and a spaghetteria as part of the Osteria 16 empire.
Here you'll find shellfish, pasta, fresh cheese, funghi, charcuterie, vegetables, leaves—all depending on the season and the produce available—and plenty of focaccia bread and olive oil for dipping. You don't get to choose though; just sit back and enjoy your 8 antipasti for 265 kr., and throw in a few Apérol Spritz whilst you're at it. Cin cin! 
Ravnsborggade 14B
Siciliansk Is
You can't eat your way around Italy without a gelato to finish it all off. There's plenty of excellent ice cream to go around in Copenhagen but undoubtedly the most Italian of all is Siciliansk Is (literally, Sicilian Ice Cream). Opened by David René Ciccia and Michael Søndergaard, the shop serves scoops of all the Italian classics, and some Danish favourites such as licorice, blueberry and salted caramel. Visit their Vesterbro, Nørrebro or Christianshavn location. 
N.B. Closed in winter.
Christianshavns Kanal 2
Related stories from the local experts
Let some of Copenhagen's experts on gastronomy, culture and urban development explain just what it is that makes their beloved city unique in its own great-tasting, creative and beautiful way.