About the writer
Signe Voltelen is an expert on urban farming, and besides running a seed company and writing about the gardens in the city, she works with developing urban concepts that reconnect people to nature.
A day in the urban gardens and wild nature of Copenhagen
By Signe Voltelen
Urban farming expert, owner of OPENgardenCPH and one of our local contributors covering Copenhagen's culture, gastronomy and urban development.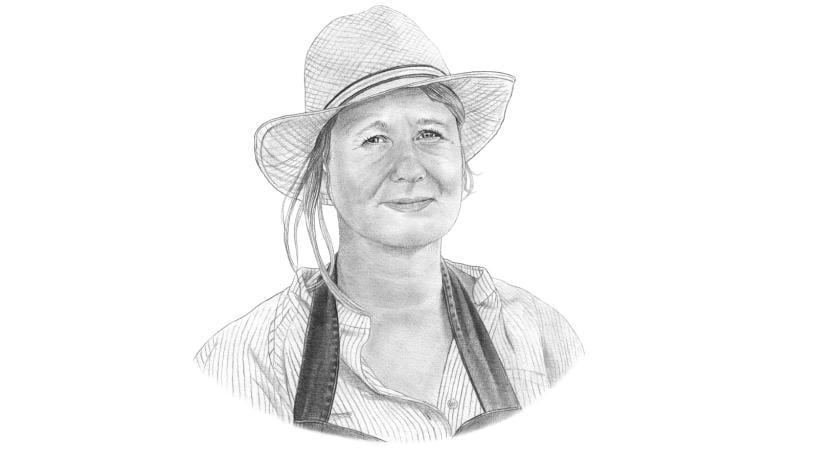 Photo:Sine Jensen
They made a paradise instead of creating a paved parking lot! Come with me to a neighbourhood in Copenhagen where the asphalt gives way to wild species and where vegetables are something that is grown on a roof by citizens.
You may have heard of ØsterGro - the famous rooftop farm in Copenhagen, where beautiful vegetables are grown and delicious food served at gatherings in the nursery restaurant GroSpiseri. A former car auction house with a roof built to carry many tons of steel exhibiting the cutting edge of cars.
The cars are now moved and Copenhagen's agricultural activists have moved in with 80 tons of organic soil - to reinstate a garden as a setting for new discoveries.
It all looks very beautiful, different and green. The first steps in our shared new history are taken. We cultivate the land, and the inner city and create communities with an added new layer that will hopefully lead us safely into the climate-adapted urban life of the future.
I hop on a bike to one of my favourite places in Copenhagen's district of St. Kjeld's neighbourhood on Østerbro. Maybe we'll meet up between wild plants and freshly harvested vegetables or maybe on the rooftop farm's volunteer day any given Wednesday?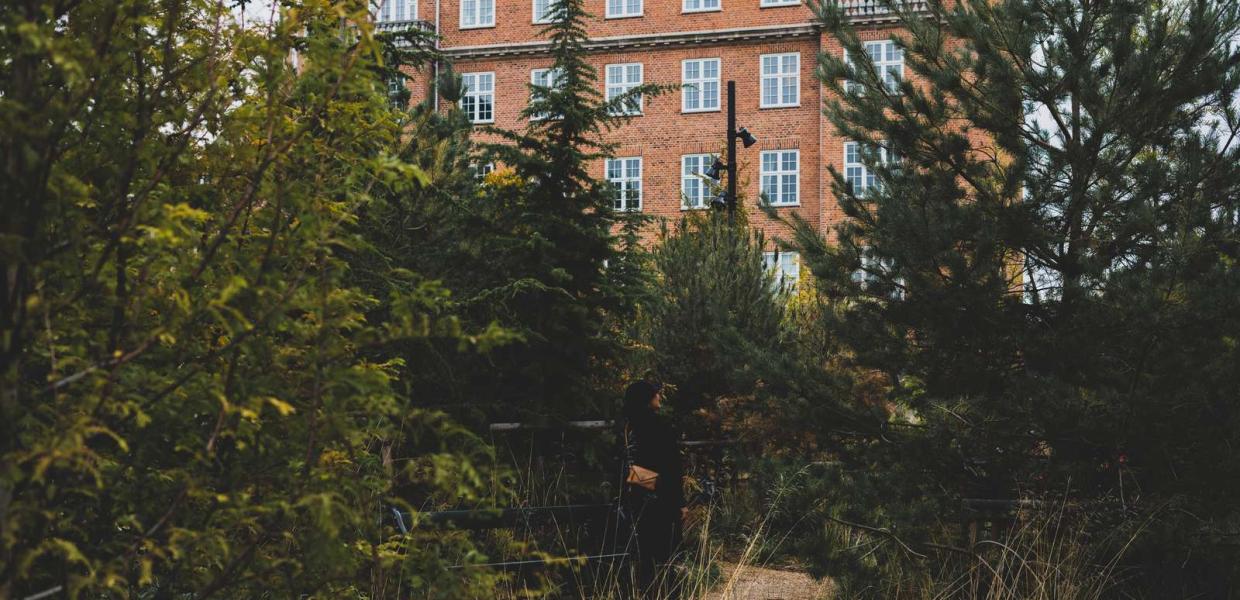 St. Kjelds Plads is a little piece of wild nature in the middle of Copenhagen. Photo:Mellanie Gandø
The city's landscapes mean much more today than it did 10 years ago. Now we have to re-learn about vegetable cultivation and the wild relatives. A "state of the art" field is formed on the roof where the vegetables take the center stage. Everything is in line with good old-fashioned farming practice and we follow the fennel and the winter cabbage's development.
Getting off the bike on Bryggervangen. Walking towards St. Kjelds Square. There are more wild plants than you normally see in a city's green landscapes.
I really like it. It is inviting and sharpens my curiosity. The scent of the seeds from giant spruce seeds covers the ground. When warmed by the sun it smells like a forest floor!
Natural materials and textures, trunks of wood that are purposely placed in between the scrubs as homes for microbiology's small creatures. Layers, light, and textures challenge my perception of aesthetics and what a green area of the city looks like. It feels invigorating!
If it is a rainy day, you should definitely not stay way. Just come here when it rains - there is always room for exploration and play during shifting weather conditions. A beautiful logic, both when the unpredictable amounts of water fall down from the sky or when the sun shines alone. The asphalt is broken up and channels and surfaces have been created so the water collects- check out the upside-down rain umbrellas and the rainforest on Tåsinge Plads.
I stick my nose into the sweet-scented Yarrow - and pick a leaf. The oil from the leaf sticks softly to my fingers. When rubbing it a scent of full-bodied hot spices forms right below your nose tip!
Wildflowers do well in the harsh, fluctuating climate while nourishing the soil's microclimate, making the soil robust. The white flowers are easy to spot in the rainwater beds - rank and resilient, ready to absorb heavy rain between its finely divided roots.
A jumble of wildflowers and herbs like Yarrow, Pulmonaria and Asters are swarmed by eager insects. They interact over nectar temples and are drawn by the attractive colours of the petals in the low rays of the sun. There are many more wildflowers by Hahnemann's Kitchen, the organic bakery and café. But, it's not coffee time just yet! We have to go to the roof first.
Up the spiral staircase in the backyard - on the 5th floor. I open my sleeves and get ready. Seeds must be sown in the beds on the roof several times during the season. Circular systems are a wildly interesting topic to learn about on the roof while weeding in top gear! At the end of the afternoon, we eat together. Intensive and enjoyable - it's a community!
Crop change is planned carefully so the soil does not suffer. The principle of cultivation here is regenerative market gardening.
Now it is autumn. Cabbage leaves are harvested and spinach seeds are sown in empty rows. 
I'm already looking forward to tasting the succulent spinach leaves. At the beginning of winter, memories of summer dinners are relived. A sensually crunching - just amazing!
Nikola's backyard is the rooftop farm 
We're done for the day on the roof farm…or almost. I'm now hungry and the last boxes of vegetables from local farms are packed and picked up. Before the joint-volunteer dinner, may I present Nikola to you? I met her on the rooftop farm. Nikola and her family have been members of ØsterGro since the beginning.
We sit down and have a coffee at Hahnemann's Kitchen. Overlooking the wild herb meadow at St. Kjeld's Square. All is well - a break is a much-needed reward after weeding!
Nikola and her family, husband and two young children, use the rooftop farm several times during the week.
It's our backyard, a green breath. Here we have the opportunity to help grow the food - to gain a deeper understanding of food production, seasonality, and diversity,
Nikola says, and continues: "Every Wednesday we are here, the boy goes to karate further down the street - but when it fits the schedule, we take part in the practical pursuits here, the vegetable boxes for members of the roof farm. Fresh vegetables every week - new and exciting that you can't buy anywhere else."
Here we can hang out for an afternoon or collect fresh eggs from the chickens - that's our lovely sanctuary!
Both Nikola and her husband grew up in the countryside and are happy that the rooftop farm exists: "It's great to be able to show our children where food comes from".
New communities
I really appreciate the gardens in our cities. They provide us with new communities and discoveries - a strong sense of togetherness across generations - including those that come after us. Gardening opens our curiosity and creates a relaxed, informal setting where season experiences are repeated year after year. 
Historically, nature and our garden have provided the setting when we humans seek solutions. And once again, nature is playing the role as that provider. Therefore, it also makes good sense that the mindset of urban developers is turning nature-based and more collaborative.
I believe that such two landscapes as the rooftop farm and the "wild" of St. Kjeld's Square, gives us human beings a physical and social environment which will lead us towards a nature-related consciousness. While the rooftop farm provides the setting for making, meeting, eating, discussing and addressing major climate and environmental issues, the wilderness fosters our curiosity and provides an aesthetic that at the same time reflects the irrational and the sensitive -  that is what is at stake today.
Visit the rooftop farm
GroSpiseri is a restaurant serving food from local organic farmers and natural wines - open nearly all season, from March to January.
ØsterGro is a CSA, Community Supported Agriculture. An alternative, locally-based economic model of agriculture and food distribution that directly connects farmers and consumers.
Volunteer days at ØsterGro
The roof farm is open to everyone on Wednesdays. Here you can meet local citizens who help to sow, grow and care for plants and chickens. Join on Wednesdays from 10 am to 6 pm. You are free to come and go as you like and around 2 pm there will be a big lunch for everybody. Put on your practical clothes and come join!
Urban nature
Copenhagen Municipality's climate adaptation is driven by a nature-based urban development model, which involves citizens in the projects and services. A development tool that promotes and qualifies decisions in the process between citizens, architects and the municipality.
Related stories from the local experts
Let some of Copenhagen's experts on gastronomy, culture and urban development explain just what it is that makes their beloved city unique in its own great-tasting, creative and beautiful way.