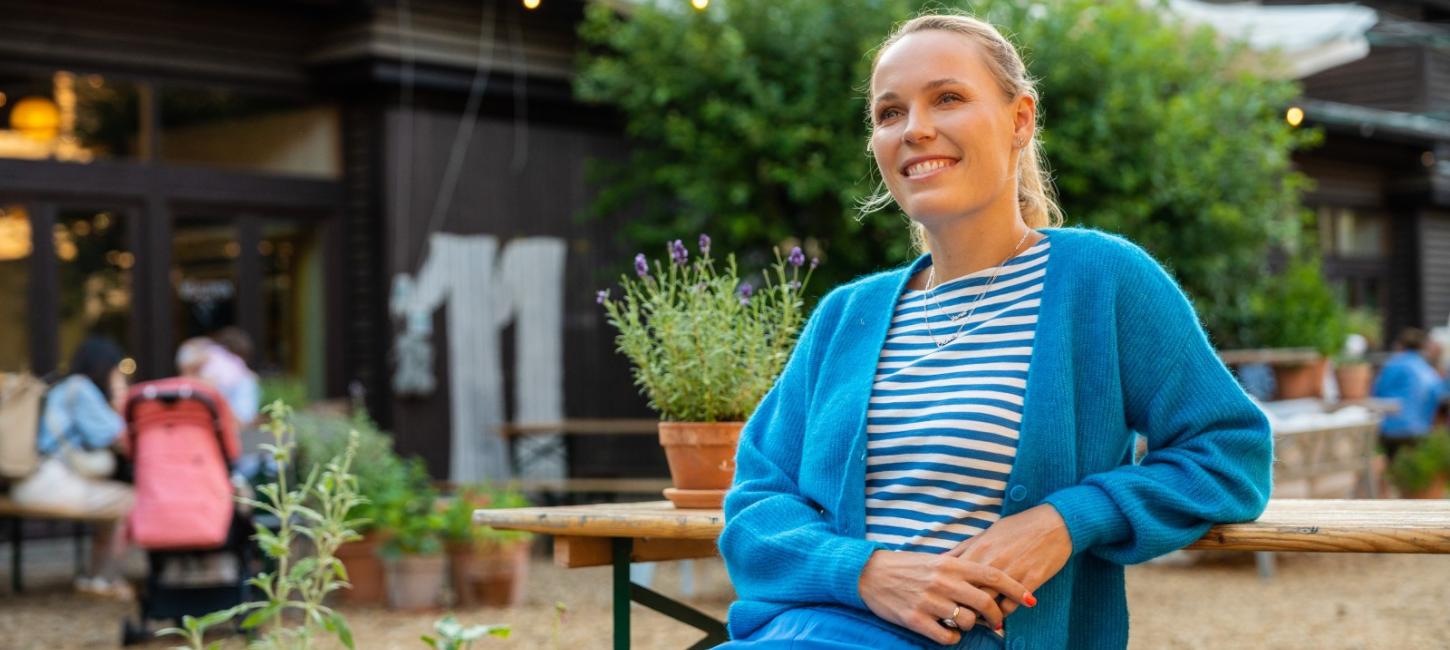 How to Copenhagen the Wozniacki way
Get closer to the Danish capital with Denmark's queen of tennis, Caroline Wozniacki, as she and her husband, former NBA player David Lee, share their interpretation of HOW TO COPENHAGEN.
Let's discover Copenhagen through the eyes of Caroline Wozniacki, who stays here with her husband David Lee and their two toddlers when they are in Denmark: the country the well-travelled tennis champion calls home. A key value for the family is how you almost instantly are drawn in to do like the Copenhageners – whether it is swimming in the harbour, getting around on a bicycle or grabbing a bite at a sustainable street kitchen.
Get a bite
Copenhagen has earned quite a reputation as a food capital. It does, however, not take a world-famous restaurant to get Caroline and David to find indulgence. Often it doesn't even take a knife and fork. Street kitchens are emerging all over town to meet the needs of a population of informal culinary explorers. Treat yourself to a bite from a street kitchen where you share tables with the locals.
Get around
What is the best way to get around Copenhagen? If you ask Caroline Wozniacki you place your husband in the trunk of a cargo bike and take him for a spin around town. Everybody rides a bike in Copenhagen. Copenhagen has designated bicycle lanes which make the experience safer than in any city in the World.
You can also hop on the emission-free electrical Harbour buses. They zigzag between stops at famous landmarks and residential areas.
How to Copenhagen the Wozniacki way
Get active
When world-class athletes like Caroline Wozniacki and David Lee spend time in Copenhagen, they have no difficulties finding ways to stay active. They go for a run like many other Copenhageners or work out with a view of the city and harbour on a rooftop activity park. The kids enjoy this, too. And why not cool down after your exercise with a dip in the harbour? The water is clean and always refreshing – even more so if you come in the winter.
Get inspired
The recreative possibilities are endless in Copenhagen. One day you stroll through Kongens Have (The Kings Garden) – the place where Caroline and David's daughter took her first steps. The next day, the weather might suggest visiting Glyptoteket, where more than 10,000 antique and modern art pieces share a space. Make sure to pause for a moment under the palm trees of the Winter Garden.