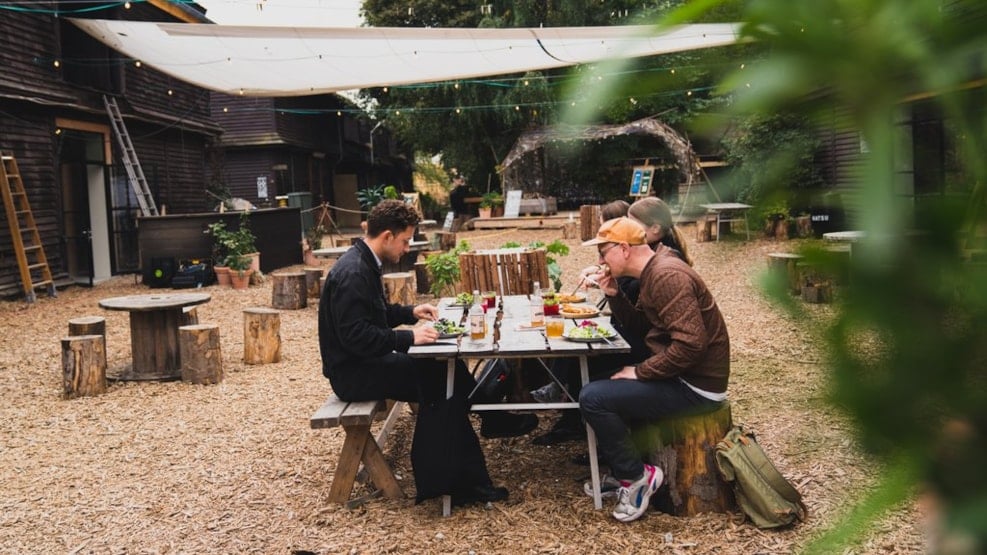 BaneGaarden
BaneGaarden is a sustainable Narnia in the middle of Copenhagen.
Hidden behind the train tracks you will find a green path that leads you to BaneGaarden. A brainchild of four green entrepreneurs, aspiring to make a change and share knowledge on sustainable ways of doing life. 
Stepping foot onto the premises you will feel like you've left Copenhagen and entered an urban western dream world. Stop by for a fermentation workshop, a seven-course meal, morning dance, the farmers market or a glass of heavenly green mandarin lemonade, a pizza workshop for kids or one of the many other activities they have going on. Most importantly you have to experience BaneGaarden for yourself.
BaneGaarden is set in nine old wooden barns that are being completely restored. The barn's purpose used to be drying wood that was used to build trains by DSB, Denmark's largest train operating company. The last 50 years the barn's have been left on their own, and have started to fall apart. The BaneGaarden project turned out to be their rescue, and now the barn's are being renovated in a sustainable manner. One of the many cool things they've done is acquiring the old windows from The Natural History Museum of Denmark to give them a new life at BaneGaarden. In fact, nothing at BaneGaarden's has been bought from new - even the industrial kitchen in the restaurant was sourced second-hand. There's even a beautiful stage outside in the courtyard made from plastic found inside old kegs.
The renovation of the barns is an ongoing process. Currently, one barn holds the restaurant Rakils, where you can treat yourself with brunch, lunch, a simple dinner or even a seven-course meal. Another barn holds a farmers shop open 7 days a week selling delicious fresh produce. You'll also find a barn with street-food stalls, and one being used for a community hall. The plan is eventually to turn one barn into a woodshop, another into a plant market and a third is destined to become a hub for young entrepreneurs with a sustainable focus.
To find out what's happening at BaneGaarden while you're in Copenhagen, visit their Facebook here.