About the writer
Writer Jeni Porter has been immersed in Danish design and architecture since moving from Sydney to Copenhagen in 2013. She is a contributing editor to Ark Journal, a new design bible.
The Hammershøi effect
By Jeni Porter
Jeni is a contributing editor to Ark Journal and one of our local contributors covering Copenhagen's culture, gastronomy and urban development.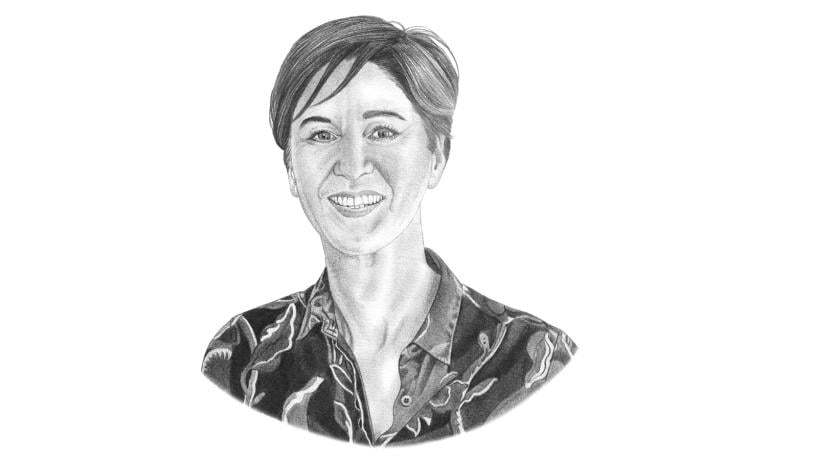 Photo:Sine Jensen
Known as the painter of solitude and light, Vilhelm Hammershøi is a pivotal figure in Danish art history whose paintings of interiors capture a Nordic aesthetic that resonates today.
Working at the turn of the 21st century Hammershøi (1864-1916) used his home as his studio staging interiors that were sparsely furnished and almost monochromatic with light as a critical element in their composition. Timeless and poetic, the paintings embody historical art traditions but also foreshadow abstract act. The silvery Nordic light, empty space, muted colours and geometric rigour give them a contemporary relevance that is so powerful, they are a continuing source of inspiration for designers and artists.
"He understood the colour palette of the city itself. There's something quiet, something slow, and a sense of melancholy that should not be mistaken for being sad but rather as a contemplative quality,"
says Peter Bundgaard Rützou, a founding partner of Space Copenhagen, a design studio that has made a significant mark on its home town and won international acclaim for restaurant and hotel interiors evoking the spirit of poetic modernism.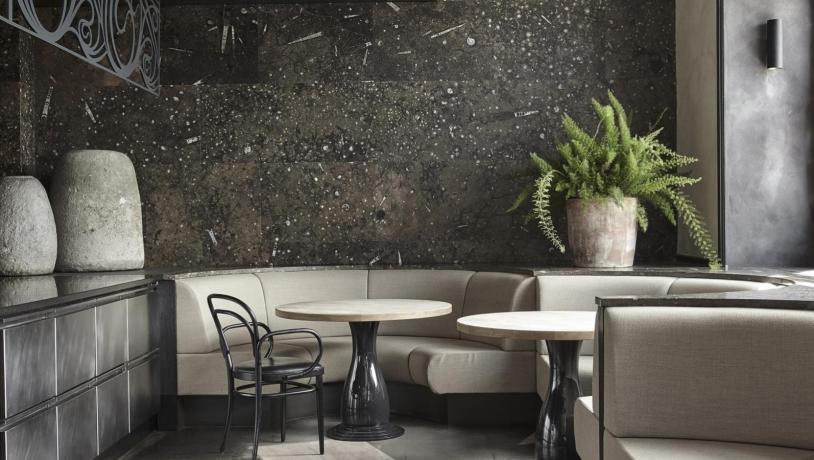 The brainchild of chef, Bo Bech, Geist is bound to blow your mind and palate. The beautiful space combined with creative and delicious dishes is the perfect match.Photo:Joachim Wichmann
"You can see a bit of Hammershøi in every one of our projects, we refer to his paintings all the time for different reasons. The colour palette, the mood or atmosphere or the neo-classical period features of the rooms,"
says Bundgaard Rützou. There is also something intangible in Hammershøi's paintings, he says, a recognition of northern light and its effects. "When the Nordic light hits it's as if time suspends itself and there's a beauty in that."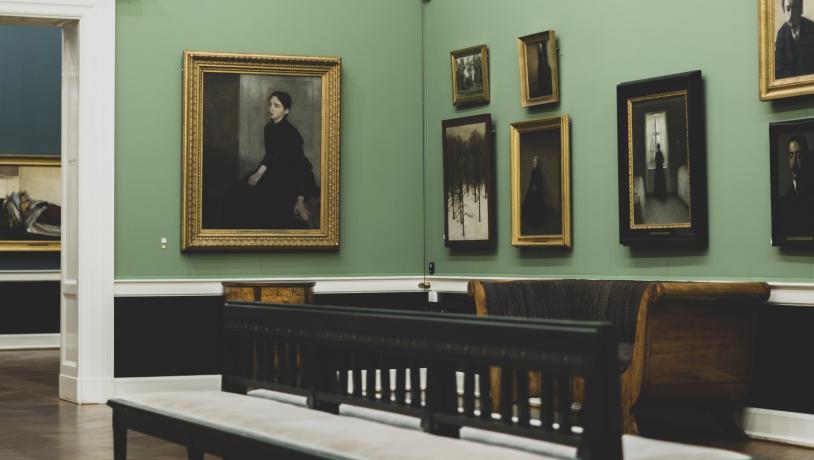 Referring to something as Hammershøi-esque has almost become shorthand for a way of defining understated Scandinavian luxury. Photo:Mellanie Gandø
A fan of Vermeer and Whistler, Hammershøi did larger scale symbolist works to varying success; the one he considered his masterpiece, Five Portraits, went unsold in Denmark and is in the collection of Stockholm's Thielska Gallery. But his commercial breakthrough came with the interior paintings depicting rooms of his homes notably two in Strandgade in Christianshavn and his final home at Bredgade 25.
Hammershøi's final home was located here at Bredgade 25.Photo:Mellanie Gandø
The paintings often include enigmatic views of his wife Ida, sometimes shown from behind with a ray of light illuminating her neck. Two of the best-known, Interior in Strandgade, Sunlight on the Floor (1901) and Dust Motes Dancing in the Sunbeams (1900), are in the collections of the National Gallery of Denmark (Statens Museum for Kunst or SMK) and Ordrupgaard Museum respectively.
When asked in 1907 why he had chosen to paint mostly interiors Hammershøi said, "it just happened", but he also conceded such paintings were fashionable with the bourgeoisie and when he painted a landscape he usually couldn't sell it. As for the genesis of what became his immortalised palette? "Why do I use so few and muted colours? Frankly, I don't know. It's quite impossible for me to say anything on the matter. It feels natural to me. In purely colouristic terms I absolutely believe that a painting works best the fewer colours are used in it."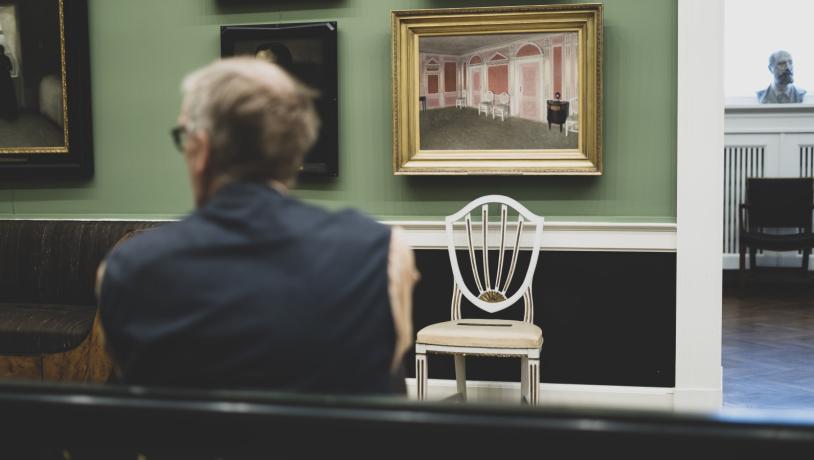 'Spisestuen i Bakkehuset' (The dining room at Bakkehuset) displaying Vilhelm Hammershøi and wife Ida's dining room at their home on Rahbeks Allé 23 on Frederiksberg. Photo:Mellanie Gandø
Hammershøi's interiors paintings may have been popular but they were not influential and a decade after he died they fell out of favour. Some 30 Hammershøi paintings were exhibited at SMK until 1930 when they were returned to their owner Alfred Bramsen, Hammershøi's most important patron.
It wasn't until the 1970s that Hammershøi was re-evaluated in the light of Danish Modern, the design movement of the two preceding decades.
His aesthetic fitted its restrained minimalism. By the 80s and 90s his popularity soared as his paintings were interpreted in the context of modern architecture and design. The advent of social media platforms such as Instagram, see #hammershoi, has simply reaffirmed the appeal of his version of the Nordic aesthetic to the digital literati.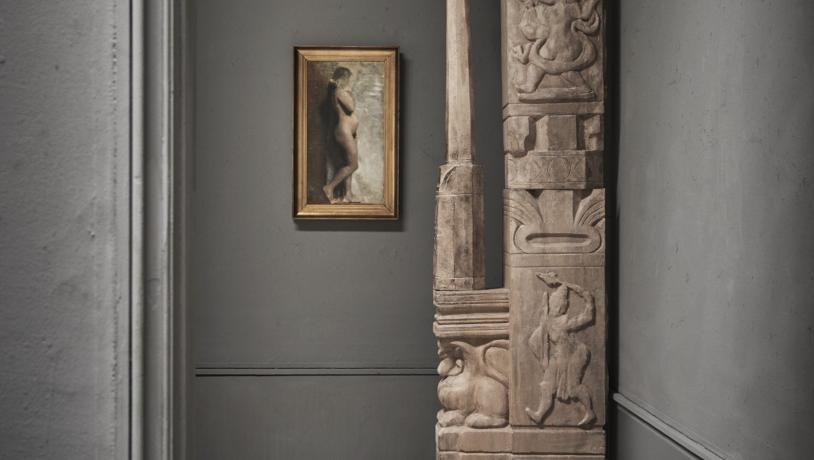 Studio Oliver Gustav is heavily influenced by the style of Hammershøi. Photo:Pr Photo
Copenhagen-based designer and gallery owner Oliver Gustav draws on Hammershøi in his work creating high-end interiors for private clients and, at home, where he lives in an almost monochromatic grey palette. For his studio gallery in a 1920s Neo-classicist former private art museum in Østerbro, Gustav created moody custom grey paint colours relying mainly on natural light from skylights as his homage to the Danish master.
"This spectacular Nordic light underlines the Hammershøi ambience,"
he says of the space. This connection with Hammershøi meant Studio Oliver Gustav was the perfect place for auctioneer Bruun Rasmusssen to show the painting Interior from Strandgade 30, (1900), when it came up for sale in November 2019 for the first time since the 1970s.
Hammershøi is often described as one of Denmark's most fascinating painters and it is one reason why the J. Paul Getty Museum in Los Angeles acquired an important interior painting in 2018.
"Interior with an Easel, Bredgade 25 is a characteristically luminous and enigmatic image that encapsulates Hammershøi's particular visual poetry,"
said Timothy Potts, director of the Getty Museum.There is an existential mood or psychological space in his paintings that can be read in many different ways and this has probably added to his enduring allure.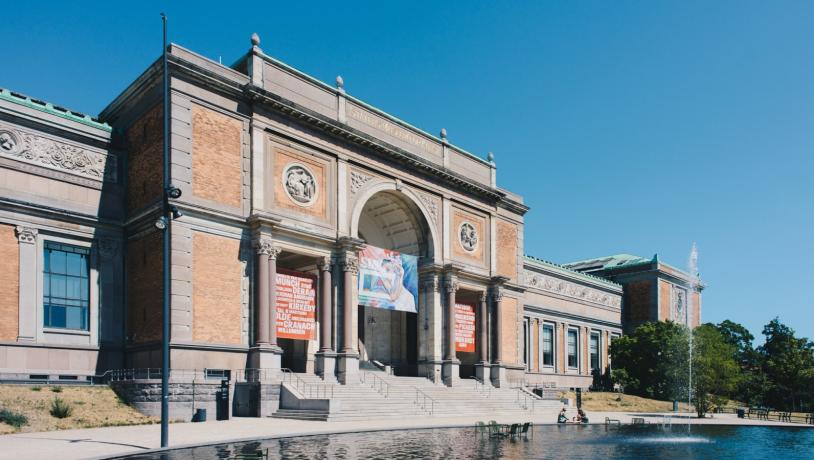 The National Gallery of Denmark feature a few gems from Hammershøi.Photo:Pr Photo
SMK curator Marianne Torp says his stringently composed paintings pose a number of hypothetical questions. Do the grey-hued spartan environments point to an emptiness or absence or are they shimmering with intense presence? Do the interiors reflect an artist who struggles to find his place in the world or rather an artist who has found stability and security in his home environment? Is the rigour of the composition an attempt to evoke a sense of quiet? "Maybe all these things can be true at once and perhaps that is why they continue to fascinate new generations of artists and present-day observers," says Torp.
Where to explore Hammershøi's universe
Museums, collections and adresses
SMK - The National Gallery of Denmark (Statens Museum for Kunst) is Denmark's largest art museum, featuring outstanding collections of Danish and international art from the past seven centuries. 
The museum has three permanent collections: the Collection of Islamic Art, the Collection of European 18th Century Art, and the Collection of Danish Early Modern Art.
Containing a selection of the most important works by masters such as Eckersberg, Købke, Krøyer and Hammershøi, the Hirschsprung Collection offers a representative selection of paintings from one of the most outstanding eras of Danish art history.
Closed until late 2020 or early 2021)
25 is privately occupied but you can go into the courtyard of Strandgade 30 and see the windows depicted in Sunbeams, Courtyard Interior at Strandgade, 1905.
The studio on Kastelvej works as a showroom, gallery and boutique, where he sells and exhibits a carefully curated selection of art- and design pieces from renowned international designers.
Space Copenhagen projects
(Kongens Nytorv 8)
(Store Strandstræde 12a)
(Hammerischgade 1)
Shamballa Jewels  
(Ny Østergade 7)
(Ny Østergade 6)
Related stories from the local experts
Let some of Copenhagen's experts on gastronomy, culture and urban development explain just what it is that makes their beloved city unique in its own great-tasting, creative and beautiful way.