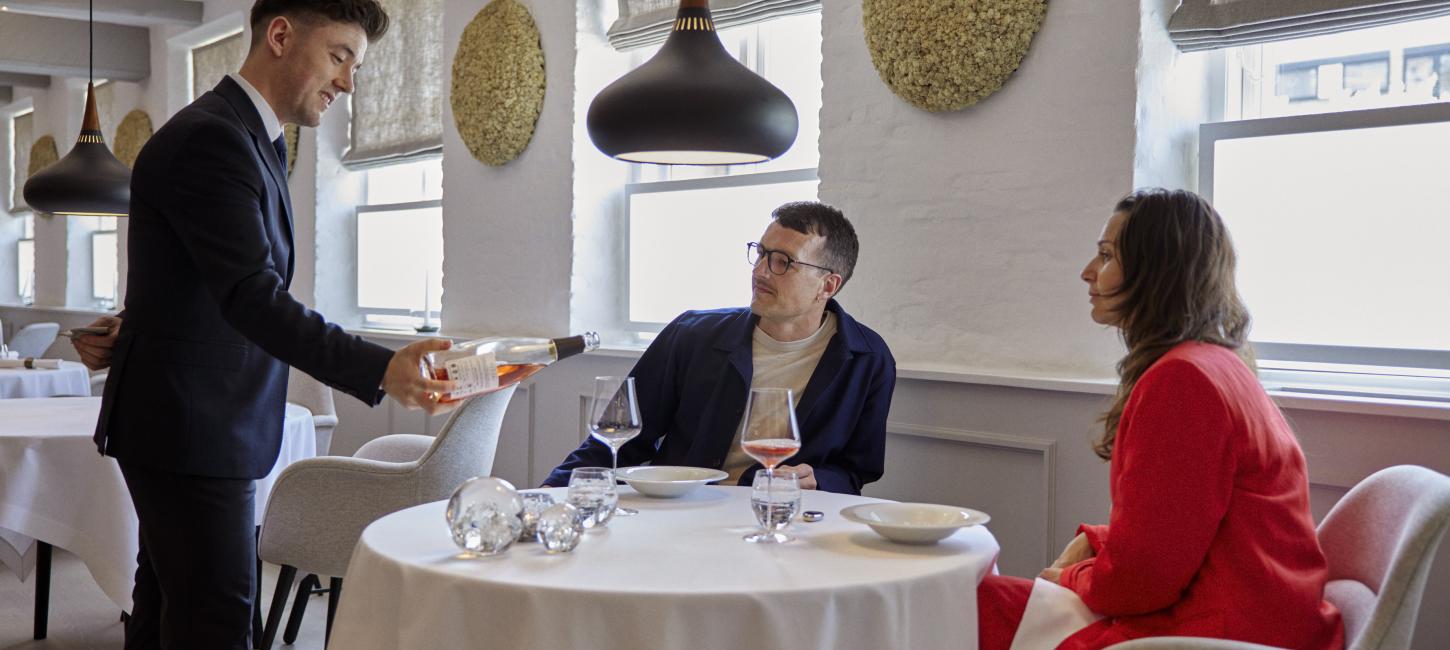 Fine dining awaits: The north of Copenhagen brings world-class eating experiences to the countryside.
Geranium, Alchemist and noma. The Danish capital already holds a solid reputation for its acclaimed culinary scene – and the area north of Copenhagen is no exception.
You already know it. Copenhagen has in recent years become an unmissable destination for foodies and fans of the New Nordic Cuisine. With its trophy cabinet brimming with Michelin stars, experiencing the food scene first-hand is an absolute must while visiting the capital. But a little-known tip is that not all its world-class restaurants are found in the city centre. Copenhagen is greater than its centre, and just a short drive north will show you that the unsurpassed calibre of fine dining continues into the countryside.
A Michelin Inn
When talking about the food scene north of Copenhagen, the exquisite Søllerød Kro is never left off anyone's list. Founded in 1677, this charming restaurant won its first Michelin star in 1987 and has since 2007 been a staple in the coveted French guide. And now more than ever, Søllerød Kro has everyone's attention. Why? Because the head chef, Brian Mark Hansen, won the 2023 edition of Bocuse d'Or in France. For any non-foodies following, this basically means that he gets to bear the title of the best chef in the world. His dishes feature local and internationally-sourced ingredients like Søllerød caviar, black lobster, smoked cheese, king crab, yuzu, lamb and bee pollen. All menus follow the seasons, the surrounding nature and the chefs' inspiration, drawn from all over the world. And even if you care the least bit about food, Søllerød Kro is a serene and intimate place to unwind in the company of nature – an absolutely unmissable pitstop on your tour of the north.
Two Star Down to Earth Experience
Another Michelin-star restaurant worth adding to the list is Jordnær. With not one but two Michelin stars and a spot in the World's 50 Best Restaurants in 2022, Jordnær is a beloved Danish dining sensation. Its staff are driven by an ambition to offer a fine dining experience in perfect harmony between world-class eating (and drinking!) and an unbeatable level of service. Jordnær, which translates as down to earth, is run by married couple Eric Vildgaard, the head chef with years of experience at noma, and Tina Kragh Vildgaard, the host making sure that all guests are well taken care of. Here, your plates will be filled with rich, varied ingredients like comté, Vildsund mussels, sake, trout roe, Limfjord lobster, Marinda tomatoes, gold caviar and truffle — and paired with world-class wines, with the option to bring your own special bottle. The couple's vision was to create a restaurant that is committed to a sustainable Nordic kitchen. And that's exactly what they've achieved. Just don't forget to reserve a table in good time – it's an incredibly popular place, with good reason.
Wining, dining, and a lot more wining
If you love food, you will love the gastro scene just north of Copenhagen. That much is established. But if you also appreciate fine wine, the newly renovated and Michelin-starred The Samuel, located a mere stone's throw away from Hellerup Station in the beautiful Hellerup district, awaits. Run by head chef Jonathan Berntsen, the concept here is food and wine in perfect harmony — in fact, they often select the wines before even creating the dishes. In this red-brick villa, built over a century ago, a gourmet experience is guaranteed. Distinct flavours and creativity are what you can expect here, with its own herb garden and modern yet wonderfully vintage interior.
Cottage Core in the Forest
On the subject of charming villas, The Red Cottage is the final must-eat for your time in the north of Copenhagen. You can expect an unforgettable afternoon that stretches out into the evening ahead in a private, nature-flanked estate. Hidden in the middle of the forest with views overlooking the Øresund Strait, The Red Cottage has an inherent focus on nature, and offers dishes that bring the best out of the forest's treasures all year round. Head chef, Simon Lerche, with experience from the Danish Michelin-starred restaurant, Kadeau, has led the ranks since 2018. All year round, Lerche and his team pick, preserve, dry and cure the best of what they can source, most of it locally, according to the seasons — which is why the menu is updated monthly. The cottage's arguably best tables are found on the terrace, so if weather permits, a glass of champagne can be enjoyed outside amongst the trees, singing birds and ocean views.
If you're coming to Copenhagen for its food, exploring what the northern countryside has to offer is an absolute must. With an array of internationally acclaimed restaurants located in unique settings as well as rich in Danish history and contemporary culture, the culinary scene here is booming. And only a short train ride away.
Discover the wonders north of Copenhagen
VisitCopenhagen © 2023
English