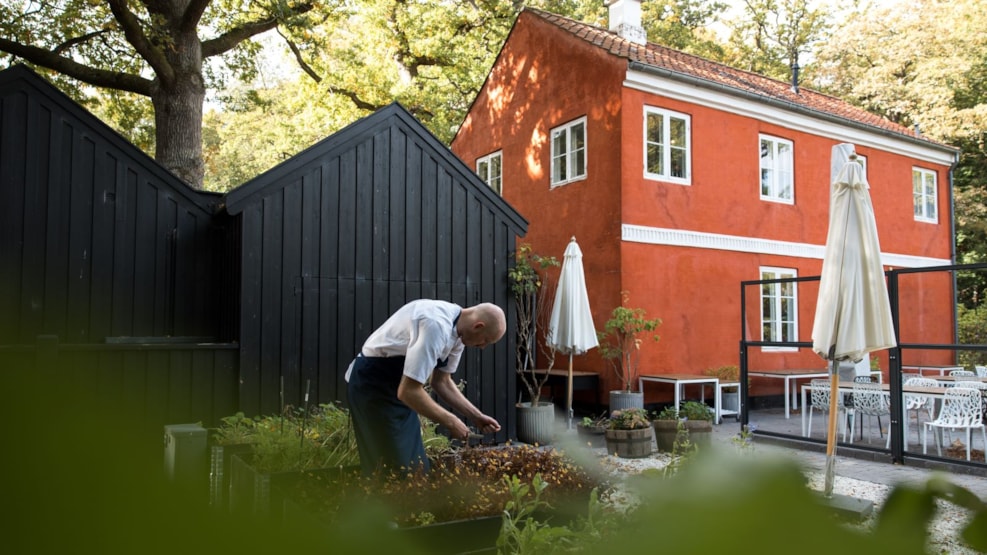 Den Røde Cottage
Travel a little north of Copenhagen, and discover Den Røde Cottage, a restaurant that offers culinary experiences in idyllic surroundings, built on a love for locally sourced ingredients.
Tucked away in the middle of the forest on the edge of Øresund and Dyrehaven (Animal Park), Den Røde Cottage was originally built as an exclusive health resort and bathing establishment for the capital's more posh citizens. Fortunately, times have changed.
That sustainable touch
Here you can enjoy a cosy evening in the company of modern gourmet food, created by experienced and renowned chefs. The location naturally affects the menu, which is put together with a strong focus on nature. The raw ingredients are picked, harvested and preserved when in season so that they can then be used in the restaurant all year round.
Both meat and vegetables come from small farms in North Zealand and the local fisherman also delivers fresh supplies direct from the ocean. It is Den Røde Cottage's philosophy that its dishes should contain ingredients from the surrounding nature.
You can choose between a five and eight-course menu, which includes five small plates and petit fours. The food is accompanied by a seasonal wine menu deliberately curated to perfectly accompany the food.
Be one with nature
When the weather permits, lunch or dinner can begin with a glass of bubbly on the large terrace, which in the summer also serves as a wine bar for those who just want to enjoy a drink and a chat in stunning wild surroundings. And with Dyrehaven and Bellevue as the nearest neighbours, you also have the opportunity to walk off the excellent food with a trip into the world. Bon appetite!
Getting there
Den Røde Cottage is only 10kms from Central Copenhagen and 10 minute's walk from Klampenborg station. Just take the C-train north from the city centre.
If you're driving it's a 25-minute journey via Strandvejen and Route 152, and you can cycle that same route in around 45 minutes.