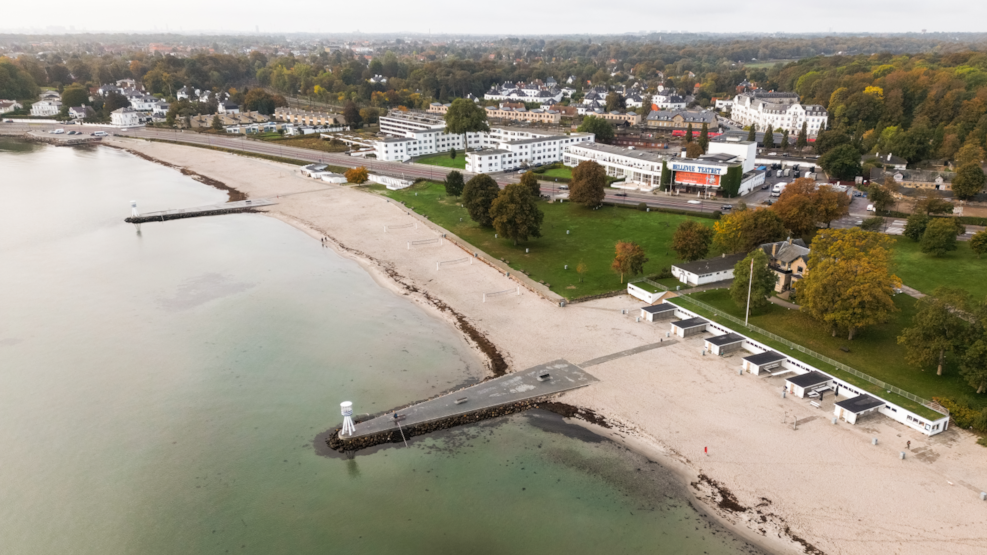 Bellevue
The area around Bellevue on the northern outskirts of Copenhagen is a popular destination for both locals, residents and international tourists. Bellevue is a 700-metre-long sandy beach in Klampenborg that receives around 500,000 visitors a year, making it one of the most popular beaches in the greater Copenhagen area.
Iconic Danish design
The area is synonymous with world-renowned architect, Arne Jacobsen. His celebrated Danish design can be seen almost everywhere, from the geometric kiosks and surrounding housing to lamps, fixtures, textiles and furniture. And Bellevue Strandbad, Arne Jacobsen's first building, is no exception.
Before the opening of the beach, young Copenhageners changed their clothes on the beach – much to the shock and outrage of the locals. Fortunately, this was changed in the summer of 1932 with the opening of an ambitious beach complex. Since then, several iconic buildings have been added as part of Arne Jacobsen's plan for a homogeneous and timeless design.
When you're here, enjoy the view from the distinctive blue-striped lifeguard towers, located at the end of the pier. Other Jacobsen designs that perfectly encapsulate the world-renowned Danish design aesthetic where form meets function include the Bellevue Theatre, the Søholm houses and the Bellavista apartment buildings.
The prototype gas station
A short stroll from Bellevue Strand, you'll find the petrol station in Skovshoved. It was designed by, you guessed it, Arne Jacobsen. Conceived as a prototype for Texaco, only one was produced - and this is it. Visually more in common with the retro diners, you'd find in the United States, it is a listed building, preserved to look exactly as it did when it was built in 1936.
Beautiful bathing beach and animal park
Not interested in design? Not a problem. Bellevue also offers a large sandy beach and lots of space for both beach volleyball and water sports. A few hundred metres inland is the Dyrehaven, or Animal Park. These forests north of Copenhagen are Denmark's most visited and they can be enjoyed in running trainers, on a mountain bike or with a good cup of coffee from nearby Café Parforce or Peter Lieps Hus.
Getting there
Bellevue is only 10 km from Central Copenhagen and a short walk from Klampenborg station. Just take the C-train north from the city centre. It's a 25-minute drive via Strandvejen and Route 152, and you can cycle that same route in around 45 minutes.