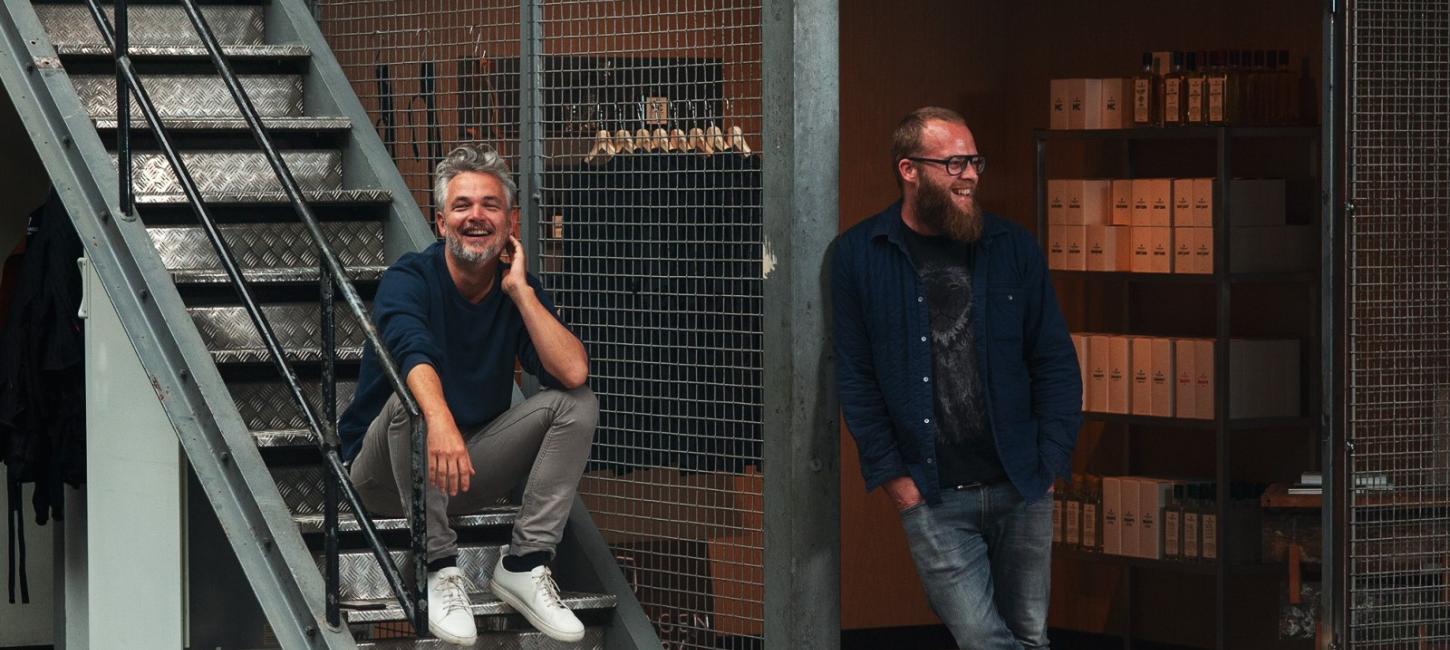 About the writer
Rasmus has bartended at some of the best cocktail bars in Copenhagen, started a spirits brand and written books on booze and cocktails while exploring the city's bar scene for more than 10 years.
Join the Micro-Distilling Revolution with Copenhagen Distillery
By Rasmus Poulsgaard
Local expert on cocktails, spirits and Copenhagen's bar scene. One of our local contributors covering Copenhagen's culture, gastronomy and urban development.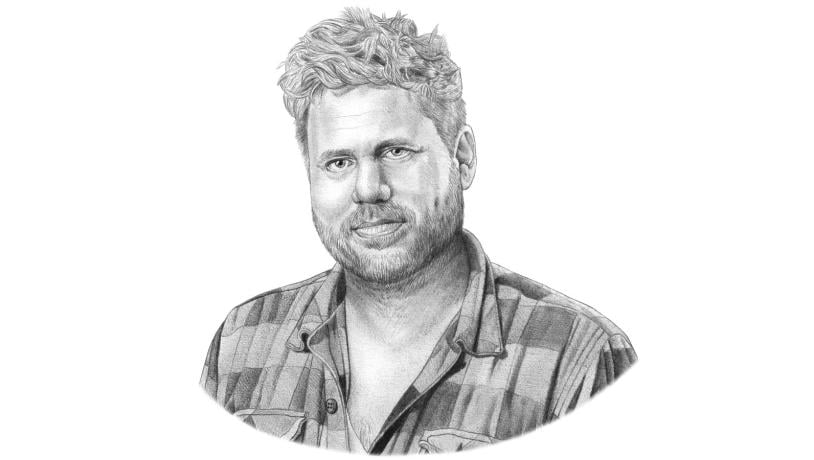 Photo:Sine Jensen
The sun was shining, and a delectable smell of elderflowers intruded my nostrils that late summer morning, as I got off bus line 37, on which I had only 15 minutes earlier embarked at the central station in the dead center of Copenhagen. One of the amazing parts about living in a compact capital like Copenhagen, is that you in a matter of minutes via public transportation can get to what feels like in the middle of nowhere. And sometimes that is just what you need. Especially if that middle of nowhere produces booze.
Entering the parking lot in front of the distillery I was thinking about the explosion of micro distilleries that has swept through Denmark during the last decade, how it has influenced the way a new breed of ambitious bartenders are working with Danish spirits in cocktails, and how their new spirit innovations could change the way we drink in the future.
The spirit production monopoly was lifted in 1973 when Denmark entered the European Union, but it is only during the last 5-10 years in the wake of a gastronomic revolution in Denmark that we have seen a plethora of products, and a mishmash of producers making everything from akvavit, gin, whisky and fruit brandies shooting up everywhere.
It was however a familiar face that greeted me at the entrance, as I closed in on the huge old lorry washing facility turned distillery situated right next to a large meadow, giving name to the area. Sune Risum Urth who is Head of R&D at Copenhagen Distillery, which in an operation like theirs just means that he is the guy who invents stuff, is a longtime friend of mine. He is however also a former colleague from a legendary cocktail bar in Copenhagen called Ruby, back in what now seems a distant carefree past before kids and mortgages.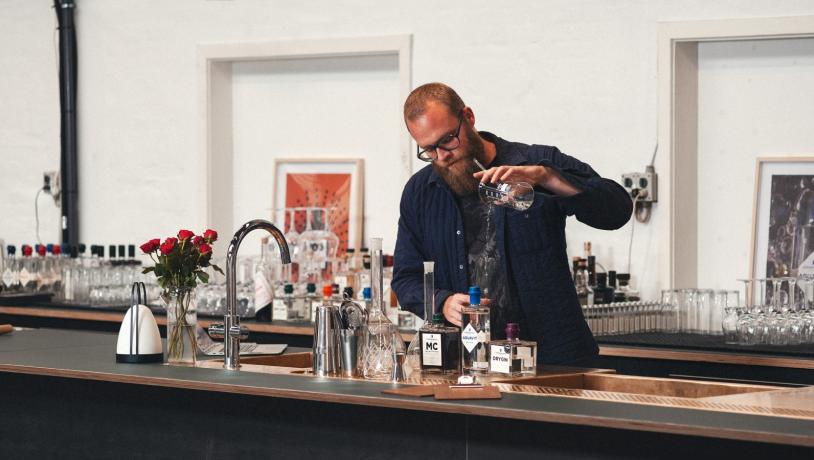 Sune Risum Urth, R&D at CPH Distillery, mixing up a few things in the lab. Photo:Rasmus Poulsgaard
We sit down at a long massive oak lumber table under the high ceilings of the old industrial space. I have always thought that there was something a bit magical about the light in this old washing hall. The big skylights that shed weirdly diffused beams of god light from the high ceilings creating an almost church-like atmosphere. Anders Frandsen, who is the cofounder and co-owner of the distillery, joins us, and we start to talk about the current micro distilling revolution, design thinking and just hard-core booze.
Copenhagen distillery was originally started as a spin off from a whisky club gone serious.
"Henrik (Brinks) who at the time worked at our design agency made this whisky in his basement, and we kinda all thought it was pretty tasty, so we started brainstorming on how we could brand it. I mean we couldn't call it "Henrik´s Basement Whisky" right, so I guess it started from there"
Anders explains with a grin reminiscing the makeshifty beginning of this adventure.
Back then they set up a distillery a bit further out on Amager in a very old and very quaint thatched farmhouse close to the water. The setting was great, but there was no room for expanding and their production was well let's just say a bit crude. Now they have just installed an ingeniously complex copper Müller distillation device enthroning the large open space, giving them more flexibility and control in their whisky production and subsequently better products.
"We started out with a banged-up drum set in a garage playing punk rock, and now we are sort more creating edgy pop. We are maybe more like Robyn than Nirvana these days" they say and laugh at the thought of comparing themselves to the female iconic Swedish popstar before continuing the metaphors:
"I mean we used to be the naughty boy in class, but as time has passed that boy started doing his homework, and maybe combed his hair a bit."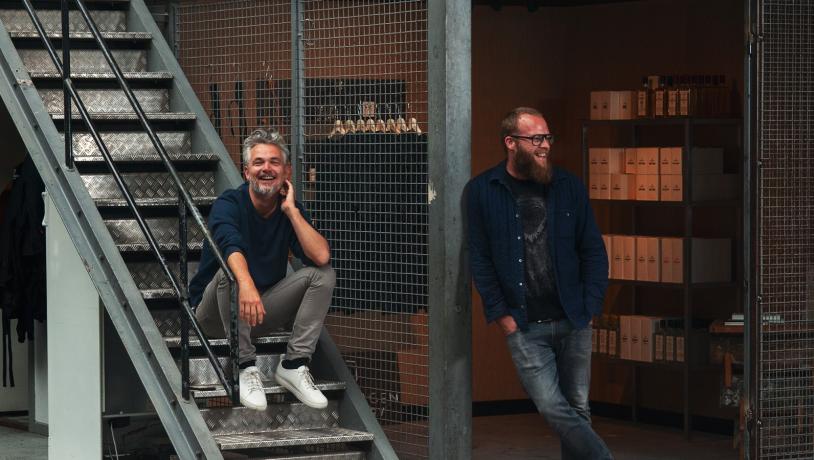 Anders and Sune is part of a team producing some of the best spirits in DenmarkPhoto:Rasmus Poulsgaard
In many ways the story about CPH distillery is the story about a mayor movement within the spirit industry in Denmark and all over the world actually. It is a story about a product emerging out of one or more fiery souls with a burning desire to create cool stuff and a relentless energy and resilience, but also with limited craft and knowledge about producing spirits as such. Knowledge it takes years to acquire, but I guess there is only one way to learn right!?
And learned they have. I have had the privilege of following the evolution of the distillery from its early beginnings when they produced quirky interesting products with varying quality to being one of the leading forces within the micro distilling revolution in Denmark with a consistent output of quality products.
"We are very open about our limitations, but sometimes naivety is a necessity in order to create something new and fresh. Humility is the key though" Anders stresses before continuing:
"We consistently try to improve incrementally, which means that some of our products are constantly changing, but under the same label. We like to think of those products as being alive, constantly evolving, constantly improving."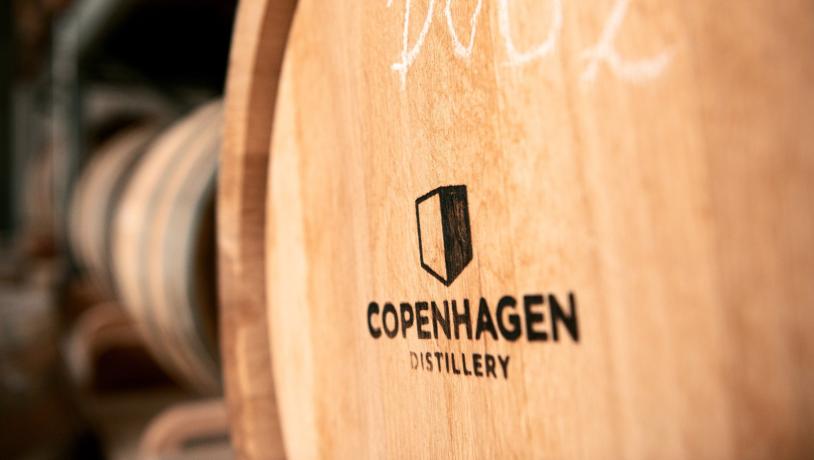 One of the casks hiding new releases of their much anticipated whisky.Photo:Rasmus Poulsgaard
To illustrate their point, they pour me a taste of the newest edition of the very first commercial product ever to come out of Copenhagen Distillery. Finally! I think to myself and nose the liquid. I recognize it as a mead-based gin called "Copenhagen Distillery Dry Gin" that came out about 5 years ago, and it did indeed taste very different back then with a much more classic and let us say well-groomed expression now than before. I know this product very well though, as I was a part of the tasting panel giving feedback in its early beginnings together with other invited bartenders in Copenhagen, and I have followed it ever since.
"We found out through different fan pages created on Facebook that people were respectively outraged and delighted when our product evolved. I mean isn't it wonderful that people feel that strongly about our products!?!? Our goal is to create fans not consumers, and if we in the process alienate a few, so be it." Anders says gesturing enthusiastically while making constant references to other venerable companies that subscribe to the same ideas of costumer-loyalty. It should be obvious to everyone that Copenhagen Distillery is a design driven company. When it comes to the aesthetics and the overall experience around the product there is nothing left to chance, but it is also important to them that their products don't seem over-conceptualized.
Looking at their products there is definitely an understated sprezzatura and a sort of "show it don't tell it" feel to them. Fx, they don't write "handmade" or "crafted small batch" on their bottles, which is otherwise very much the fashion these days, but instead hint at that very same sentiment by creating a stamp-like perforated edge on their label. Something you almost don't notice, but you do.
"Design sells the first bottle, and the content sells the next one",
Anders continues. "And we are proud to say that we have created bottles that people keep on top of their bar cabinet with all the other bottles inside of it. In this way we have sort of become a design item that people like to show off. However, balance between design and quality is extremely important, because if the product can't deliver on the promise of the aesthetics, you lose all credibility."
My mind wanders as I look around the large open area, and I ask them why the actual distillery with stills and casks only take up a third of the space. I mean this is a distillery, right?
"When we saw the venue the first time, we were actually looking at another place just around the corner", they explain. "But exploring the area we stumbled upon this "little" gem. It was rough and very industrial being what it was, but there was a certain sophistication to it as well. I distinctly remember discovering the acoustics upon entering the building", Anders says clapping his hands. "Then and there we knew we had not only a distillery, but also a concert venue"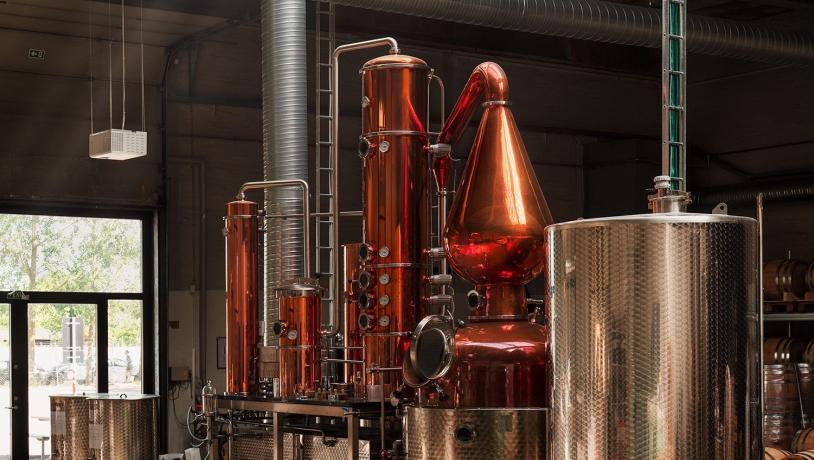 The copper distilling device bathed in god light from the windows in the high ceilings at Copenhagen Distillery. Photo:Rasmus Poulsgaard
"Well I guess that is the way the industry is evolving these days.", I say, referring to the general trend of creating "experience" facilities around distilleries instead of only producing booze.
So, to answer my own question, Copenhagen distillery isn't only a distillery. Their goal is to drive culture around their brands, and through that draw people into their universe creating a lasting brand experience. This means that they very soon will be opening a concert venue/gallery and exhibition space/culture hub with a fully stocked bar of course, for everybody to enjoy.
I myself am looking very much forward to the opening, and if you make your way through the clover meadows of Amager you might just find me in the bar sipping and sampling new and interesting products made from locally foraged ingredients or a new rendition of our beloved locally crafted spirit, akvavit.
Related stories from the local experts
Let some of Copenhagen's experts on gastronomy, culture and urban development explain just what it is that makes their beloved city unique in its own great-tasting, creative and beautiful way.