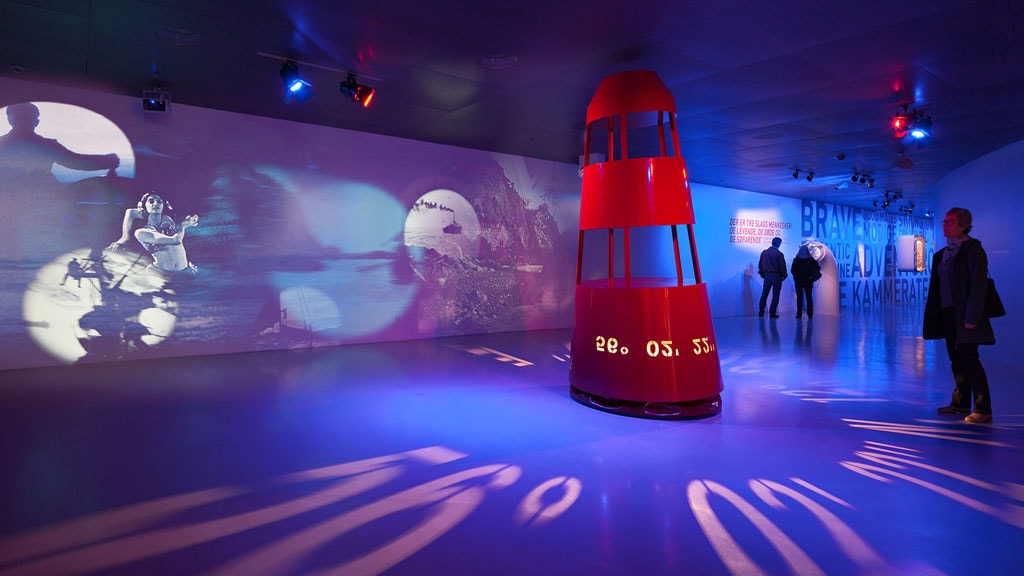 M/S Maritime Museum of Denmark
Experience award-winning architecture and sensuous exhibitions. The M/S Maritime Museum of Denmark is designed by world renowned BIG - Bjarke Ingels Group, and the museum is situated in beautiful maritime surroundings at Kulturhavn Kronborg.
At the Maritime Museum of Denmark, a sensuous experience awaits. Here, you find award-winning architecture, interactive and impressive exhibitions and a fascinating insight into Denmark's role as a leading seafaring nation over time. Focus is both on the great historical lines and the personal stories.
Visit the award-winning museum in Elsinore
The M/S Maritime Museum of Denmark was the primary reason why Elsinore was included in the New York Times list over 52 "must sees" in 2014. Since the opening of the museum on 5 October 2013, the place has received several architectural and design awards, both for the exhibitions and the architecture which are positioned around the former dry dock. 
Learn more about how shipping has tied the world together
At the museum, you will hear about the mythology of shipping and the technology which has rendered it possible to navigate at the oceans.
You will also learn more about how shipping has tied the world together – right from the flourishing trading period of the 18th century to the present global society where more than 90% of all commodities are transported by sea before ending in our shopping basket.
Games and play for the whole family
While visiting the museum, you will be able to enjoy contemplation as well as play: In the interactive games, your whole family can control the world trade of today or try their luck as a merchant in the 18th century.
You can learn to navigate by way of the traditional tools of shipping or get a genuine sailor's tattoo (can be washed off afterwards) and children can play around in DRØMMESKIBET (the Dream Ship).
M/S Café
Take a break in the museum's nice M/S Café where you can get delicious lunch dishes, hot and cold drinks and some sweet light refreshments.
Museum shop with style and quality 
Museumsbutikken M/S Cargo er en oplevelse i sig selv. Her finder du produkter indenfor indretning, brugskunst, bøger, smykker, the/kaffe, duft/skønhed, plakater/postkort, legetøj og mode i enhver prisklasse. Alt er gennemsyret af kvalitet og moderne design og relaterer sig til museets udstillinger. 
Opening hours
See opening hours below. Museet holder derudover åbent mandag i vinterferien i uge 7, de to mandage i påsken samt mandag i efterårsferien i uge 42. Museet holder fast lukket hvert år den 23., 24., 25., 26. og 31. december samt 1. januar.
This attraction is free with Copenhagen Card - read more here.
Oplev Helsingør
Efter et besøg på M/S Museet for søfart, kan du blandt andet tage forbi museets naboer Kronborg Slot, Værftets Madmarked eller Kulturværftet, eller du kan tage på Elsinore Walk og gå på opdagelse i Helsingørs farverige, gamle gader.
Get more information about what you experience and see in Elsinore.