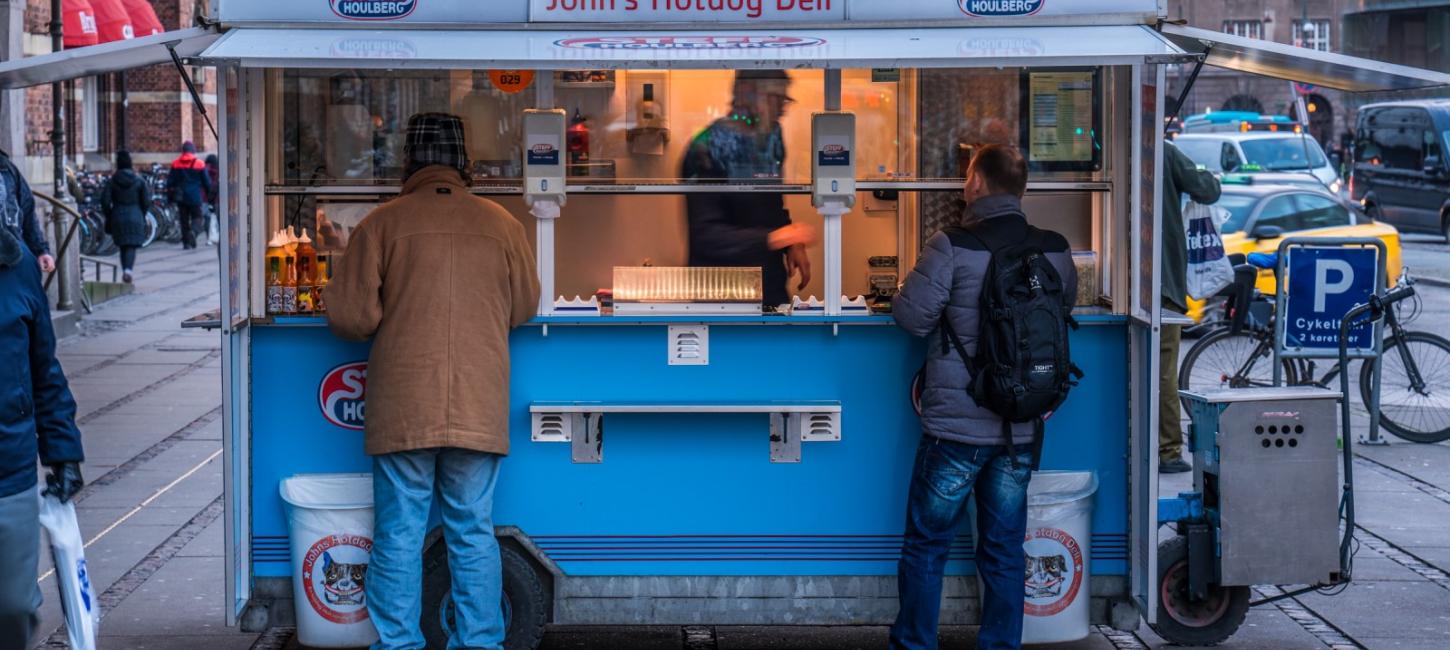 The legendary tale of hotdogs in Denmark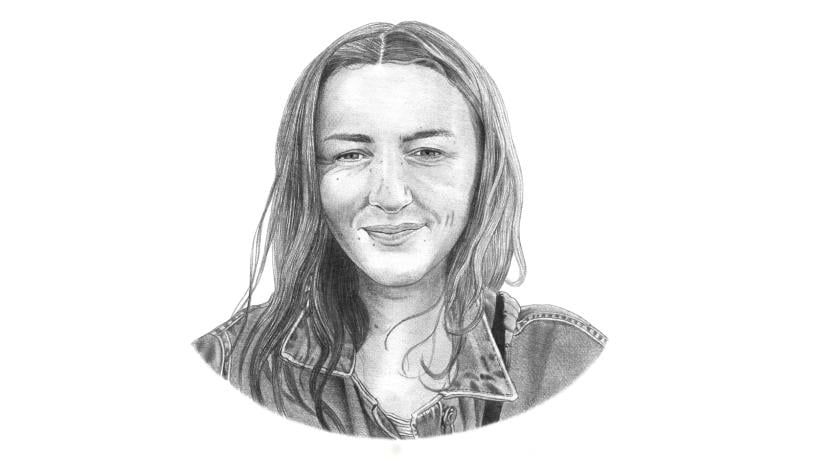 Photo:Hazel Evans
There are few scenes in Copenhagen more delightful than a hotdog vendor walking calmly along a busy city road, pulling their van behind them, holding up a long line of cars who don't seem to mind at all. Well, ok, perhaps some of them do, but it would be seriously uncool to toot a horn or in any way show disrespect to the vendor. Hotdogs, and the people who sell them, are adored in Denmark, and for good reason.
During the First World War, street hotdogs were already popular in Germany and soon caught on in Sweden and Norway, but it wasn't until 1920 that Denmark got its first hotdog vendors. For years, hotdog entrepreneurs had been submitting applications to city councils to sell hotdogs from street wagons, after restaurants closed, until 2:30am. But they were rejected for various reasons. The authorities worried about traffic on the streets and eating on the streets (disgraceful!) Traditional restaurants, who feared competition, used all their might in the council to block the applications. But finally, in 1920, Charles Svendsen Stevns—a Dane who had been running a successful hotdog business in Oslo (then called Kristiania) for a decade—was granted permission to open hotdog vans at several locations around Copenhagen: Rådhuspladsen, Vesterbros Torv, Nørreport, Nørrebro Runddel, Gammeltorv and Christianshavns Torv.
Sausages cost 25 øre and if you wanted bread, you had to pay an extra 5 øre. It doesn't sound like much by today's standards, but in 1920, that was a fairly luxurious meal; not everyone could afford a hotdog.
The first Danish hotdog vans were nothing like the ones we know today. They were small, wooden push carts with large wooden wheels, and only the fancier ones had a shelter for the vendor to stand under. Sausages cost 25 øre and if you wanted bread, you had to pay an extra 5 øre. It doesn't sound like much by today's standards, but in 1920, that was a fairly luxurious meal; not everyone could afford a hotdog.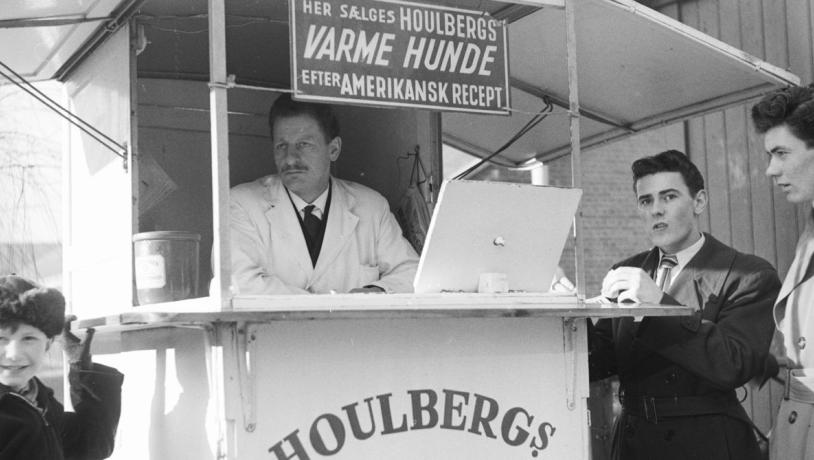 Photo:Unknown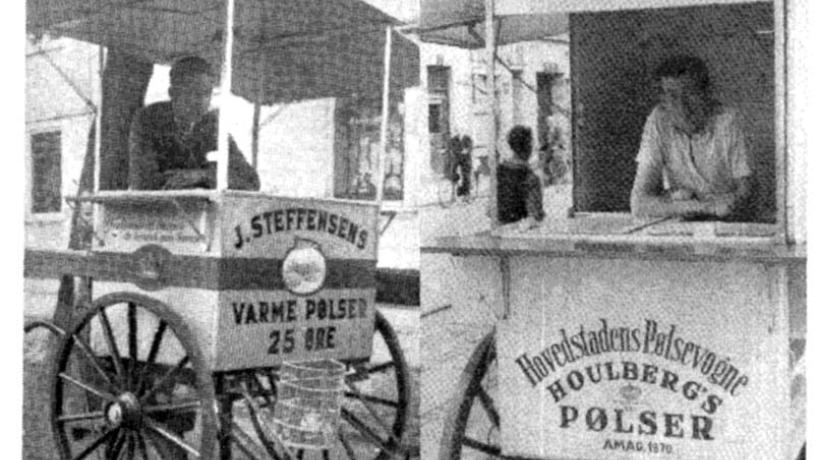 Photo:Unknown
But it was a hit! Pretty quickly, hotdogs could be bought not only in the Danish capital but also on the streets of Odense, Århus, and Ålborg. However, as the hotdog became more and more widespread in the 1930s, some people began to take issue with the fact that most of the hotdog vans in the were owned by wholesalers. Hotdog vans could earn up to 140 kr. per week—the best ones up to 700 kr—but  the average weekly salary for a hotdog vendor was 25 kr.
Selling hotdogs in Denmark became a very personal thing
In 1942, some of Copenhagen's hotdog vendors united over this issue and took the case to the Mayor, requesting that the laws concerning hotdog vans be revised. They were, and the new laws required hotdog vendors to be self-employed and apply for individual permits sell their hotdogs at a particular place in the city. However, in 1940s Denmark, in order to work as self-employed, one had to prove to the council that he was disabled or otherwise unable to work in a normal job. This changed the hotdog landscape in Copenhagen, and many other parts of Denmark, dramatically. Now that it was no longer just a job, hotdog vendors started putting more care into their business and into the hotdogs themselves. This is also why most hotdog vans today are called "Lone's Sausages", "John's Hotdog Deli" or "Harry's Place". Selling hotdogs in Denmark became a very personal thing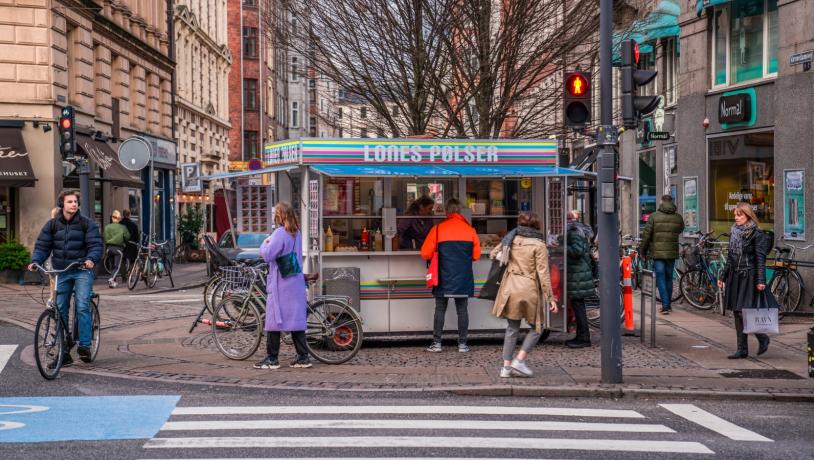 Photo:Daniel Rasmussen
Almost everyone eats hotdogs and, therefore, the hotdog vendors of Denmark have a reputation for being not only kind, but also very tolerant people.
In the decades following the Second World War, hotdogs in Denmark really came into their own. Every town and railway station in the country had its own hotdog van, and sales were never higher. In 1950, Copenhagen alone boasted 400 hotdog vans. By 2010 this number had dropped to 60, as hotdogs struggled to compete with the influx of other kinds of fast food that came to Denmark in the late 20th and early 21st centuries. The number of hotdog vans across the whole country has also decreased. Despite this, the hotdog van is still a treasured emblem of Danishness and holds a special place in Danes' hearts that is not afforded to other fast food joints.
The hotdog van is also one of the few locations where Danes eat alone. This sometimes causes strangers to strike up conversations with each other, which is an even rarer sight than a Dane eating alone! Hotdog vendors encounter folk from all walks of life, and treat them all the same, whether they're top politicians, pant collectors or wide-eyed tourists. Almost everyone eats hotdogs and, therefore, the hotdog vendors of Denmark have a reputation for being not only kind, but also very tolerant people.
What's more, it's difficult to find a Dane who doesn't have an extremely strong opinion about how a hotdog should be assembled. This differs from region to region but is also a very personal thing—imagine Italians from different regions fighting about how to make carbonara, and replace them with Danes and hotdogs, you get the picture.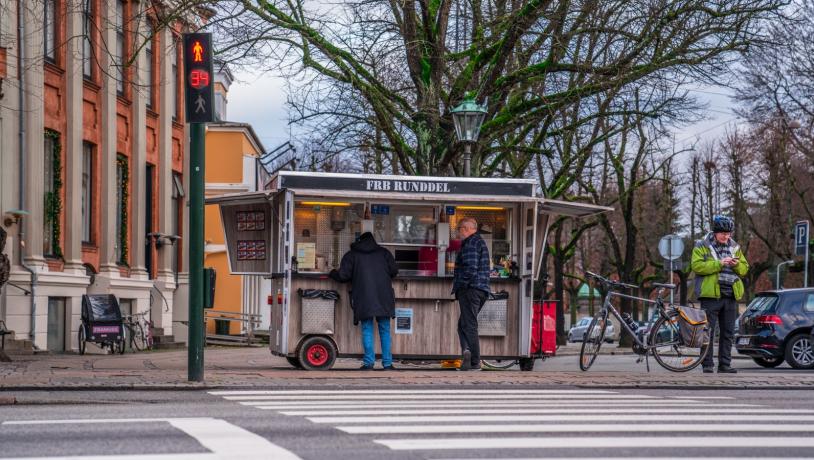 Photo:Daniel Rasmussen
Regardless of assembly, most hotdog vendors will offer similar variations on the basic hotdog format. You can usually count on a "ristet pølse" (the classic), a French hotdog (a sausage stuffed into a piece of bread with a hole through the middle), a sausage "in a blanket" (with bacon wrapped around it), mayonnaise, mustard, remoulade, ketchup, toppings like fried onions, pickled cucumber, and a bottle of Cocio (chocolate milk) to wash it down. But, of course, in Copenhagen, you can also find gourmet, vegan, alternative hotdogs in their masses.
You'll find Danish hotdog vans at most major transport stations, central squares and popular street corners in Copenhagen. But if you want to seek out a very particular kind of hotdog experience in the capital, read on.
John's Hotdog Deli
John is quite a legend in Copenhagen. He's been in business for 13 years, and his hotdogs are enjoyed by everyone from Michelin-starred chefs, to late-night drunkards, to unsuspecting tourists who emerge from Copenhagen Central Station and head for the first hotdog van they see, which (lucky for them) just happens to be one of the best in the city. John is known for his zero-fucks-given attitude, and for giving a lot of fucks when it comes to quality meat (from Hallegaard on Bornholm), homemade toppings and hot, hot sauce (John is famous for his hot sauce).
You can get all the classic hotdogs, or go for the Hotdog of the Week, which is often funkier. For those who really like to play, I'd recommend the DIY toppings station at John's bricks-and-mortar eatery in Kødbyen (also called John's Hotdog Deli). In the past those hotdogs and condiments have included curry sausage, wasabi mustard, pickled ginger, miso mayonnaise,mustard made from Mikkeller beer, chanterelle remoulade and teriyaki glaze.
Bernstorffsgade 5 / Flæsketorvet 39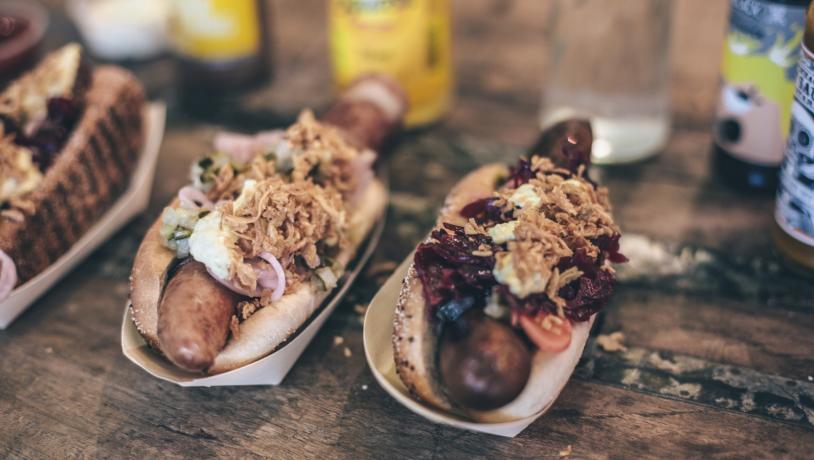 Photo: Martin Heiberg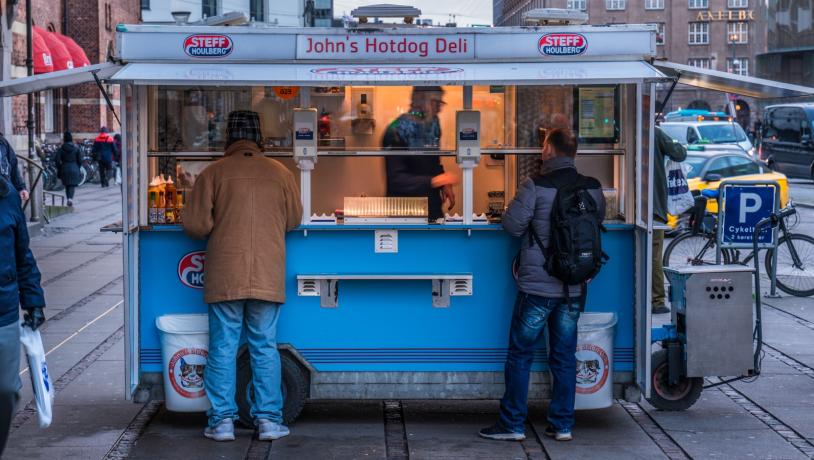 Photo: Daniel Rasmussen
DØP
DØP aka 'Den Økologiske Pølsemand' (The organic sausage man) are a couple of much-loved little hotdog stands that sit by Rundetårnet (The Round Tower) and Helligåndskirken (Church of the Holy Ghost), and also pop up at various events in Denmark. It's the perfect pick-me-up meal if you're out and about in Copenhagen city centre, but only open during the day. You'll have to get your late night munchies elsewhere.
Since eating organic has become such a high priority for many Danes, as well as for those who visit Copenhagen, DØP has shot to popularity. The hotdogs are served in sourdough bread (unless you opt for the breadless one—a sausage with toppings and sauces in a box), there are many different sausage options including a vegan one, and you can get classic and not-so-classic toppings.
Købmagergade 52 / Amagertorv 31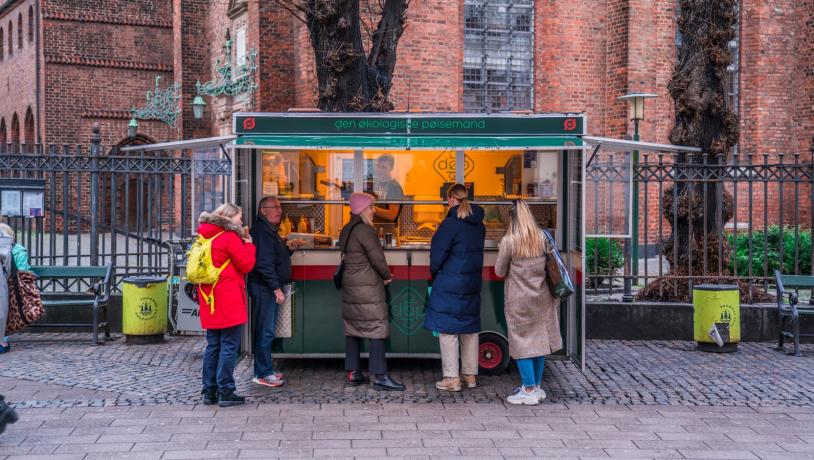 Photo:Daniel Rasmussen
Harry's Place
Harry's Place has been around since 1965 and is a little piece of true old school Danishness, still going strong today. If you're in for a true Harry's experience, you must order the legendary "Børge". The Børge came into existence when Harry, back in the day, was commissioned by the Copenhagen prison to develop a sausage for the inmates. Inmates were supposed to eat a certain amount of meat a day, and if this came in sausage form, it meant they would each get 1.5 sausages. This often caused problems between inmates; if the 0.5 sausage was not split equally in half fights would break out over who got the biggest half (yes, really). Harry saved the day by developing a sausage, later named "Børge" after one of the prisoners, that was the equivalent of eating 1.5 sausages of ordinary size, so everyone got the same.
He then began to sell the extra large sausages at Harry's Place. Although Harry passed away in 1989, his place, and the famous sausage lives on! If you don't have a prison-appetite, you can also get a smaller sausage. Either way, I recommend dipping it into "krudt" (gunpowder) sauce—another Harry's special.
Nordre Fasanvej 269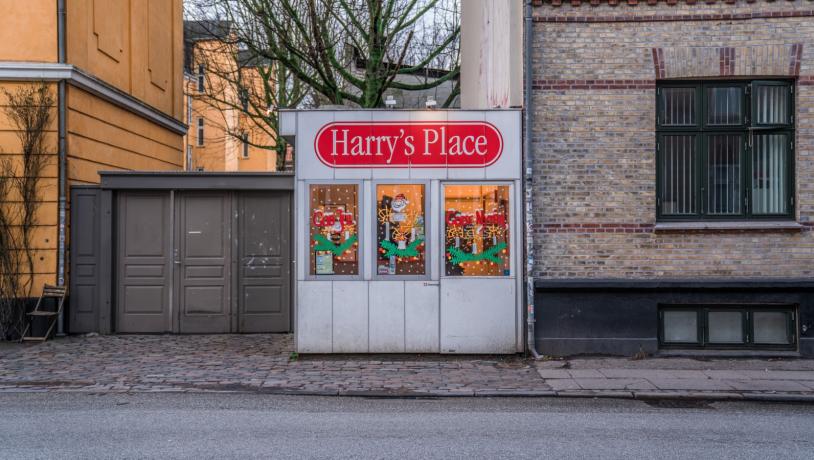 Photo:Daniel Rasmussen
Flyvergrillen
One thing some Danes associate with hotdogs is watching planes take off and land. That is certainly the case at popular Flyvergrillen, with its excellent view of Copenhagen Airport. If plane-watching is your thing, I recommend heading out here on clear evening to watch planes fly in front of the setting sun, a hotdog in one hand and a bottle of cocio (the brand of chocolate milk most commonly used to "wash down" a hotdog) in the other.
If you're tired of hotdogs by now, Flyvergrillen also serves plenty other Danish comfort food classics, such as "boller i karry" (meatballs in curry), "biksemad" (traditionally made from leftovers, similar to the English "bubble and squeak"), burgers, fries, schnitzel, kebab, smørrebrød and pretty much anything else of this genre you can think of. For dessert you might want to try Danish "æbleskiver" (fluffy, pancake-like balls, served with jam and icing sugar during winter).
Amager Landevej 290
Bjarnes Pølser
"A sausage should be served served with feeling" is the motto of Bjarnes Pølser, and it sounds much better in Danish ("En pølse skal serveres med føl'se"). Aside from the excellent rhyme, this motto really nails what Danish sausage culture is all about. It's the feeling you get whenever you pass a hotdog van and inhale that familiar smell from childhood (or just from several years of living in Copenhagen, if you're like me and didn't grow up here); it's the feeling of comfort when you're greeted by the always-friendly people working in the sausage van; and of course the feeling of satisfaction, sinking your teeth into the textures and flavours of a perfect hotdog.
Bjarnes has been around since 1984 and earned himself a reputation for being a hotdog van worth travelling for. I say this because it's not exactly in Copenhagen, but in Ballerup, about 15 kilometres north west of the city centre. But if, for some reason, you find yourself out that way and lusting after sausage, Bjarnes is your go to!
Hold-An Vej 3
More long-format articles
Dive deeper into Copenhagen's culture, gastronomy and architecture with our team of local contributers.