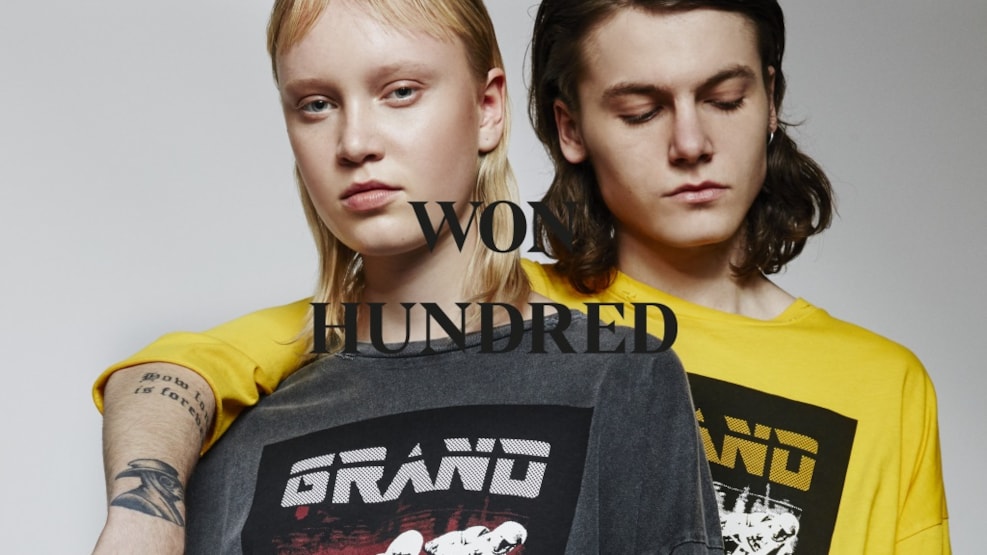 Won Hundred
A Danish fashion brand with roots in Denim design and the Scandinavian minimalist, design tradition. Enjoy utilitarian clothing for both sexes with a focus on everyday wearable items including a sustainable clothing line.
Raw Scandinavian fashion
Won Hundred is a rock and roll inspired Danish fashion brand that offers both men's, women's and unisex clothing. The inspiration clearly shows in many of Won Hundred's designs, where raw attitude and a love for denim and leather have become trademarks for the brand. Won Hundred has existed since 2004 and was founded by the creative director Nikolaj Nielsen. His vision for the brand is to "create utilitarian fashion, with a focus on details and longevity". Won Hundred's styles vary from playful pieces to streetwear to the minimalistic design, which Scandinavian fashion is famous for. The versatile universe encourages you to have fun experimenting with your style, no matter if you're dressing for work, leisure or a night out.
Showroom in idyllic Frederiksberg
In 2020, Won Hundred moved to the idyllic Frederiksberg where they have their new showroom on Frederiksberg's popular high street, Gammel Kongevej. The street offers a wide variety of local and exclusive stores to choose from. So, on a trip to Won Hundred you're in a great area to browse other similarly accomplished fashion stores.
Like many fashion brands of today, Won Hundred is picking up the responsibility of the industry's sustainable transition. You can check out various sustainable collections made from deadstock materials that would otherwise have been discarded. Their 'Green Cross' label indicates that the garment is made from organic material and is planned to be Won Hundred's flagship sustainable clothing line. Check out their website and Instagram for the latest collections and collaborations.