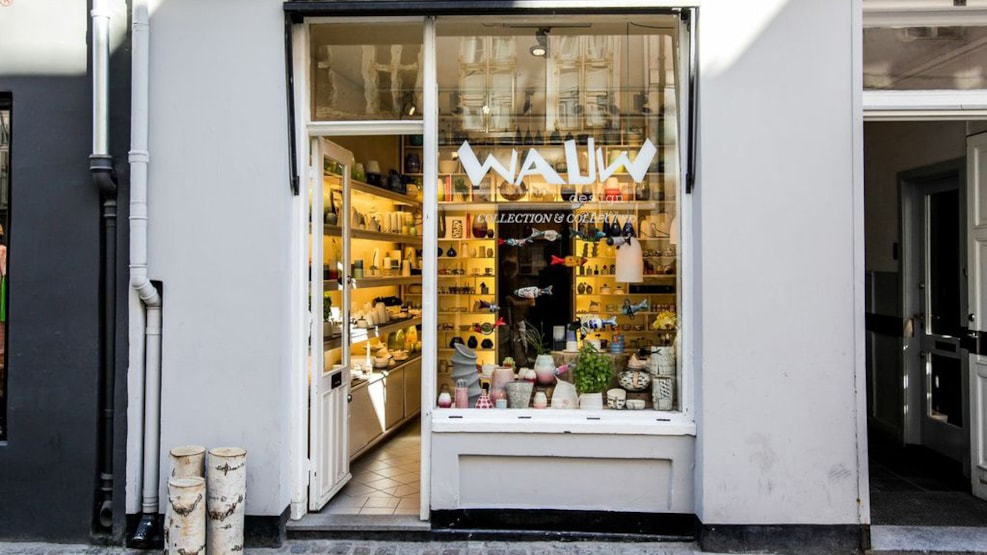 Wauw
Wauw is both a shop and workshop for unique, handcrafted ceramic pieces. Each piece has a story to tell with different colours, textures, and designs. Designer Sussi Krull steers this unique ship, where the story is only ever complete once a piece comes out of the oven.
Over a decade of handcrafted ceramics
Don't be fooled by the size of the space. There is a wealth of ceramic treasures inside! Each one of them handcrafted according to the eight different series available, and each with its own distinctive design. The ceramicist and designer Sussi Krull has been at work producing her handmade creations since 2006, exploring the medium and the interplay between form, design, colour, and technique ever since. She names her inspiration as coming from the same place as the materials she uses – the natural environment and specifically, the meeting between land and sea. You can really see this in the "Pastello" collection where the different glazes merge and mingle to form new frontiers. This creates a space between them reminiscent of the sand along a shoreline – slightly darker in colour as the ocean recedes.
A labour of love
As with all independent design boutiques, this really is a labour of love for the owner. If you visit the blog on Wauw's website, you can read the reflections of Sussi as she tells the story of Wauw from the start; the milestones and those who joined the journey. What's perhaps most captivating and gives the ceramic pieces themselves even more intrigue are Sussi descriptions of the processes for each individual series. "Crystal" is described as an "enchanting acquaintance" whose sparkle steals the show but then again, a "difficult friend" that can be fickle in the workshop. Inside the shop you'll see the soft poetic expression of the "Songlines" series, up against the "Sustainable" series made entirely of waste materials and glazes from other designs– also beautiful in its appearance, but even more so for how each piece comes together by chance. Minimalistic tone-on-tone Nordic expression in one series often meets vibrant colour contrasts in another. Wauw is a place to experience the life's work of an accomplished artisan and pick up a piece of her story.