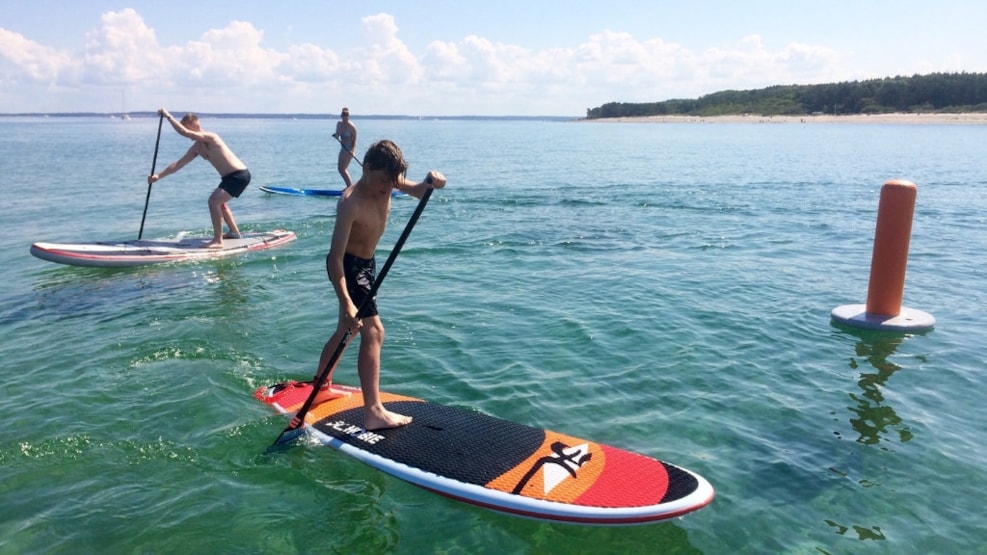 Stand up paddle - Surfshop Hornbæk
Experience Stand Up Paddleboarding (SUP) in the ideal setting, and rent or buy the right equipment as well as take lessons for all levels with Hornbæk's premiere surf shop. 
Stand Up Paddleboarding is quite simple – you stand on a SUP board and paddle your way. It is a perfect yet gentle workout for the whole body, especially for the core muscles. Your sense of balance will be also strengthened while you have a great time on the water. 
Hornbæk is the ideal setting for Stand Up Paddleboarding. Some days you have calm and clear waters, perfect for quiet tours along the coast in the company of seals, porpoises, fish and birds - other days you SUP surf the waves! 
SUP Guru 
Everything you need to master the art of SUP can be found at Surfshop Hornbæk. Formerly known as SUPspot, this fantastic shrine to paddleboarding, surfing and catamarans is run by Flemming "Flemse" Nilsson.  
He has sailed Hobiecat for 28 years, is a trained coach in the Danish Sailing Union, ASI SUP instructor and DSRF surf instructor. He knows his stuff and lives locally, so can offer the very best instruction and advice to anyone who wants to venture out into the water.  
At Surfshop Hornbæk you can buy or rent all the equipment you need, and take lessons in all these exciting water activities. Flemse believes that anyone can learn it - you just need the right technique and a little patience. His team of instructors will help you with that. All you need to bring to the water is a love of the sea, waves and that you don't mind getting a little wet!