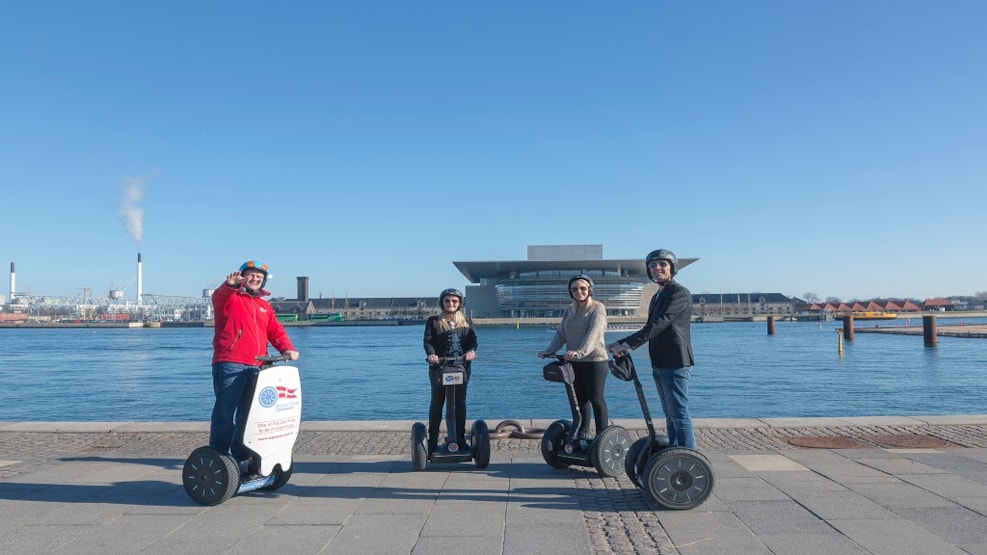 Segway Tours Copenhagen
Glide through the city and experience the sights of wonderful Copenhagen on an easy, comfortable ride
Segways. They're convenient, will easily take around Copenhagen's charmingly narrow streets, and you'll get a handle of it in no time.
With Segway Tours Copenhagen, you'll be introduced and thoroughly trained before you go on your Segway adventure. You'll join an unforgettable trip through the beautiful streets of Copenhagen, while your guide shares the many fun and interesting stories about the capital. Segway Tours Copenhagen offers helmets with built-in Hi-Fi speakers, so you'll have no problem catching every bit of the tales of Copenhagen's attractions.
Good to know
Segway Tours Copenhagen has arranged Segway tours in Copenhagen since 2008 and is one of the city's leading operators. The tours run every hour, every day, all year from their central office by Nikolaj Kunsthal, a former church in the center of Copenhagen. You can join tours of 1, 1.5, or 2 hours' duration.
If your group consists of a minimum of 6 persons, you can even get your private tour. There's also the possibility to combine the Segway tours with motorized bikes or taxi bikes. The minimum age limit for Segways is 12 years, but alternatives can of course be arranged, so everyone can join the tour.
Rent a bike
At Segway Tours Copenhagen it is possible to rent your bike from the heart of Copenhagen. They offer different types of bikes such as the cool Instagram-friendly JOPO bike, children's bikes, or the Christiania cargo bike. 
Their opening hours are from 8.30 am to 5.30 every day, all year long. The prices for the bikes are Regular JOPO bike: DKK150kr per day, JOPO children bike: DKK100kr per day, or the Christinia cargo bike: DKK500kr per day.
Store your luggage with Segway Tours Copenhagen
With more than 400 sq/m within the heart of the city center, Segway Tours Copenhagen is
perfectly suited to safely store your luggage while you enjoy Copenhagen luggage free. They even
store your luggage for free of charge if you choose to rent one of their bikes or do one of their
daily Segway tours with them. If not, they charge DKK40 or the equivalent of €5EUR per bag for
the day and they're open from 8.30 am to 5.30 pm every day all year long.
For further information and to book, check their website.