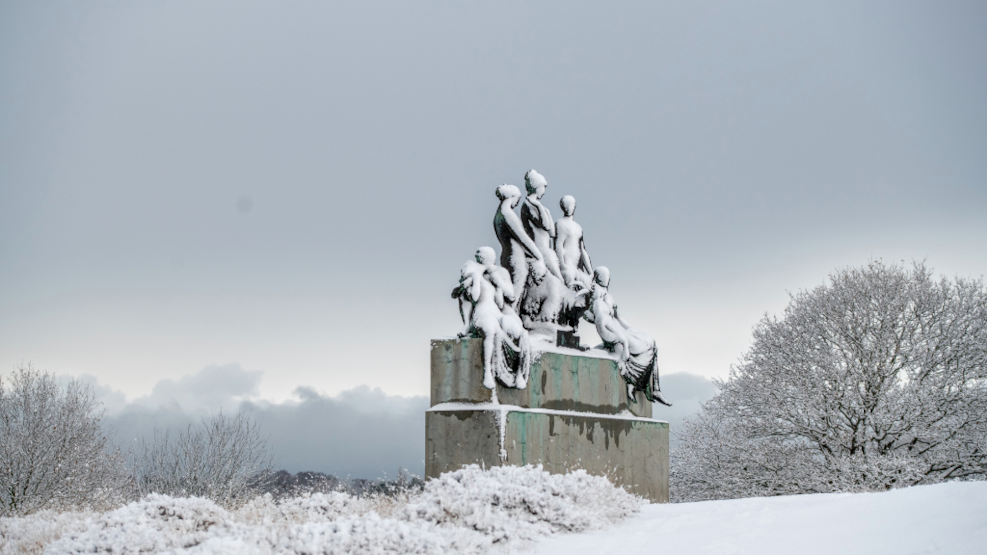 Rudolph Tegner's Museum & Statue Park - Marble and bronze in heather-covered hills
Walk in heather-covered hills between statues of powerful men and women. Continue into Tegner's Museum, which echoes like a cathedral, and see Danish sculptor Rudolph Tegner's enormous works in plaster, marble, and bronze.
Statues in heather-covered hills and concrete architecture
Men and women in bronze gaze out over the heather-covered hills in the park. And they stretch in white plaster in the impressive octagonal museum space with 11 meters to the ceiling.
It is a special experience to walk around Rudolph Tegner Museum and Statue Park - calm and powerful at the same time, due to the beautiful nature and the bombastic concrete architecture.
See opening hours and admission prices
Find the easiest way to Rudolph Tegner's Museum
Using publictransport.dk, you can find the easiest and fastest way to get to the museum in Dronningmølle using public transportation.
Take a bike ride between three museums in North Sealand
3 museums and 1 bike - hop on your bike and get three great museum experiences while enjoying the North Sealand landscape. Experience Munkeruphus, Rudolph Tegner's Museum, and Esrum Monastery all at once. Read more about the trip and buy your ticket online.
A walk in "Rusland"
The nature area where Rudolph Tegner's statues are located is called "Rusland" (Danish for "Russia"). The special name is due to the seemingly remote location of the site. However, Rusland and Rudolph Tegner's Museum are not far away, as there is about two kilometres to the nearest town, Dronningmølle, in North Sealand.
You can see 14 of Rudolph Tegner's statues in the park when you walk in the heather-covered hills in front of the museum.
See which works are in Rudolph Tegner's Statue Park
Almost like being in a church
The museum space was designed by artist Rudolph Tegner himself to have a place for his works. It was built in concrete in 1937-38, and when you walk through the large gate, it is like entering a church space. The hard walls, the many metres to the ceiling, and the absence of large windows make all sound resonate between the statues.
The permanent collection consists of 355 of Rudolph Tegner's works. Most are original in plaster, others are in bronze and marble.
Climbing trees and activities for children
The museum is suitable for children, and there are good climbing trees in the statue park. You can follow a treasure hunt during your visit, which provides knowledge about the works. If you are creative yourself, you can visit the drawing workshop and try to sketch the works.
Activities for children throughout North Sealand
Søren's Café
After walking in the hills and experiencing the octagonal museum space, you might want some lunch or a cup of coffee. The café at Rudolph Tegner's Museum is open in the summer. You can, among other things, get coffee and tea, cake, sandwiches, and ice cream.
One of Denmark's great sculptors
Rudolph Tegner graduated from the Academy of Fine Arts in 1893 and was heavily debated in his time. His works are powerful, dramatic, and enormous, and are part of the artistic trend of vitalism. This was a great contrast to, for example, Danish artist Thorvaldsen's classical sculptures.
For many years of his artistic life, Rudolph Tegner lived in France, and in 1916 he bought the area outside Dronningmølle, where he built his museum. He is buried here with his wife, Elna.
Read more about Rudolph Tegner and the museum
Events and activities at Rudolph Tegner Museum
The museum hosts a range of activities such as concerts, guided tours, and artist talks. A popular annual event is the candlelight parties, which always take place on the first Friday in September and the following Saturday. They are an extension of the parties that Rudolph and Elna Tegner held in the 1910s and 20s for artists and friends.
Practical information
Car: There is a parking lot right outside the museum and statue park. Drive along Villingerødvej and turn onto Museumsvej.
Bus: You can take bus 362, which runs between Mårum and Græsted with a stop in Dronningmølle (where the local train also stops). Get off at the Museumsvej bus stop. It takes about ten minutes to walk to Rudolph Tegner's Museum. See bus routes and departure times on publictransport.dk.
Bike: If you follow the North Coast Cycle Route 47, you will pass through Dronningmølle, and from here it is only two kilometres to Rudolph Tegner's Museum and Statue Park.
Statue Park: Entrance to the park is free, and it is open year-round.
Museum building: Admission can be purchased on-site. The museum is open in spring, summer, and fall. See opening hours and admission prices.
Wheelchair users: There is a ramp at the entrance to the museum, and wheelchairs can move freely inside. Helpers have free admission. The terrain in the park is hilly but accessible.
Follow Rudolph Tegner around North Sealand and Copenhagen
Rudolph Tegner's sculptures are not only found at the museum in Dronningmølle. You can also find them freely accessible in public spaces in both Helsingør and Copenhagen.
Helsingør: The Dancer Well, 1913 (Kronborgvej/Allégade since 1933), Heracles and the Hydra, 1932 (Nordre Mole since 1994), Hamlet and Ophelia, 1938 (In front of the train station since 2008)
Copenhagen: Towards the Light, 1909 (Blegdamsvej/Tagensvej at Rigshospitalet)