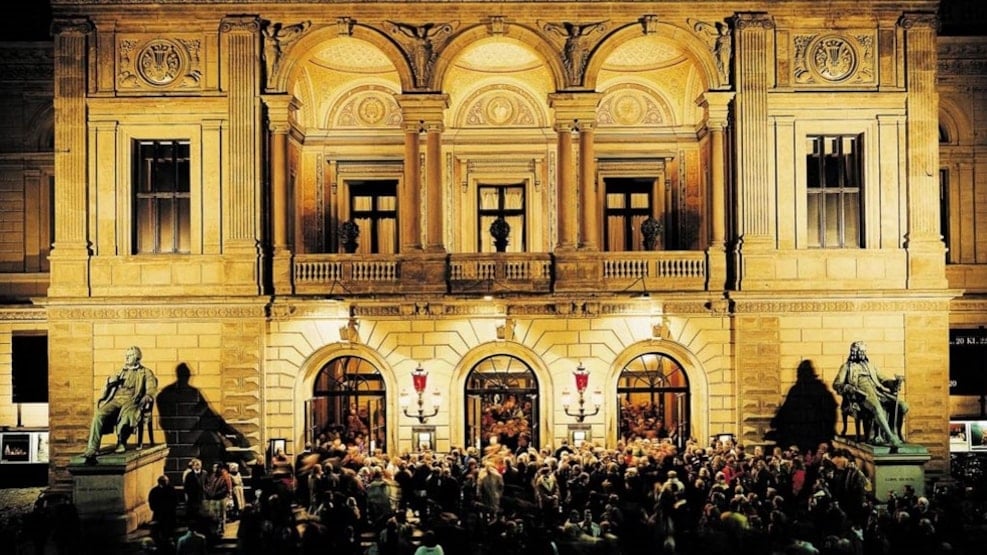 The Royal Danish Theatre's Old Stage
The city's most important ballet space, and its oldest theatre.
The Royal Theatre in Copenhagen has been a graceful feature of Kongens Nytorv Square since 1748. Part of a trio of Royal Theatre buildings, the Old Stage is principally used for ballet performances.
It's a beautiful Baroque building, with painted ceilings, gilded boxes, chandeliers and lavish scene setting, and a visit here is an elegant experience. Originally the sole Royal Theatre venue, the Old Stage now hosts ballet performances, while the modern Opera House hosts opera and classical music, and the Playhouse hosts plays and other staged performances.
Famous guests at the Royal Theatre
The theatre has played host to many of Denmark's most famous people. Søren Kierkegaard was a frequent guest at The Royal Theatre, where he saw Mozart's opera, Don Juan. Danish fairytale writer Hans Christian Andersen was also a fan of opera, ballet and the theatre, and was a member of the Royal Danish Opera Chorus as a teenager from 1820-1821. 
All performances are state-subsidized, making tickets quite affordable compared to theatre tickets elsewhere in Europe.

Should Her Majesty attend a performance, the audience is required by tradition to rise and remain to stand until the Queen is comfortably seated.

Tickets are available at +45 33 69 69 69, online or two hours before a given performance.