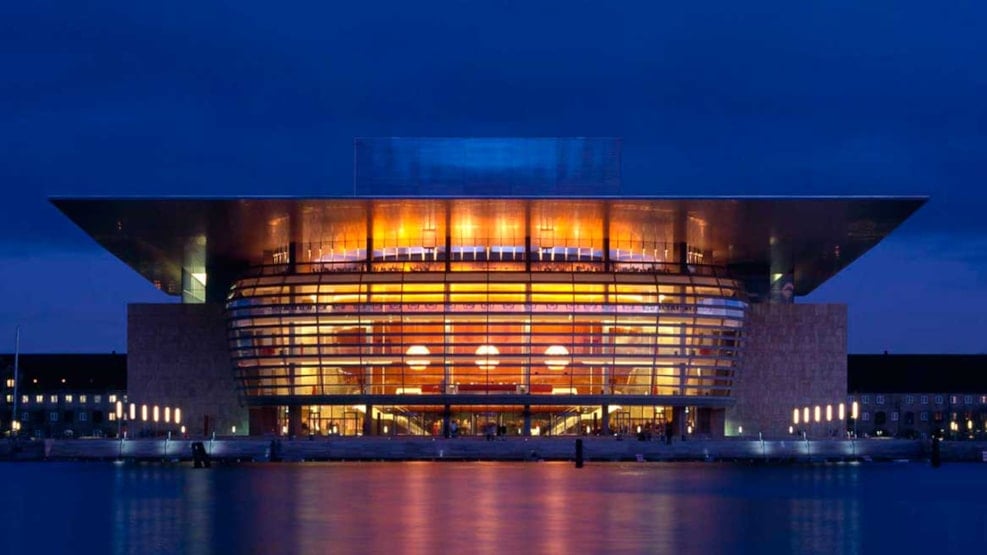 Green Experience
The Royal Danish Opera House
The Copenhagen Opera House is a donation from the A.P. Møller and Chastine McKinney Møller Foundation to the Danish people.
It totals 41,000 square meters. Five of the fourteen stories are subterranean. The main stage of the opera seats an audience of 1400.

The Opera House is clad with southern German Jura Gelb limestone, and the foyer features Sicilian Perlatino marble. The wall of the auditorium facing the foyer is clad with maple wood, and the ceiling in the main auditorium is adorned with 105,000 sheets of 24-carat gold leaf, equivalent to 1.5 kilos of gold.

The Copenhagen Opera House is designed by Danish architect Henning Larsen, and several Danish artists have contributed to the decor, among them Per Kirkeby who has created four bronze reliefs, and Danish-Icelandic artist Olafur Eliasson who has contributed the three light sculptures for the foyer.

Tickets may be bought at +45 33 69 69 69, online or the Opera 2 hours before a given performance.