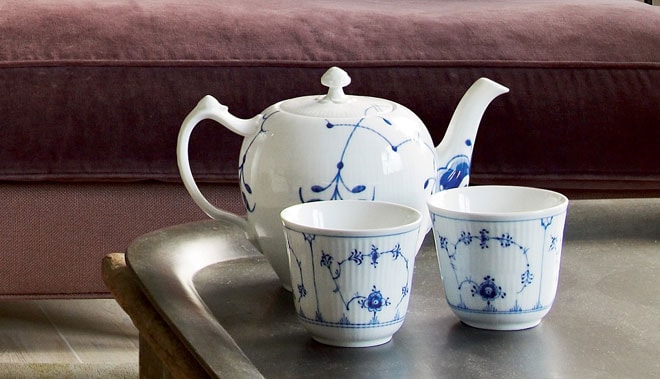 Royal Copenhagen Flagship Store
Royal Copenhagen was originally named The Royal Porcelain Factory and was founded in 1775. In all the years they have produced products with deep respect for the history and traditions of craftsmanship, but never without renewal.
You will find Royal Copenhagen's Flagship Store on Amagertorv on the main shopping street Strøget in the heart of Copenhagen. The beautiful three-storey Renaissance house dates back to 1616 and is one of Copenhagen's oldest houses. Royal Copenhagen has been present here since 1911.
The shop displays the entire Royal Copenhagen's exclusive range of classic as well as modern hand-painted porcelain service, figurines and gift items in an inspiring environment, which also includes the acclaimed The Royal Café, which serves traditional Danish food with a new and modern twist.

Purveyor to the royal Danish court

Royal Copenhagen is purveyor to the royal Danish court and has always had a close relationship with the royal Danish family. Dowager Queen Juliane Marie, stepmother to the insane King Christian 7, eagerly supported the newly established Royal Porcelain Factory in 1775, and in 1781 they created ​​a porcelain bust of her. She also had her own dinnerware called Juliane Marie.

We can thank King Christian 7, who was schizophrenic and married to Queen Caroline Mathilde (who had an affair with their physician Johan Friedrich Struensee), for Royal Copenhagen's most famous dinnerware ever: Flora Danica.

Flora Danica was created in 1790-1803 and is decorated with drawings of Denmark's flora. Christian 7 ordered it in production as a gift to Catherine the Great of Russia, who died before the set was finished.

The Royal Porcelain Factory was run by the royal Danish court until 1868.