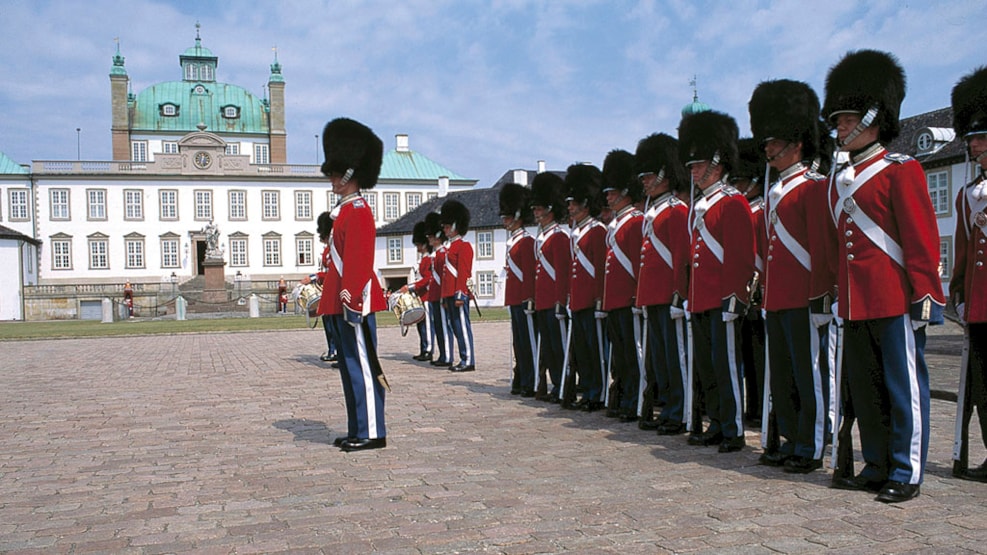 Queen Margrethe's soldiers at Fredensborg Palace
HRM Queen Margrethe usually resides at Fredensborg Palace during the months of spring and autumn. During this time, a detachment of lifeguards is stationed there, and the changing of the guards with music each day at noon is a festive sight.
Changing of the guards and the Tambour Corps at Fredensborg Palace
In addition to the daily shift at noon, it is also a beautiful sight when the tambourine marches through the town to the castle with pipes and drums on Thursdays. The tambour corps lands in front of the castle at noon and gives a small concert in front of the open front door. Often the queen comes forward and thanks for the music. Please note that there is only a changing of the guard when the queen or the crown prince couple lives at Fredensborg Palace.
Visit the palace and the Palace Garden.
During the summer holidays, you can visit the palace and the Private Garden on guided tours. Read more about Fredensborg Castle. The public part of Fredensborg Castle Garden is open all year round.