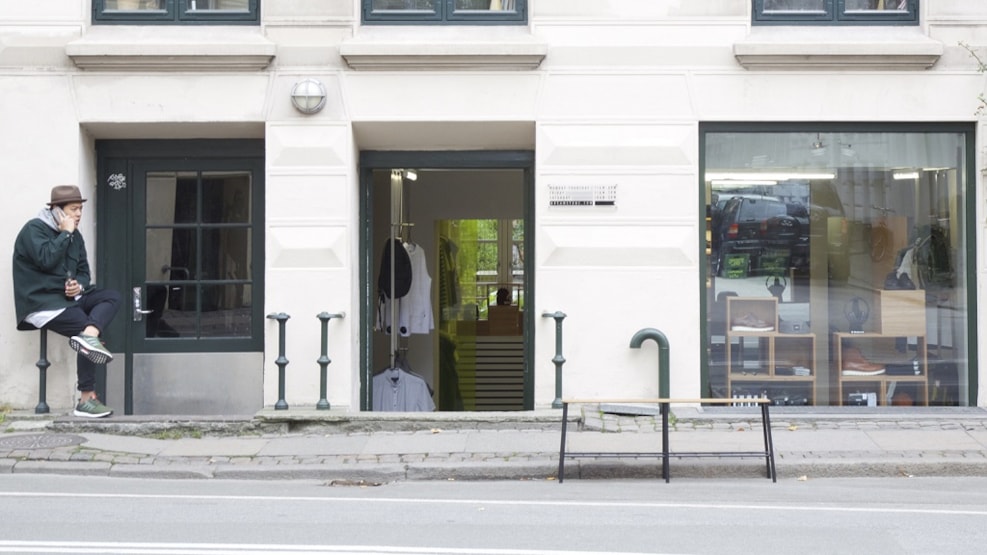 Packyard
Work your way through Scandinavian and international men's fashion brands aimed at the intersection between outdoor adventure and urban street style.
Urban outdoor men's fashion – Nørrebro Style
Packyard is located at 22 Elmegde, which is not a coincidence since the men behind the clothing store, Nikolaj and Anders, live in the area themselves and love its relaxed vibe. The two business partners teamed up with Frama Copenhagen which is behind the raw, simple interior where brands like MANASTASH, Karhu, Snow Peak, Soulland, The North Face and Norse Projects populate the shelves and hangers in-store. The style of the shop is described as occupying "the sphere between core outdoor culture and contemporary fashion", which is a trend that has grown and grown in recent years.
Brands you know, brands you don't
Packyard brings all the best urban outdoor brands together under one roof (you can check out its full list of brands on the website). There is a constant stream of new items into the store, and these can also be bought from the online shop too. Searching through the website, the robust, outdoor feel of the shop is very apparent.
If you'd describe your style as leaning towards the nature-bound, outdoor type, then Packyard could be the store for you. They've hand-picked a wide selection of sneakers for men, categorized into five sneaker styles they believe every outdoor urbanite should have in his collection, including comfortable runners, classic tennis sneakers, high tops for the cold days, robust and functional outdoor "kicks" and high-end sneakers including limited editions and exclusive collabs. Have a browse around and come away with something perfect for both the city and weekends in the countryside.