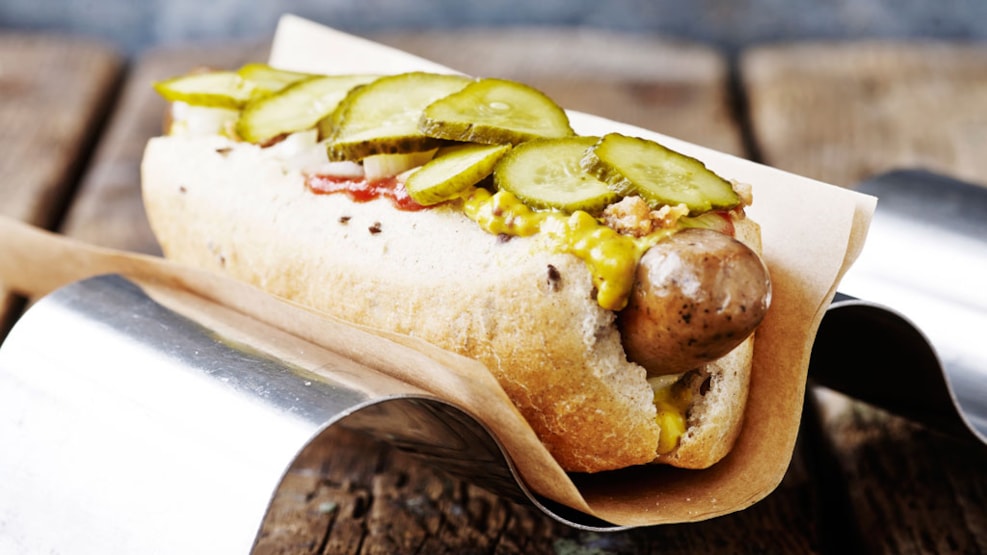 Organic hot dog stand by Round Tower
DØP - The organic hot dog stand - is located by The Round Tower on Købmagergade pedestrian street and by The Church of The Holy Ghost on Strøget pedestrian street. The sausages are made of organic meat. The bread is whole grain, from slowly raised dough and topped with linseeds.
Besides from the traditional Danish open sandwiches "smørrebrød", there is nothing as Danish as a hot dog stand. DØP is the luxury version of the traditional one. Everything is organic from the remoulade sauce to the fried onions, and if you are thirsty, there is also a range of organic soft drinks to choose from.
As an alternative to the more traditional kinds of hot dogs, you can also get a spicy beef sausage served with a mash of potatoes and turnips, made without fat or dairy products. If you are a vegetarian, no problem. DØP has a delicious veggie hot dog.
In this way you can even get some of the important vegetables that are otherwise hard to find in a traditional hot dog stand.
Award-winning sausages
DØP has not only won the hearts of the Copenhageners, but also a wealth of awards and prices. In 2010, the city guide Ibyen/Politiken awarded it Best Eatery ahead of among others a Michelin-starred restaurant.
In 2012, DØP's goat sausage was awarded the Organic Gold Medal in broadsheet newspaper Politiken. In 2013, DØP was awarded Best Kid-Friendly Eatery by the kid's guide to Copenhagen Børn i Byen, and in 2014, consumer magazine TÆNK awarded DØP's classic sausage Best in Test.
You will also find DØP's hot dog stand by The Round Tower on Købmagergade pedestrian street.