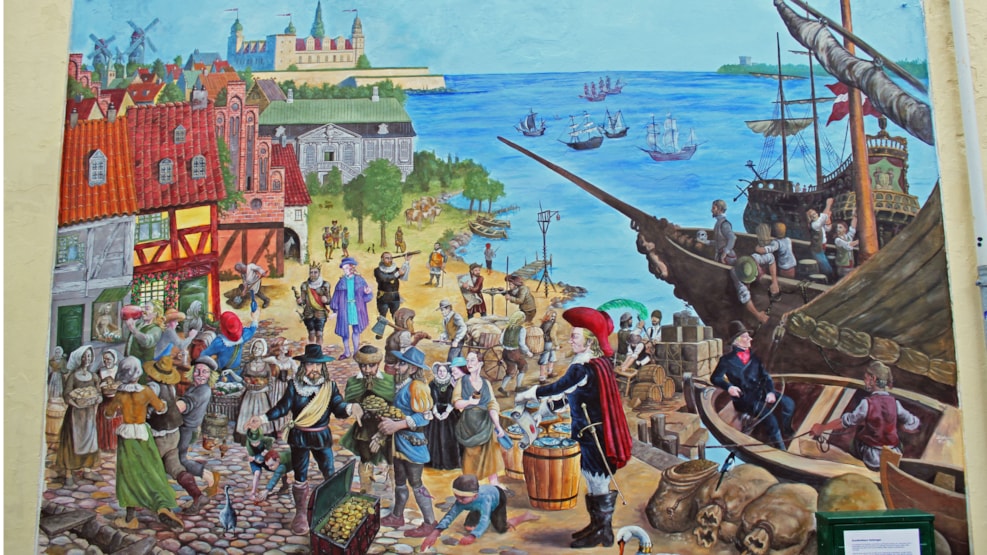 Murals in Helsingør - the Middle Ages and the Sound Dues
The Elsinore History painted - the Middle Ages and the Sound Dues

In the old part of Elsinore you can see two fascinating murals descibing the town history in an alternative way.

The two Italian artists Lara Atzori and Piercarlo Carella have in collaboration with the Town Museum, the cathedral and St. Mariæ Church created two classic history portrayals on two selected walls in the old town. The images illustrate the time when the world came to Elsinore, the golden days, when the income came from the Sound Dues and the streets of Elsinore were crowded with people of all nationalities.

The idea is that the artists do not simply reproduce a historical scene, but they also provide a vision, a contemporary commentary. Among other things, present residents are portrayed on the images.

Both artists come with a craft tradition from the Art Academy in Florenze and are able to illustrate in a classic, realistic style. Lara Atzori works traditionally with a realistic expression, Piercarlo Carella more surreal. These two aesthetic approaches have created a fusion of works of high artistic quality.