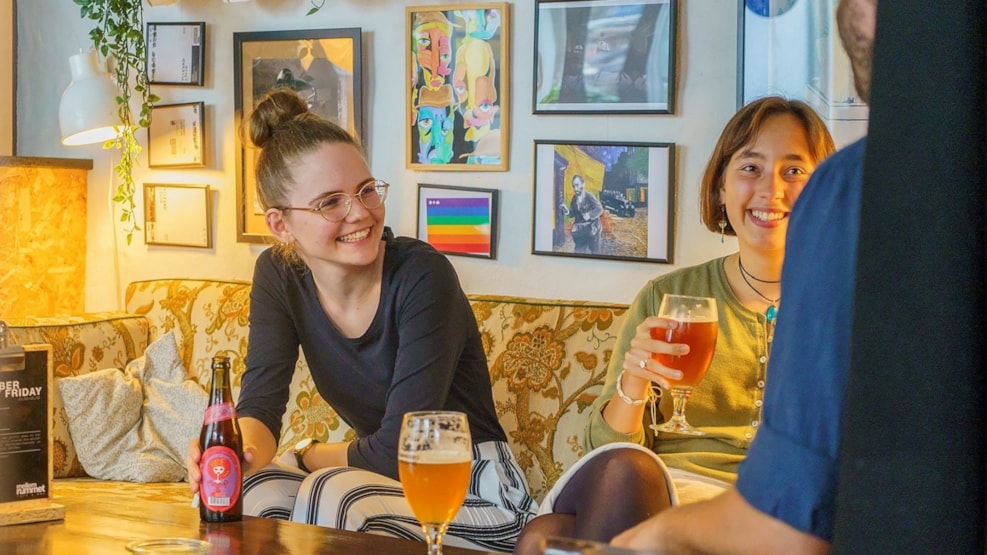 Mellemrummet
Mellemrummet is a non-profit café, run by volunteers from all over the world. Here you can get a coffee with a double espresso and double up on good conscience. Not only does the café have a wide selection of organic and fairtrade drinks and food/snacks on the menu.
Moreover, the proceeds from the café go to the NGO ActionAid Denmark (Mellemfolkeligt Samvirke). The volunteers from the café vote on a developmental project in Africa, Asia or Latin America to which ActionAid Denmark each year gives 300.000 DKK. When you visit Café Mellemrummet you are thereby supporting the fight for a more just and sustainable world.
Mellemrummet is located in the heart of the neighbourhood Nørrebro. You can enjoy a good cup of coffee, a cold beer or one of the delicious baked goods, with good conscience and great entertainment. Mellemrummet hosts events several times a week, including concerts, stand-up comedy, chess nights, pride parties and much more.
Mellemrummet has a quintessential Nørrebro vibe. There is room for everyone. Room for pondering on the bigger things in life, room for feeling the lively Copenhagen culture and room to just relax and hang out. During the day, we are visited by many students, guests from our hostel and coffee lovers. In the evening, the café transforms into a bar, where you can buy organic drinks, local beers and enjoy good music. Regardless of what time of day you visit café Mellemrummet one thing is certain – the team of around 100 volunteers will always make sure that Mellemrummet has an amazingly cosy atmosphere.