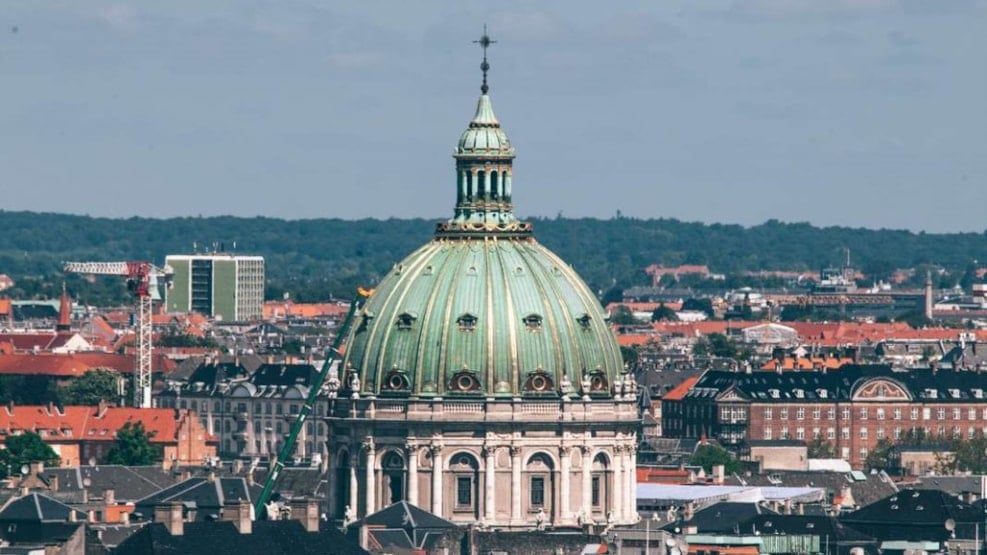 The Marble Church
The city's most impressive church, with views over the city from the top, the Marble Church is also known as Frederik's Church.
The awe-inspiring Marble Church with the characteristic copper green dome has to be one of the most impressive churches of the city - and is definitely home to one of the best views in town.
The church lies beautifully in line with Amalienborg palace and the Opera in the middle of the elegant area of Frederiksstaden in central Copenhagen. While the official name of the church is Frederik's Church, it is commonly called the Marble Church. 

The story behind the Marble Church is interesting – it's not made from marble, for a start, although that was the original plan. In a project presided over by King Frederik V, the foundation stone was laid in 1749 as part of a grand plan of making a new city district called Frederiksstaden.
An architectural project with some hiccups
Most architectural projects have a few hiccups along the way. This one suffered more than most. The original architect, court architect Nicolai Eigtved, died in 1754 while the project was incomplete, and by 1770 the original plans had been abandoned completely. For over a hundred years, the building stood as a half-finished ruin. 
In the late 1800s, Denmark's Finance Minister sold the ruins of the church and its square to Carl Frederik Tietgen on the condition that he built a church in the style of the original plans. Ferdinand Melhdahl took over design and, due to a tight budget, was forced to swap from marble to limestone blocks in its construction. The church finally opened in 1894, 145 years after the first stone was laid.
Getting married at the Marble Chuch
Today, the church seeks to be a modern city church and is open to the public every day. There is a magnificent view from the dome, which can be visited at 1pm every day during the summer months and at the same time in the weekends for the rest of the year.

It is extremely popular to get married in the beautiful church, so hopeful couples practically line up to walk down the aisle. Listen for wedding bells chiming on Fridays and Saturdays.
Steps away you can also explore Amalienborg Palace and its museum and square, or walk down to Langelinie and the Little Mermaid.