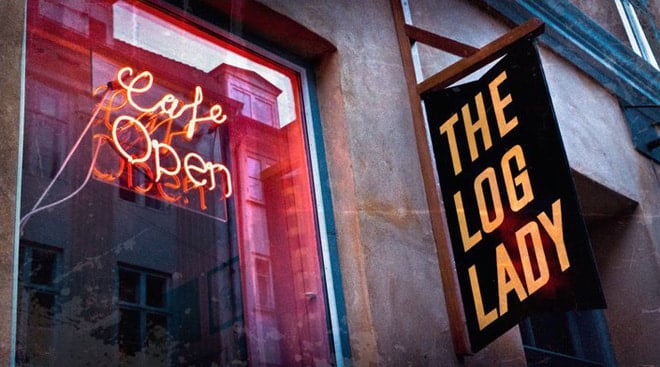 The Log Lady Café
The Log Lady Cafe offers Twin Peaks atmosphere in a living room-like setting. Here you can enjoy a cup of coffee on a stump or indulge yourself with a piece of cherry pie.
Maybe you have already figured it out - The Log Lady is named after the psychic character carrying a log in the tv series Twin Peaks.

The interior is quirky with stuffed animals and tree stumps as tables. The place is decorated with candles, flowers, cups and glasses in all the colours of the rainbow, cushions and a bunch of pictures on the walls. The decor is cozy and the atmosphere is intimate.

Room for everyone 

The Log Lady Café is owned by the fiery soul Henriette Hartmann Petersen, who helped establish Riga in Istedgade.

The two women have emphasized that The Log Lady is a place for everyone, where you can relax with a cup of coffee, read a book, play board games with friends or listen to live music.

Organic food on the menu

If you are hungry, The Log Lady Café offers a menu with organic food. Here you can set your teeth into a brunch buffet or a piece of pie.