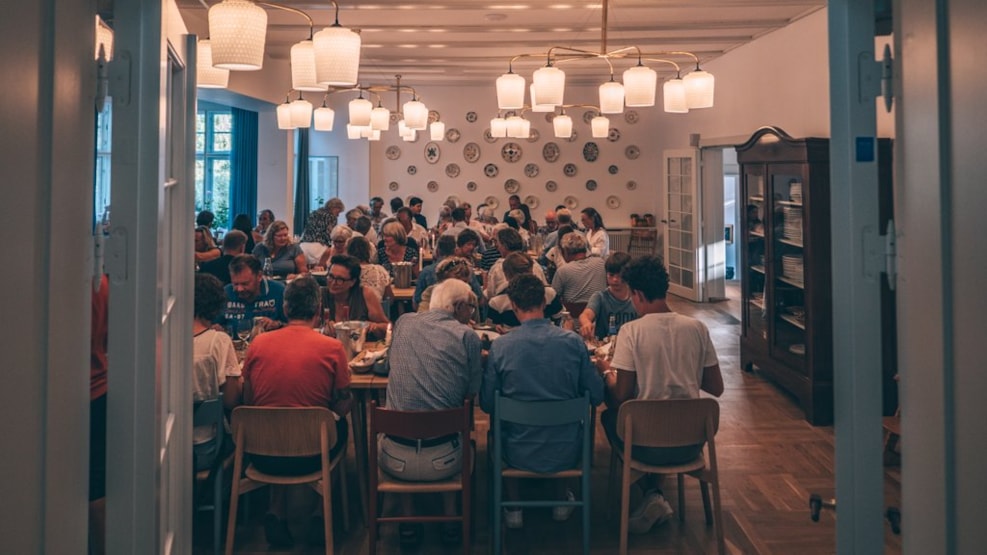 Hotel Hornbækhus
Hotel Hornbækhus lies in the picturesque harbor town of Hornbæk on the northern coast of Zealand, close to nature and beautiful white beaches.
Here you can enjoy the good life with both culinary, cultural and natural pampering.
Hornbækhus is a wooden house built in 1904, carefully restored with due respect to architecture. The small, intimate hotel has recently been decorated with personality and diligence by Danish design studio EEN. The studio has handpicked furniture, wallpaper, paintings, plants and art pieces for each of the 36 rooms and shared living rooms. The furniture is soft and the mood is relaxed. The hotel is full of details to be explored, in the hope that guests will feel at home and enjoy the surroundings.
Welcome to a special hotel
The staff at Hornbækhus aims at creating an atmosphere where people can meet and enjoy themselves. A space for socializing and experiences, as well as peace and reflection. Hotel guests and locals often get together for events and culinary experiences at Hornbækhus. Every night the hotel hosts a shared dinner, where all sit by the long wooden tables in the dining room. The food is passed around while people engage in conversation and enjoy the meal.
The rooms at Hornbækhus
In Hornbækhus all 36 rooms are unique, each with its own distinctive character. All rooms have a double bed, a private bathroom with a hairdryer and wi-fi. Many have a balcony as well. Others have direct access to the garden. Some rooms have a desk and many have a lounge chair. The top floor is surrounded by sloped blue walls.
As a guest at Hornbækhus, you can relax in the hotel garden or in one of the many shared living rooms. Breakfast is served in the dining room between 8 am and 10 pm.
Activities at Hornbækhus
Each morning you can attend one of the yoga classes and during the day you can join in activities like singing, knitting, playing bingo, and more. New activities continuously come up.
It is possible to borrow bikes, in order to explore the beautiful surroundings in North Zealand. The hotel is close to shopping, sights, and 4 of North Zealand's best golf courses.
Far away, yet close to Copenhagen
Hornbækhus' s location makes it ideal, only a 40 minutes' drive from Copenhagen. Get the best of two worlds, the possibility of enjoying the buzzing capital and returning to peaceful and quiet surroundings for relaxation.