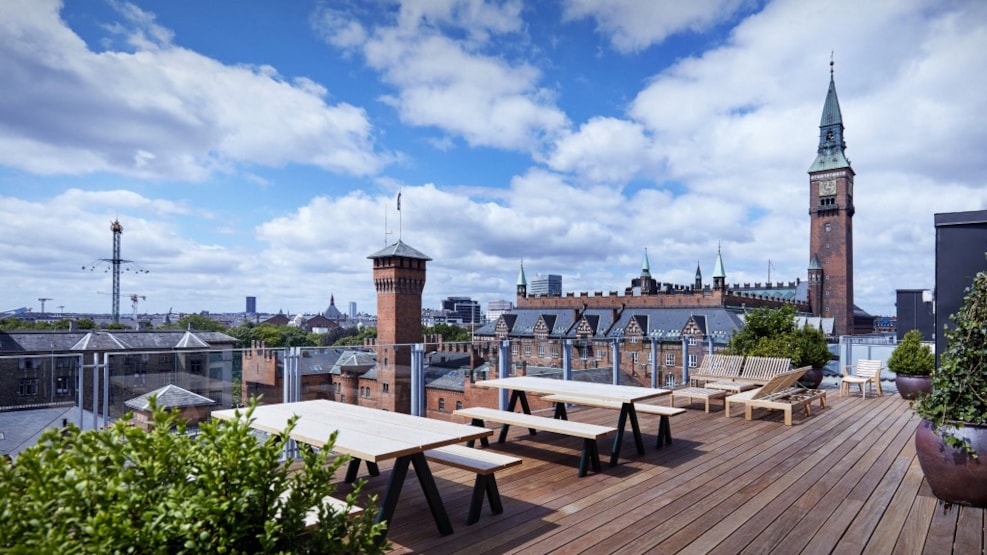 Green Experience
Hotel Danmark
Design meets culture in a 4+ star luxury boutique hotel
Hotel Danmark is Brøchner Hotels' exclusive 4+ star boutique hotel in the charming Cultural District of Copenhagen in two historic buildings dating back to 1791 and 1969.
The surrounding historic buildings and Thorvaldsen's Museum are mirrored in the interior and exterior of the hotel, custom-made furniture and designs.
With 89 deluxe rooms and suites, an intimate lobby bar, cosy urban Vineyard, courtyard and rooftop terrace with stunning views of the city, Hotel Danmark offers a unique guest experience.
The hotel rooms and suites have built-in references to the green and white façade of the hotel and the interior is modern and minimalistic with custom-made designs. 
'Good Morning. It's Organic!'
At Hotel Danmark, you begin your mornings with a delicious, organic breakfast in the Vineyard. The buffet is filled to the brim with freshly baked bread and croissants, delicious cereals, yogurt with homemade toppings, fruits, juices and much more.
The location in the Cultural District is perfect for exploring the city by foot with just 5 minutes to City Hall Square and Tivoli just around the corner.