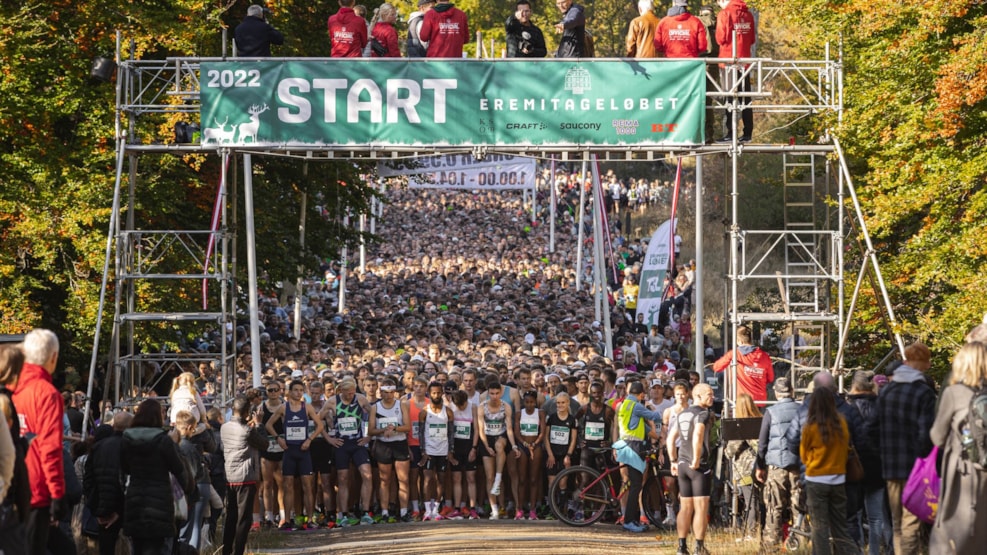 The Hermitage Run
As the only fun run in Dyrehaven, the Hermitage Run is recognised as one of Denmark's most beautiful and unique runs. Join the run when it takes place for the 54th time
On 8 October, The Hermitage Run will kick off for the 54th time. The Hermitage Run is a run for everyone, organised by Københavns Idræts Forening and KS - Københavns Skiklub. The Hermitage Run  has always taken place in the beautiful surroundings of Dyrehaven in North Zealand, and is the only fun run close to Copenhagen that is organised in the garden. In 2015, Dyrehaven was added to the UNESCO World Heritage List, and it is known for the Hermitage Castle and the more than 2000 fallow deer that live in the garden. Dyrehaven has maintained its tranquillity while Copenhagen has grown around it. That's why The Hermitage Run is also known as the most beautiful running route in Denmark. The route is 13.3 km and is designed as a figure 8, so you pass the beautiful Hermitage Castle twice during the run.
With a focus on nature and environmental protection, the Hermitage Run works with several different sustainability initiatives. Among other things, this year's water cups will be 100% compostable.
The Hermitage Run started in 1969, when doctor Peter Schnohr from KIF (Københavns Idræts Forening) and dentist and Olympic skier Svend W. Carlsen from KS (Københavns Skiklub) came up with the idea for a marathon. Together with BT, they were allowed to create the Hermitage Run in Dyrehaven as one of the only running races in Denmark and the only running race ever in Dyrehaven. The run was the catalyst for an entire fitness movement in Denmark, and it is still Denmark's most beautiful and unique running race.