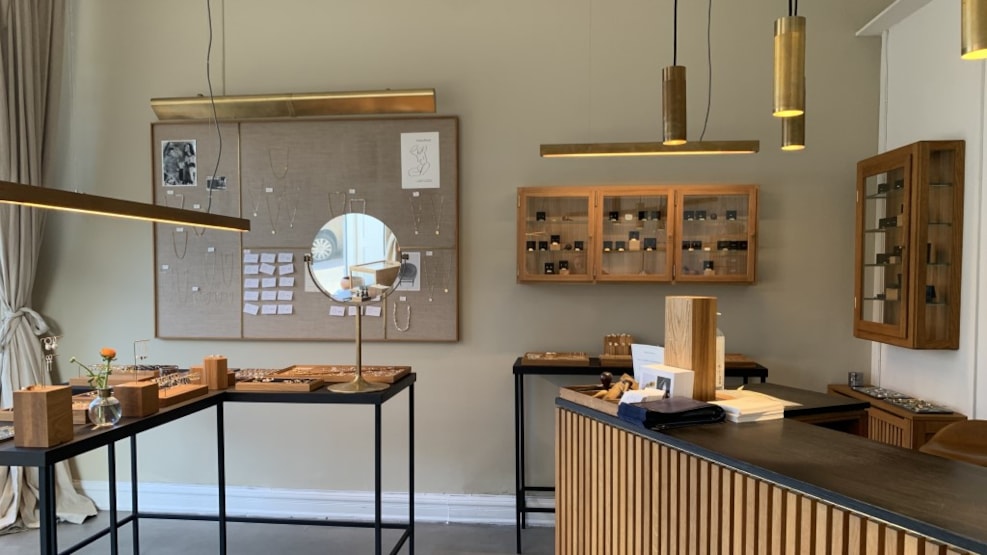 Handcraftedcph
Independent jewellery store, founded by Anders Forup, Handcraftedcph has a wide range of readymade pieces in simple, clean modern styles, as well as custom-made graphic pieces and bespoke wedding and engagement rings.  
Contemporary Scandinavian jewellery
Located on the cosy Sønder Boulevard in Vesterbro, Handcraftedcph is a perfect spot for everyone who loves contemporary jewellery and exquisite craftsmanship. Founded by Anders Forup, Handcraftedcph focuses on handmade jewellery – both readymade and custom-made pieces. Come to them with an idea, and they will execute it perfectly with high-quality materials and true attention to detail.
Jewellery design is a family tradition for Handcraftedcph as both the founder, Anders' father and grandfather before him were also goldsmiths. The design style is described as a thoughtful mix of traditional craftsmanship and classic and graphic design. Anders also states that Handcraftedcph as being deeply rooted in the proud traditions of Danish design and crafts and aspires to create clean and timeless pieces. 
Passion for vintage interiors
While Handcraftedcph focuses on jewellery, Anders also has a passion for mid-century vintage furniture and arts and crafts and has opened a location not far from Vesterbro in Frederiksberg on Steenwinkelsvej 4b – baghuset (the "back house"). You'll find carefully selected design classics, including prints, ceramics, and lighting. The space is only open by appointment (get in touch via the Handcraftedcph website), or when opening hours are announced via the Dansk Form Instagram a few days in advance.