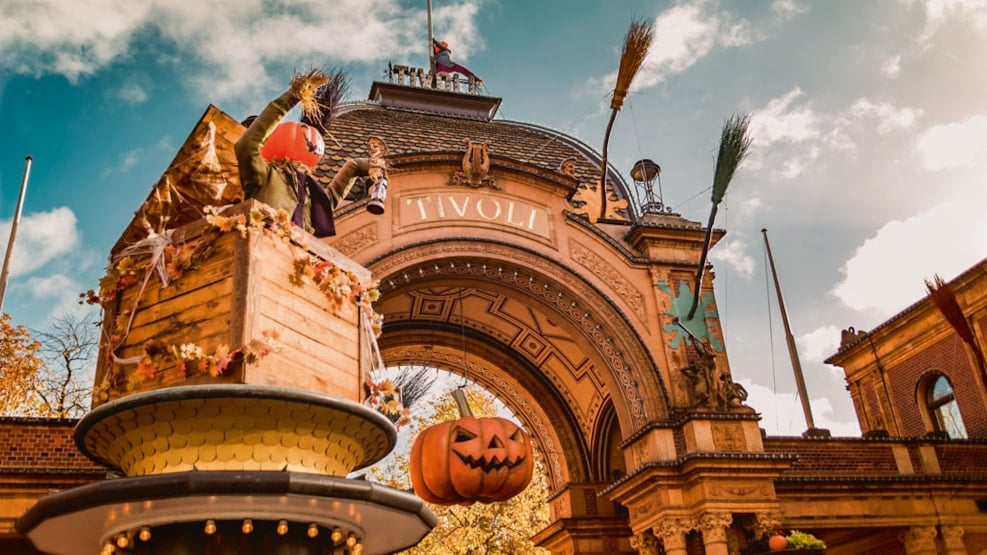 Halloween in Tivoli
Halloween, Christmas, Winter and Summer each have their own uniquely themed season in Tivoli, and during Fall the gardens are redecorated to convey scary (but still cozy) Halloween atmosphere.
Special Hallooween exhibitions and events fill the gardens with the "scaryhouse" as a big hit among young and old. The Halloween program also includes the traditional pumpkin competition and the Monsters Night Out parade. See tivoli's website for more details. 
About Tivoli Gardens
Tivoli Gardens is a must for all visitors to the city, and it's location right in the heart of the bustling city makes the more than 175-year old park even more unique for a theme park. 
Tivoli Gardens was founded in 1843 and has become a national treasure and an international attraction. Fairy tale writer Hans Christian Andersen visited many times, as did Walt Disney who even found the inspiration to his own Disney World here.
Part of Tivoli Gardens' secret is that there is something for everyone. The scenery is beautiful with exotic architecture, historic buildings and lush gardens. At night, thousands of coloured lights create a fairy tale atmosphere that is completely unique.
Magical and nostalgic rides
The rides are all designed to match Tivoli's architecture and gardens. Some rides are wonderfully nostalgic. Others will match the expectations of the keenest thrill seekers, e.g. the Vertigo which will turn you upside down at 100 km/h and was voted Europe's Best Ride in 2014.
Tivoli's oldest and most popular ride, the wooden Roller Coaster from 1914, is one of only seven roller coasters worldwide which have a brakeman on board every train.
TRAVEL TIP: With a Copenhagen Card in hand you get free admission to Tivoli and over 80 attractions as well as free public transportation in the whole capital region. 
Dining in Tivoli Gardens
When it comes to food, Tivoli is equally diverse. Lots of people will bring a picnics to the garden, but you can also choose from Tivoli's broad selection of restaurants. You'll find everything from traditional Danish cuisine to French bistro or Asian food, including a new restaurant from Michelin-rewarded chef, Henrik Yde, who in i 2017 opened Kiin Kiin Piin To in the Chinese Tower.
Classy Nimb and Nimb Hotel are situated in Tivoli Gardens and in restaurant Fru Nimb (Mrs Nimb), you can get traditional Danish smørrebrød (open-faced sandwiches). A new addition to the Nimb universe is restaurant Gemyse, an urban garden restaurant that focuses on dishes with quality vegetables and ecology. Another newcomer from Nimb is Cakenhagen that serves coffee, cakes and champagne.
Do you want to know more about dining in the city centre? Check out our guide. 
Visit the city's other top attractions
Tivoli is among Copenhagen's top attractions. You can learn more about the top attractions here.