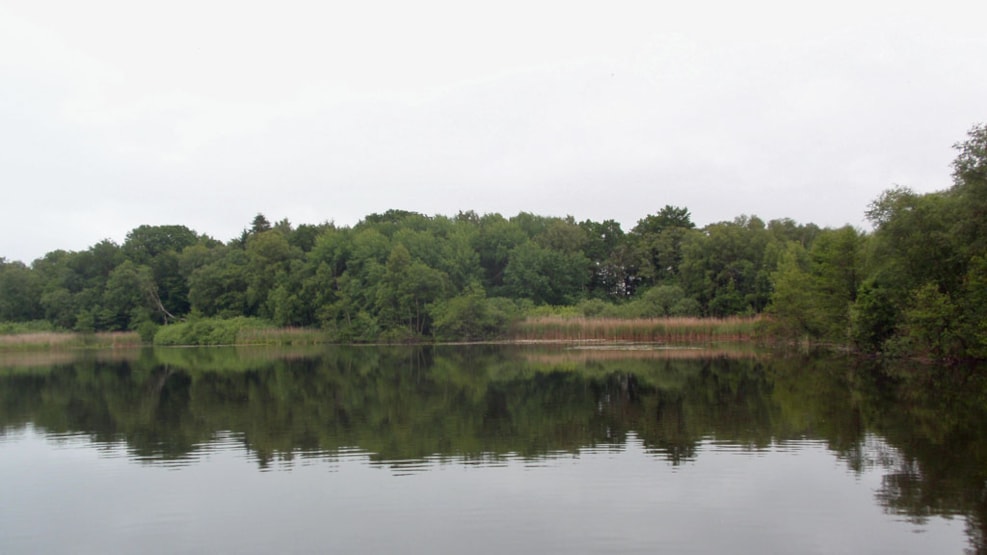 Gurre lake
The lake is very shallow - only about 4 metres deep. Gurre Lake is associated with Gurre Castle-ruin and the Danish King Valdemar, who lived at the castle in the 1300s. 
Gurre lake covers approx. 200 ha, but is only approx. 4 m deep. It is located in a forested area covering 1,000 hectares consisting of Gurre Vang in the south and Horserød in the north. The bulk is so-called unprotected forest, ie. There is a ban on military, scouting and sporting exercises.
History:
The romance and mysticism, found in the name Gurre, was created by the folklores and our great poets. The story is linked to Valdemar Atterdag and his mistress Tovelille. It is known that Valdemar stayed a lot at Gurre Castle in his later year. Here he signed many royal letters, and in 1375 he died at the castle. Tove is also a historical person, who lived much earlier, at Valdemar the Great's  Store's time. It is thus Valdemar the Great's Queen who is responsible for Toves cruel death in the overheated sauna and not Valdemar Atterdag's Queen. Stories and poems have linked Tovelille and Valdemar Atterdag together, and they are immortalised by our poets.
They will always be connected to Gurre, although most of the stories are originally linked to other parts of the country. The most famous story is the story of Tovelille, whose ring enchanted King Valdemar so much that, even after her death, he brought her on his travels in a coffin until the ring was taken from her finger and thrown into Gurre lake.
Angling licence can be purchased from Jan & Bo´s Lystfiskeshop, I.L. Tvedesvej 9, Elsinore.