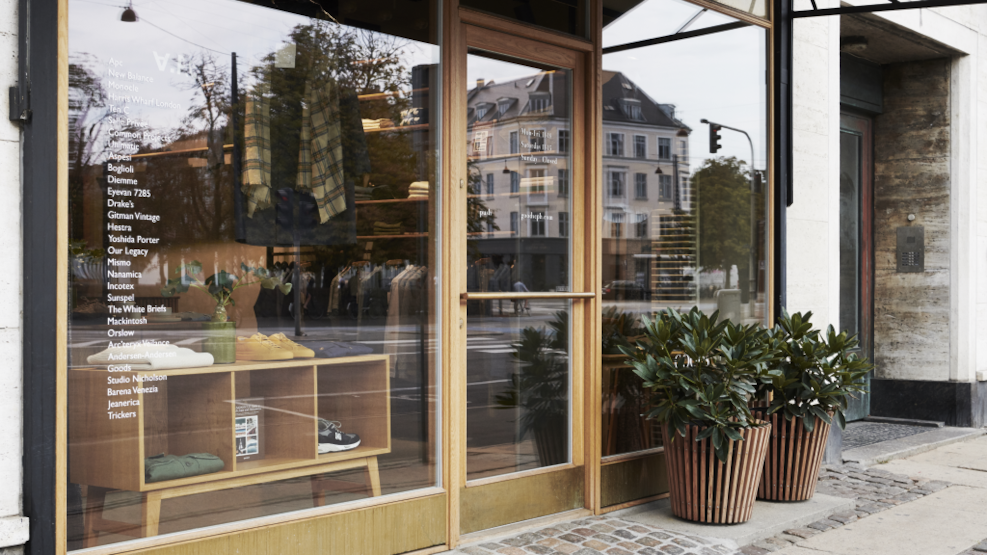 GOODS
GOODS is a respected purveyor of very high-quality men's fashion, stocking a rotation of classic brands from around the world. Enjoy an excellent curation of menswear and accessories with a focus on superior materials, production, and timeless design.
Curated menswear bound by quality
GOODS sits proudly at the head of the eastern point of Copenhagen's lakes on Østerbrogade and starts off the shopping experience that Østerbro has to offer. For those of you interested in investing in high-quality, classic, well-groomed men's fashion, GOODS in the place for you. Browsing through the store you'll find many heritage brands from both Europe and the US. Of course, Scandinavian brands are pride of place. The common thread is certainly quality and high-quality at that with prices to match. Each brand is carefully curated by founder of GOODS, Kasper Hostrup, and his team, who obviously have a love of clothing that is made to last.
Classic clothing for the modern gent
The interior of the shop is impeccably presented, with functional oak and black box steel shelving crowned with sharply folded cashmere jumpers, rumpled outdoorsy looking bags, wonderful leather shoes, belts, wallets, glasses – everything the modern, modest gent needs for successful living. It's the kind of shop with a very loyal clientele, who trust the expert advice from its owners and employees. There is a real sense of traditional service and classic styling to the shop, but that's not to say that it lacks contemporary flair. The rows of old-fashioned perfume bottles are interspersed with more of-the-moment accessories that offer some modern bite. A traditional Barbour waxed jacket appears alongside more colourful, manmade fibre gilets, or classic leather brogues alongside the latest New Balance sneakers.
GOODS also presents its own line of quality men's fashion designed to hold its own amongst the other world-renowned in-store brands; both in terms of quality, fit, details and design. The store can also boast being ranked among Monocle's top 100 stores worldwide. As one of only 12 other menswear stores on the list, GOODS is certainly worth a visit.