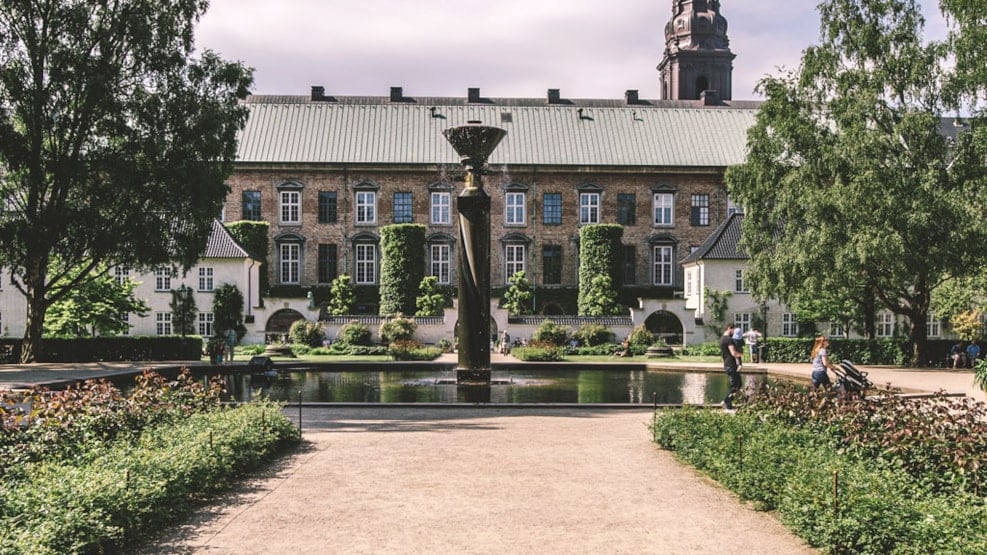 The Garden of The Royal Library
A delightful green space and public garden hidden behind The Black Diamond.
The Royal Library Gardens is a public garden on Slotsholmen between Christiansborg Palace and the Royal Library. Dating to the 1920s, it is a delightful green oasis in this historic part of the city. 
The gardens were designed in 1920 by landscape gardener Jens Peder Andersen and castle architect Thorvald Jørgensen, and were built on top of Christian IV's old naval port, Tøjhushavnen.

As a reminder of its maritime past, a small pond has been retained in the middle of the gardens and an old mooring ring of the type used by ships in the 17th and 18th centuries has been built into the masonry at the end of the gardens.
Today, it is the site of blossoming beds of flowers and large shadowy trees. It's a pretty place to wander, especially in spring and summer, and given its location tucked away behind larger buildings and off the cobbled streets, is considered a little hidden secret.  
Statues and sculptures
It's not a public garden in Copenhagen if it doesn't have a number of impressive statues to admire. In the middle of the gardens, you'll find a 1918 bronze statue of existentialist philosopher Søren Kierkegaard by the sculptor Louis Hasselriis. It's especially fitting that manuscripts by Kirkegaard are kept in the Royal Library collection, and occasionally on display to the public, next door.
There is also a water sculpture in the garden. The eight-meter-high copper column rising from the middle of the garden pool was designed by sculptor Mogens Møller as a monument to the written word and shoots a spout of water every hour on the hour.