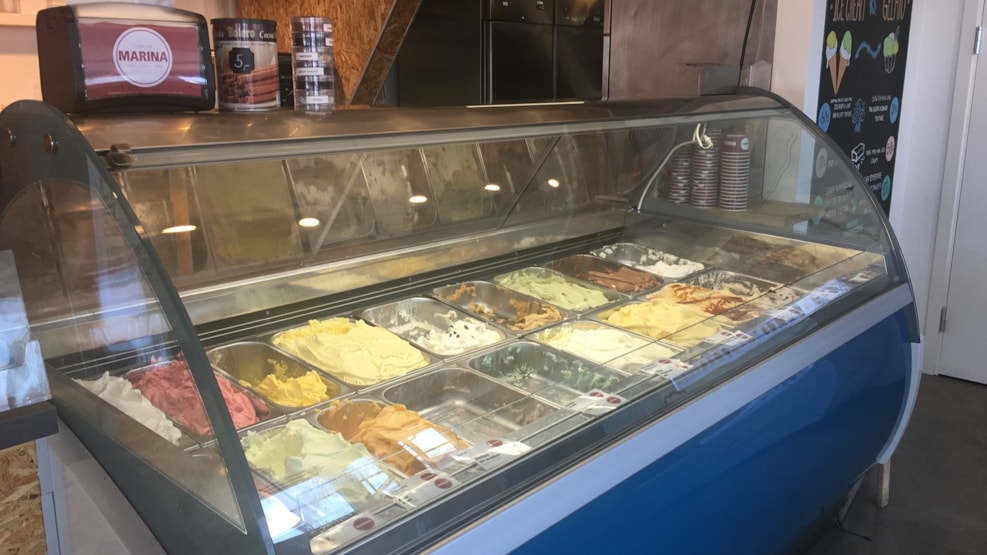 Frøken Marina Helsingør
Café Frøken Marina offers a range of homemade ice cream as well as coffee and cake. Enjoy delicious frozen desserts by the sea, with excellent views of Helsingør Nordhavn harbour. 
One of many wonderful independent businesses around Helsingør Nordhavn harbour, Café Frøken Marina is a treat inside and out. The owner, Finn Døssing Renard, runs the café on a daily basis with his friend Peter Müller, but it is Finn who is the man behind the wonderful Italian ice cream, which is made from scratch with local organic ingredients wherever possible - and no artificial flavourings! 
Finn conjures up all the recipes himself. He boils down the fruit with sugar, then flavours the ice cream with interesting ingredients such as sea buckthorn, rhubarb and licorice to name a few. Oh, and it's Finn who also prepares the dough for the delicious waffles also served in the café. 
Local treasures 
Finn and Peter opened Frøken Marina in 2017, which began life as a small coffee stall. Frøken Marina then moved into the former Heligoland shipyard building site, which today is a beautiful half-timbered house that also contains a gallery, boat retail and rental, and also port workshop. Inside, the two local boys have created a cosy café where guests feel at home among second-hand wooden furniture and sofas, maritime motifs on the walls and the small play corner with stove for the kids. 
Outside the high tourist season, the café is used as a function room and can be rented out for birthdays and parties. Finn and Peter value the local area, and are an invaluable part of the community, serving unique ice cream and hygge to both tourists and locals alike.