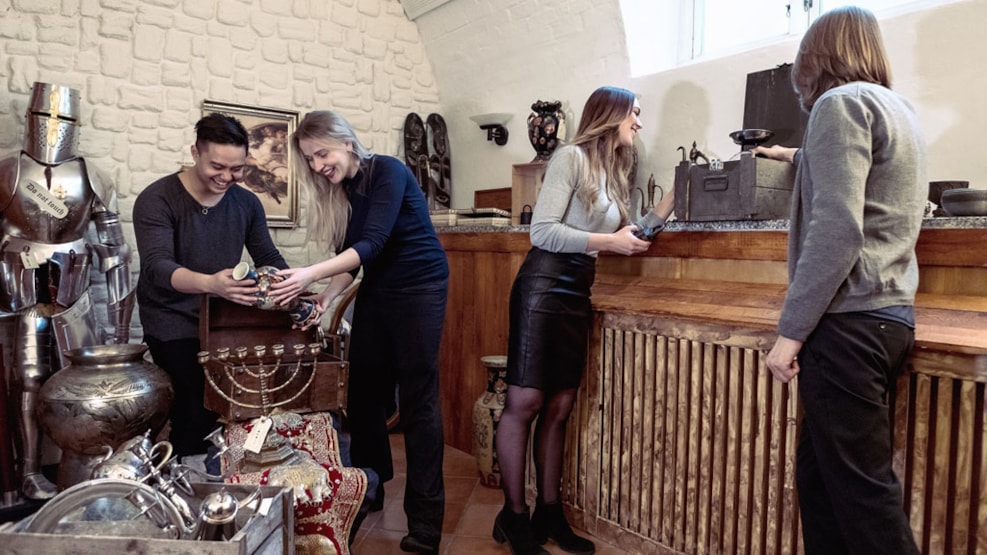 ESCAPE ROOM by Midgaard Event
Use your head, teamwork and solve fun mysteries at ESCAPE ROOM by Midgaard Event.
Escape Rooms are fun mysteries, where you need to teamwork, be creative and solve challenging puzzles. Together with friends, family or colleagues, you need to think outside the box and enjoy fun stories and riddles. No matter if you are just a few participants or a larger group, you will have good opportunities because Midgaard Event offers 16 puzzlerooms. It is thereby the biggest escape game facility in Europe.
Experience several different escape room themes
Midgaard Event currently offers 4 different themes.
In Downfall, you are spies behind enemy lines in the Soviet republic of Imperistan. The year is 1989, and your mission is to prevent World War 3. Downfall is filled with technical special effects, riddles, acting and scenography.
In Da Vinci Escape Room, you are professors in the search for the Holy Grail. Da Vinci is a classic escape room, and if you are first-time-players, this is a great game to choose.
In Sherlock Escape Room your mission is to find the evidence, that is used to blackmail the British monarchy. Sherlock is a challenging teamwork-game, where 2 teams need to cooperate from different rooms, or one team gets to play a double-room in double-time.
Outbreak is a fantastic room for larger groups and corporate events. With 10 Game rooms, you can play up to 60 participants simultaneously in battle-mode. Teams that finish early, can enjoy a soft drink while observing other teams, still playing, on a large screen.
Outdoor escape game in Downtown Copenhagen
From summer 2021, you can solve puzzles in the streets of Copenhagen. Hidden in constellations and riddles, you need to solve the mystery of the famous danish scientist; Tycho Brahe. By combining mystic relics with hidden clues, you will discover new corners of the city. Expect a handful of hours of fun, with a challenging mystery.