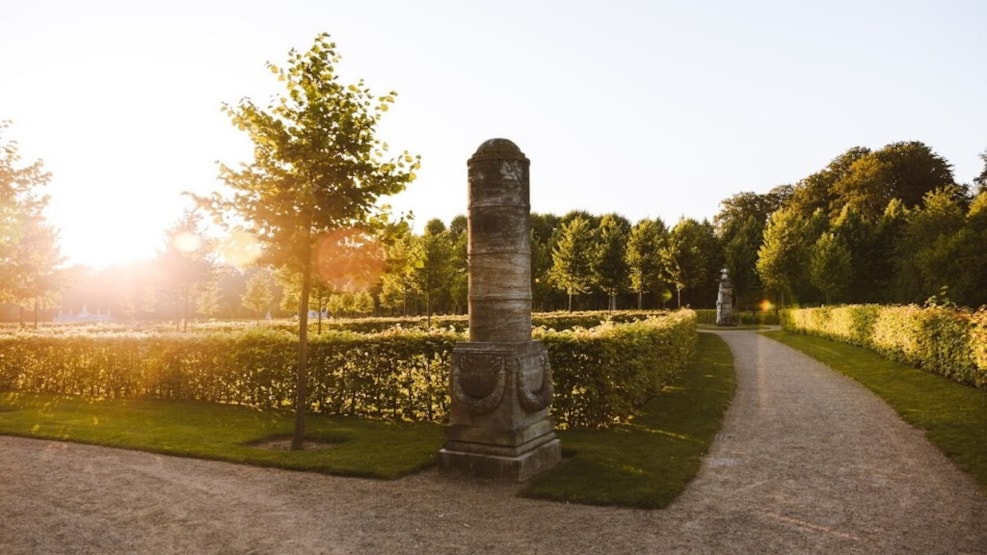 Dronningerunden | Bicycle route in Fredensborg
The Queen's Route is about 40 km long and takes you through Fredensborg Municipality on the bike. The route goes through all four major urban communities in the municipality: Kokkedal, Nivå, Humlebæk and Fredensborg, passing a string of pretty villages, landscapes and sights.
Starting along the idyllic River Langstrup Å path, it takes you through fields, reed beds and woodland. In Fredensborg, you follow the path system through the residential areas, on your way to visit Fredensborg Palace.
Then it's back to Nivå along small roads, visiting either Teglværksmuseet (the brickworks museum) or Nivaagaards Malerisamling (art collection) on the way. Note the clay lakes in Nivå, created from the extraction of clay for the brickworks. The trip ends at Nivå Bugt Strandenge beach meadows, where an overnight stay at Nivå Camping can be recommended.
The highlight of the day
Fredensborg Palace
Fredensborg Palace and Chapel
Fredensborg Palace has long held a special status as the most-used residence of the royal couple. The beautiful 18th-century baroque palace is often the venue for important official state visits and events in the royal family.
The palace is also the summer residence of the crown prince couple and their children, but despite this, it is open to the public in July.
The chapel is open for services on many Sundays and public holidays throughout the year.
Nivå Harbour - a popular destination for boaters - and Nivå Beach Park with fine bathing possibilities and unique birdlife.
In Nivaagaards Malerisamling there is a very fine collection of Europe's great painters.
To the north in Humlebæk is the Louisiana Museum of Modern Art, which has both permanent and temporary exhibitions.
Bicycle Signs marking the route have been set up and make it easy to find the route.
Practical information- Worth knowing about the cycling holiday in North Sealand
Length: 27.8 km
Time: 2 1/4 hours
Suitable for children: No
Gravel 45%, asphalt 55%
Shorter routes are available in Fredensborg, Humlebæk and Nivå.
Fredensborg
Fredensborg is a pleasant town that has grown up around the castle. It offers a multitude of different specialist shops on Jernbanegade, the town's pedestrian shopping street. If you are hungry, there are, in both Fredensborg at Store Kro inn and in the nearby Asminderød, excellent restaurants. In the summer, you can sail on the lake on an excursion boat from Skipperhuset. Canoes and kayaks can also be rented here for those wishing to set their own pace, explore nature and enjoy lunch.
Fredensborg is a fantastic place for all the family, and if you are lucky, you might even meet the royal family, who have a summer residence here. The museum grounds and the statue park are also well worth a visit.