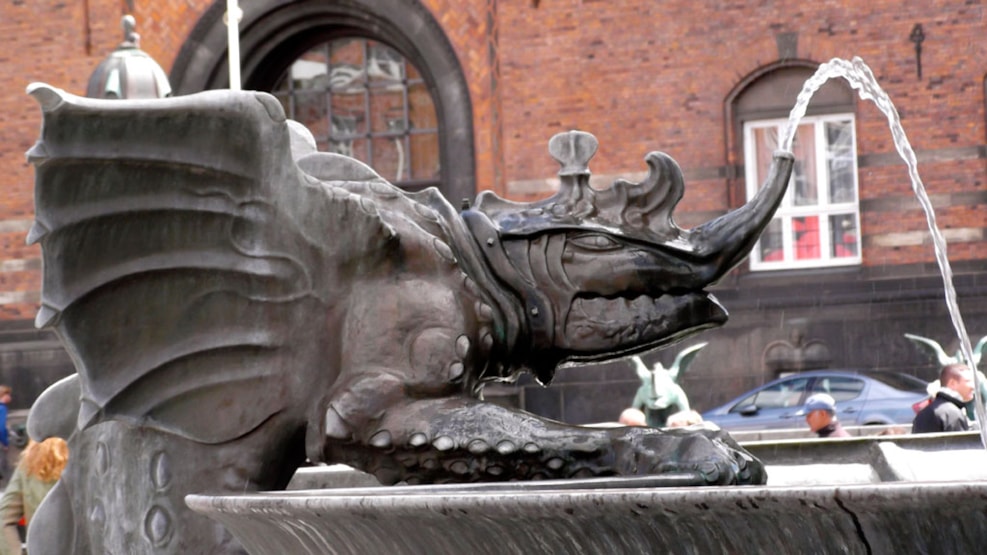 Dragon Fountain
The Dragon Fountain at Copenhagen City Hall Square was made from a model in 1889 and was originally intended for Amagertorv but lost to the The Stork Fountain.
In 1904 a bronze basin was erected with decoration inspired by ancient Greek ornamentation in Copenhagen. On the edge of the basin were placed three dragons, all spouting water and rather larger than sketched in the 1889 project.

In 1908 the fountain was surrounded by a low, outer basin with a granite edge after a design by Skovgaard and Bindesbøll, but not until 1923 was the Dragon Fountain completely finished with a bull battling with a dragon.

Large and small dragons
So as not to squeeze the group at the centre, the three dragons on the edge of the basin were made rather smaller and thus in keeping with the original project. The large dragons are today on the balustrade in front of the Town Hall.

At the same time, the outer basin's granite edge was decorated with six bronze baskets of fruit placed on every other one of the twelve stone consoles. This new version of the spring was inaugurated on 4 June 1923.
Moved and seperated

Vestre Boulevard was widened and altered in 1954 and at the same time had its name changed to HC Andersens Boulevard.

The entire fountain was moved 25 metres into the square, and the outer granite basin with the bronze baskets was removed. This was set up in Brønshøj Torv in 1973, but removed again in 2001.