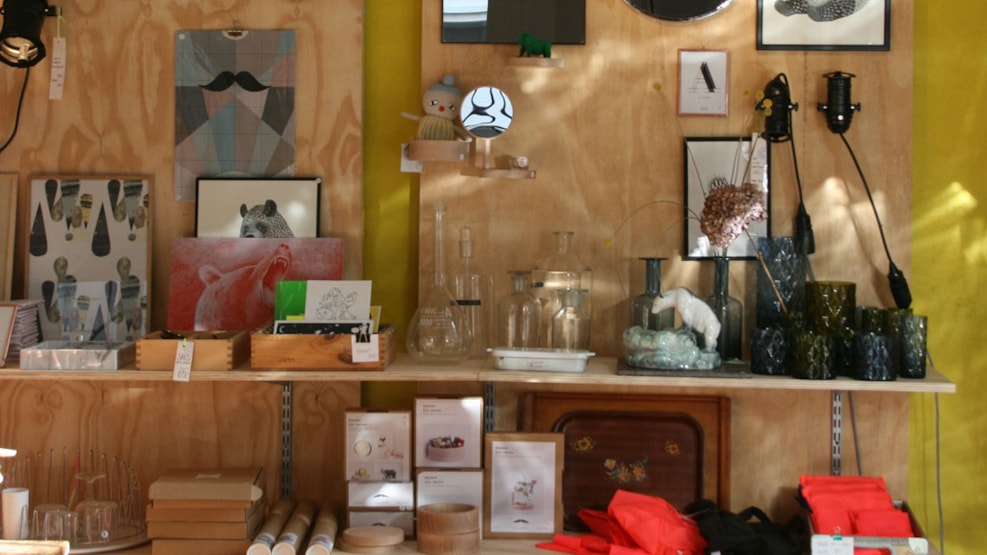 Dora
Experience an Aladdin's cave of contemporary design items for the bedroom, bathroom, office and kitchen. Enjoy colourful knickknacks, modern lighting, decoration, soft furnishings and occasional vintage pieces in a store designed to excite and entice.        
A cave of wonder
Dora is a delight. It's one of those shops you can't come out of without having bought something. Whether it's new exquisite stationery, a vase in the shape of a sheep, or more classic designer homeware from celebrated brands including Georg Jensen, Made a Mano, Hay and Frama. It really is the eclectic design store that keeps on giving. 
Where to start is the question with Dora! And visitors are often enticed by the store's soft furnishing and textiles offer. Aiayu Domus is a well-represented brand, with a range of bedlinens, cushion covers, pajamas and occasional rag rugs and bathmats. Said rugs and mats are often 100% organic cotton and made sustainably from the offcuts of other products. Luxuriant PJs are also hard to resist and again sustainably sourced and produced.
Your home, your design
It certainly is a shop for all the senses. Liquid hand soaps infused with all manner of natural scents sit alongside knobs, handles and hooks. Choose to go ultra-modern in style or more kooky and camp. The great thing about all the variety is that you can curate your home in precisely the way you'd like. It really is a place where you can convey your personality through the eclectic mix of designer items on offer.
It's the smaller objects that you could get lost in for a good couple of hours. Small sets of colourful tape, block colour book ends to embolden your shelves, cute bulldog clips, planners, characterful cards – the list goes on. There is also a carefully curated section of the shop dedicated to various vintage objet d'art. Apart from the aforementioned sheep vase – a camp highlight – various other opulent glassware in bold, kitsch, colourful designs give the customer an insight into the less serious, strict and minimal face of Scandi design. Be warned – you won't leave this store empty-handed!