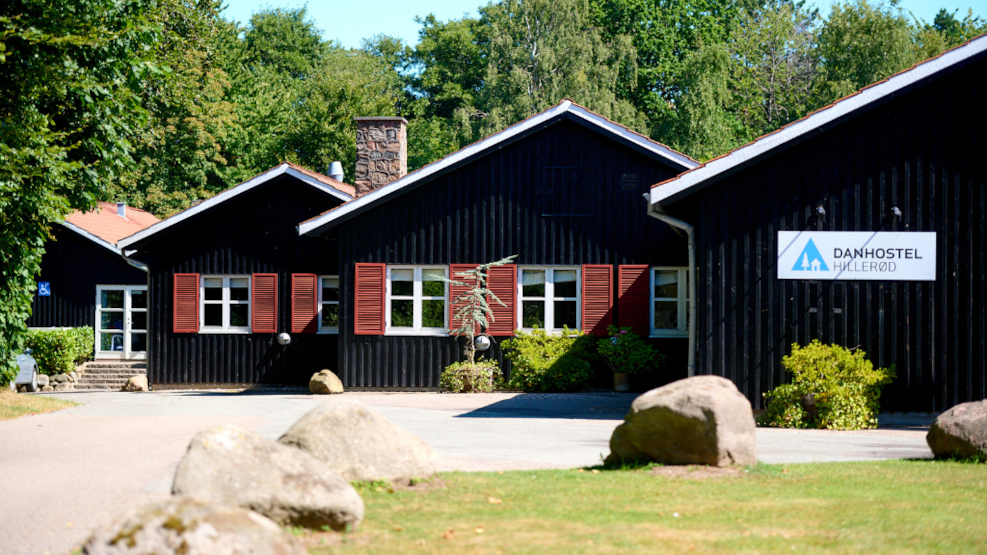 Danhostel Hillerød: Unique location near Frederiksborg Castle
Danhostel Hillerød, Nordic School Camp, and Conference Center are uniquely located in the large forest and nature area, Store Dyrehave.
Welcome to an exceptional location on the forest's edge, close to Frederiksborg Castle and the beautiful nature in and around Hillerød.
Centrally located in the heart of North Sealand, the four-star Hillerød Vandrehjem, Nordic School Camp, and Conference Center boast beautiful black wooden buildings with white windows and red shutters, situated right next to the large forest and nature area known as Store Dyrehave.
The hostel offers 140 beds spread across 45 rooms, with 35 rooms featuring private bathrooms. The centre provides free wireless fibre internet throughout the area. Many families, course participants, and school groups choose to stay here, enjoying the delicious food and spacious green rooms.
Bonfires, sports, and boating on a vast natural ground.
The centre is on a 7-hectare protected area with a nature playground, bonfire spots, sports fields, outdoor table tennis, a volleyball court, and opportunities for all kinds of ball games. Additionally, there is a small lake with four rowboats available for borrowing life jackets. In grey weather, guests can relax indoors in the cosy lounges with satellite TV, indoor table tennis, air hockey, table football, billiards, and a bar-equipped discotheque.
Frederiksborg Castle - is the ninth most visited tourist attraction in Denmark.
If you crave a cultural experience, visit Hillerød, home to the famous Frederiksborg Castle in the city centre. Frederiksborg Castle has crowned several Danish kings between 1671 and 1840 and has been ranked as Denmark's 9th most significant tourist attraction, visited by thousands of tourists annually.
The Castle Garden in Hillerød Center is nestled below Skansebakken, Hillerød's highest point at 80 meters above sea level. Don't forget to visit Æbelholt Monastery Ruin, Hillerød City Museum, and the Homestead at Sophienborg (Open-Air Museum) while indulging in cultural exploration.
City Life in Hillerød
Hillerød is situated in the heart of North Sealand and resembles a "Y" shape when viewed from the air. To the north and east, the city is surrounded by Lille Dyrehave, Store Dyrehave, and Gribskov. To the south and west, the city is primarily surrounded by fields. Hillerød is home to a rich and active city and cultural life, including art and music in Støberihallen and various sports clubs, including tennis, football, basketball, swimming, and running.
Hillerød's charming pedestrian streets and shopping centres offer plenty of shopping opportunities, cafes, and restaurants. Hillerød originated around the old Hillerødsholm farm - hence the elder tree on the city coat of arms, once owned by Herluf Trolle and Birgitte Gøye.
Short distance to everything
Danhostel Hillerød, Nordic School Camp, and Conference Center are within walking distance of Hillerød Station, Frederiksborg Castle and Baroque Garden, two large shopping centres, and only a 30-minute drive to Rådhuspladsen (City Hall Square). The nearest supermarket is 500 meters away, and the nearest bus stop is 200 meters away.